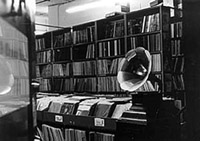 A composer friend of mine once joked that a lot more people would listen to his music if he threw in a drum track. This idea brought back painful memories of Hooked on Classics and that disco tune "A Fifth of Beethoven," but I had to admit that he had a point. Americans have an obsession with beats—they want to tap their feet, bob their heads, and occasionally just boogie down when listening to music. This is nothing new. Music and dance have been inherently linked since the first Neanderthal man blew a tune on his four-note bone flute and his buddy moved about. Probably even earlier than that! There is a primal, human link between sound and movement. Nearly every culture (with the exception 16th-century Switzerland under John Calvin, the Massachussetts Bay Colony, and the town in Footloose—all of which prohibited dancing), has traditional music and traditional dance that co-exist. Therefore, it does not seem too implausible for a populace conditioned to link a steady beat with movement to crave this element in their music. This month, 8 of the 25 CDs that I received reminded me of this basic need to move when hearing music.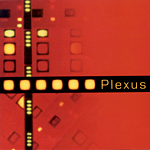 Swing music, gleaned from the African-American musical tradition that emphasized a strong rhythmic component and the rich song tradition of European-Americans, was a natural hit on the dance floor during that era. That's why hearing the Susie Arioli Swing Band play classics like "Pennies From Heaven" and "Honeysuckle Rose" is a great first example of how music catalyzes motion. However, in today's world, it isn't the big bands, but the electronic sounds manipulated by a sound engineer that get young bodies moving. Two albums this month attempt to reconcile this rift between electronic sounds and acoustic instruments by combining the two into ambient grooves. "Strange Lives" by Metaphor combines the talents of 8 musicians who throw everything but the kitchen sink into their music—guitars, French horns, snake charmers, accordions, synthesizers, violins, and voices just to name a few. In that same vein, the New York-based trio Plexus prides itself on the fact that the normal rhythms and breakbeats that one hears in contemporary jungle and drum'n'bass are played live, with a real drummer (and some programming of course). The result is a fresh, emotive spin on what has become an otherwise watered-down and dull musical style.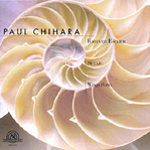 Somewhere along the line, someone thought that this link between dance and music would make great entertainment and the worlds of formal dance, musical theater, and burlesque shows came into being. On the newest recording of the mind-blowing World Saxophone Quartet, the first piece was written by David Murray for the dance company Urban Bushwomen and is based on an excerpt from Harriet Beecher Stowe's Uncle Tom's Cabin. Paul Chihara's ballet Shinju, which appears on a brand new recording of his music from New World Records, is based on the suicide plays of the famous Japanese dramatist Chikamatsu Monzaemon. Finally, the work of the Bard is set to music and dance in Galt MacDermot and John Guare's early-70s, psychedelic and sexually charged rendition of Two Gentlemen of Verona.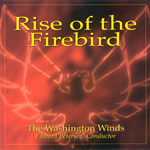 The last two recordings that sparked thoughts of dance are, granted, a little more far-fetched… The first is Rise of the Firebird, which of course reminded me of the great Stravinsky ballet. I was surprised however to find that it was, in fact, a collection of works for wind ensemble by 10 different composers. Thinking of wind music, I naturally thought about the American phenomenon of the marching band, which is a form of dance in itself. If you are a fan of marching band music, check out An American Salute, a collection of patriotic tunes including plenty of Sousa, the "Battle Hymn of the Republic," some Gould, Copland, and Ives, and much more.
Dance will always be a key component to how music develops in the United States and the world at large. The two art forms are kindred spirits that feed one another with their creativity and energy. So, this summer, keep your ears open and your feet moving and be sure to check out these recording along with the 17 others featured this month!
Other SoundTracks this month: