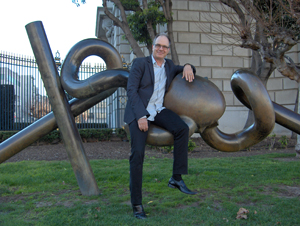 Steven Schick in San Francisco
The San Francisco Contemporary Music Players has announced the appointment of Steven Schick as artistic director. For the past thirty years, Schick has championed contemporary percussion music as a conductor, performer, and teacher, by commissioning and premiering more than one hundred new works by composers as varied as Brian Ferneyhough, David Lang, and Iannis Xenakis. As artistic director for SFCMP, Schick will serve as both conductor and chief artistic administrator. He joins SFCMP as the ensemble enters its 41st season. The 2011-12 season will feature Schick's programming for a subscription series at Herbst Theater beginning in October 2011.
"The forty-year tradition of the San Francisco Contemporary Music Players establishes it as one of this country's most venerable and important ensembles for contemporary music; and the terrific musicians of the group and their commitment to cutting-edge musical ideas means that it is also an ensemble of the future," said Schick. "What a thrill it is for me to now be part of an organization that is both roots and rhizomes. We know where we're from; where and how we'll grow next is the exciting part!"
Richard Lee, president of the board of the San Francisco Contemporary Music Players, adds: "The unanimous choice among a field of 90 international candidates, Steven brings an international reputation and a lifetime of engagement with contemporary music. We look forward to his inspiring leadership of our gifted ensemble."
Schick has combined conducting and percussion performance to weave a unique international career. Founder and artistic director of the percussion group red fish blue fish, Schick has also served as music director and conductor of the La Jolla Symphony and Chorus since 2007. He makes space in his artistic life to conduct the International Contemporary Ensemble as well as to perform George Crumb in a new Peter Sellars production. Schick also serves as distinguished professor of music at the University of California, San Diego and as consulting artist in percussion at the Manhattan School of Music. He was the percussionist of the Bang on a Can All-Stars of New York City from 1992-2002, and from 2000 to 2004 served as artistic director of the Centre International de Percussion de Genève in Geneva, Switzerland. Schick's book on solo percussion music, The Percussionist's Art: Same Bed, Different Dreams, was published by the University of Rochester Press; his recording of The Mathematics of Resonant Bodies by John Luther Adams was released by Cantaloupe Music; and a 3-CD set of the complete percussion music of Iannis Xenakis, made in collaboration with red fish blue fish, was issued by Mode Records.
The San Francisco Contemporary Music Players, a ten-time winner of the national ASCAP/Chamber Music America Award for Adventurous Programming of Contemporary Music, has toured widely throughout California, performing at the Ojai Festival, Los Angeles' Monday Evening Concerts, San Francisco Performances, Cal Performances, the Stern Grove Festival, and the Festival of New American Music in Sacramento. The ensemble made its European debut at the Cheltenham Festival in 1986, and in 2009 performed in Nice, France, for the 30th anniversary season of the prestigious MANCA new music festival. Since its first concert in 1971, the San Francisco Contemporary Music Players have released twenty recordings, performed more than 1,000 contemporary works (including 74 U.S. premieres and 145 world premieres), and commissioned 74 new pieces from a wide range of composers including John Adams, Mario Davidovsky, Philippe Leroux, Liza Lim, and Julia Wolfe. On April 4, the ensemble celebrates 40 years with a special gala concert featuring a special guest appearance by Terry Riley and a performance of his legendary In C.
(—from the press release)