Next year's season announcements from American orchestras are trickling in, which always makes me wonder if Yo-Yo Ma and Itzhak Perlman have successfully cloned themselves. In addition, it's been rather eye opening to see what American works and premieres, especially from living and breathing composers, the majors and their music directors are (and are not) offering up. Admittedly big budget orchestras are not the only game in town, especially when it comes to modern and progressive programming, but as the recipients of largest shares of public and private funding their actions perhaps warrant the most public scrutiny. So far, here's how next year's season is shaping up.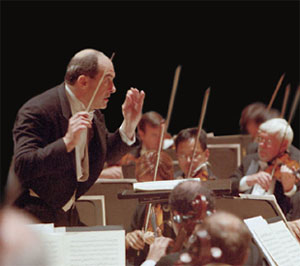 Robert Spano and the Atlanta Symphony Orchestra
Photo courtesy of the orchestra
The Atlanta Symphony Orchestra has announced what local critic Pierre Ruhe is calling "another big step on its path toward contemporary cultural relevance." Largely to be performed under the baton of Music Director Robert Spano, the ASO has commissioned two works—from Chris Theofanidis and David Del Tredici—and planned performances of John Adams's Pulitzer Prize-winning On the Transmigration of Souls, Elliott Carter's Allegro Scorrevole, Osvaldo Golijov's Oceana, and Tan Dun's Concerto for Water Percussion as well as older American works such as Paul Creston's Fantasy for Trombone and William L. Dawson's Negro Folk Symphony.
The Baltimore Symphony Orchestra will announce their season later this month, but at least two premieres are reportedly on the table from Michael Hersch and Daniel Brewbaker, plus a performance of Charles Ives's Central Park in the Dark.
The Boston Symphony Orchestra, as has already been mentioned in these pages, welcomes new Music Director James Levine next season. He will lead new work commissioned from Milton Babbitt, John Harbison, and Charles Wuorinen, plus additional works by Carter. Guest conductor David Zinman's program opens with a new piece from Michael Gandolfi and Robert Spano will lead the orchestra in the world premiere of a BSO commission from Yehudi Wyner for piano and orchestra.
In addition to a year-long exploration of musical masterworks by sometimes-in-America Béla Bartók, the Chicago Symphony Orchestra and Music Director Daniel Barenboim will present Elliott Carter's Boston Concerto; Lorin Maazel takes the podium for Augusta Read Thomas's Gathering Paradise, musical settings of texts by Emily Dickinson scored for soprano and orchestra; and Pierre Boulez will conduct Bernard Rands's Cello Concerto. Also, Duke Ellington's Happy-Go-Lucky Local, arranged by Wynton Marsalis will appear on a program with a version of the Peer Gynt Suite that alternates excerpts of Edvard Grieg's original work with jazz arrangements by Ellington and Billy Strayhorn.
Franz Welser-Most will conduct The Cleveland Orchestra in Roy Harris's Symphony No. 3 and Ingolf Dahl's Concert for Alto Saxophone and Wind Orchestra, as well as a new work by the orchestra's Daniel R. Lewis Young Composer Fellow Susan Botti. Leon Kirchner will lead his own Music for 12 and Matthias Bamert will be on the podium for Bruce Broughton's Piccolo Concerto.
The Dallas Symphony Orchestra will present the world premiere of a work by North Texas composer Cindy McTee. Off the regular season, the DSO will also present Hannibal Lokumbé's African Portraits in partnership with The Potter's House church.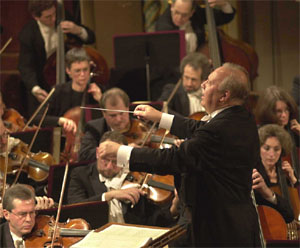 Neeme Järvi and the Detroit Symphony Orchestra
Photo courtesy of the orchestra
The Detroit Symphony Orchestra will present the world premiere of Hannibal's "Dear Mrs. Parks" led by Resident Conductor Thomas Wilkins. The large-scale choral work is based on imaginary letters to Rosa Parks from writers of different generations. The season also includes Ned Rorem's Symphony No. 3 and John Adams' Naïve and Sentimental Music. Jazz composer and pianist Herbie Hancock will join the DSO for a concert celebration of jazz composers of the 20th century such as George Gershwin, Duke Ellington and Hoagy Carmichael.
Indianapolis Symphony Orchestra is celebrating its 75th anniversary with four commissions—works from Claude Baker, James Beckel, David Newman, and Carolyn Yarnell. In addition, the season includes John Corigliano's Promenade Overture, Michael Daugherty's "Red Cape Tango" from Metropolis Symphony, Harris's Symphony No. 3, Jennifer Higdon's blue cathedral, Aaron Jay Kernis's New Era Dance, Behzad Ranjbaran's Concerto for Violin and Orchestra, Roberto Sierra's Concerto for Saxophones & Orchestra, and Steven Stucky's Son et Lumière (Sound and Light).
The Los Angeles Philharmonic and New Music Group give the world premieres of pieces commissioned by the orchestra: Peter Lieberson's Neruda Songs for mezzo-soprano and orchestra, Mason Bates's new work, and Eduardo del Barrio, who is writing a 30-minute jazz work for 60-person choir and full orchestra, plus Henry Brant's Tremors (commissioned by Getty Research Institute). The new music-heavy season line-up also includes four works from Music Director Esa Pekka Salonen (Insomnia, Mania, Memoria, and Wing On Wing), three other works from Lieberson (Horn Concerto, Piano Quintet, and Three Rilke Songs), two works by John Adams (The Dharma at Big Sur and the Violin Concerto), plus works from Becker, Frank, Harrison, Ives, Lang, Meltzer, Reich, Stucky, and Tan Dun.
Milwaukee Symphony Orchestra will host a number of guest conductors during the 2004-05 season, some of whom will be leading new work. James Paul will lead Charles Wuorinen's Symphony Seven, an MSO commissions, and Gregory Vajda will conduct Philip Glass's Concerto Fantasy for Two Timpanists and Orchestra. Bobby McFerrin's program will include his own new works for chorus and orchestra, including Brief Eternity & He Ran for the Train. Miguel Harth-Bedoya, will lead the US Premiere of Daniel Schnyder's Cello Concerto. Plus David Alan Miller is set to lead a program that will include Michael Torke's The Healing and Copland's Symphony No. 3.
Christopher Rouse's Oboe Concerto will be given its world premiere by co-principal oboe Marilyn Zupnik and the Minnesota Orchestra. The rest of the orchestra's season line up includes Todd Levin's Blur, Lowell Liebermann's Violin Concerto, Steve Heitzeg's The Tin Forest, Golijov's Last Round, Ives's Ragtime Dances, and Richard Einhorn's My Many Colored Days by Dr. Seuss.
The National Symphony Orchestra commissioned two works that will appear this season—Jefferson Friedman's The Throne of the Third Heaven and Philip Glass's Symphony No. 7. The NSO also offers up an all John Williams program—Soundings, Violin Concerto, Tree Song for Violin and Orchestra, and Selections from American Journey—with the composer on the podium and two all-American nights: the first featuring Thomson's Fugue and Chorale on Yankee Doodle, Creston's Frontiers, Op. 34, and Carter's early Musicians Wrestle Everywhere. Additional American composers appearing next season include Irving Fine's Notturno for String Orchestra with Harp, Donald Erb's Evensong, Mark O'Connor's Double Concerto for Two Violins, and Corigliano's Piano Concerto.
Lorin Maazel will lead the New York Philharmonic in the world premiere performance of Augusta Read Thomas's Gathering Paradise, Emily Dickinson Settings for Soprano and Orchestra (which he will also take with him to Chicago), as well as Golijov's Last Round and Kernis's Lament and Prayer. Three guest conductors are also bringing American work with them to the podium—David Robertson will lead Steve Reich's Triple Quartet, Slatkin brings Friedman's The Throne of the Third Heaven…, and James Conlon will conduct Lieberson's Red Garuda.
Oregon Symphony Music Director Carlos Kalmar will conductor the world premiere of the Kevin Walczyk's completed Symphony: Corps of Discovery (the first half will be performed in the fall by the St. Louis Symphony), Schwantner's Percussion Concerto. Yakov Kreizberg will lead the Adams Violin Concerto.
The Philadelphia Orchestra will present the world premiere of Richard Danielpour's commission, Songs of Solitude, which will be led by David Robertson. Also in the line up, Music Director Christoph Eschenbach will conduct Sierra's Concerto for Violin, Viola, and Orchestra (a co-commission with the Pittsburgh Symphony), Salonen's Insomnia, and Thomas's Trainwork. Tan Dun will lead a performance of his The Map: Concerto for Cello, Video, and Orchestra.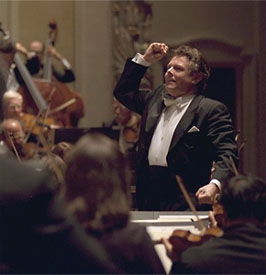 Mariss Jansons with the Pittsburgh Symphony
Photo courtesy of the orchestra
For the fourth time, the Pittsburgh Symphony has designated a living composer to be the orchestra's "Composer of the Year." This season's nominee is Christopher Rouse, and he his work will be celebrated with performances of Concert de Gaudi (Guitar Concerto), The Nevill Feast, Phaethon, and Symphony No. 2. The orchestra will also perform two works by Adams—Short Ride in a Fast Machine and Violin Concerto, plus Masterprize nominated Einstein's Violin by Robert Henderson and winning composition Rainbow Body by Theofanidis.
The San Francisco Symphony has commissioned two works this season—John Thow's Rhapsody for English Horn and Orchestra and William Kraft's Timpani Concerto No. 2. SFS Music Director Michael Tilson Thomas will lead his own Island Music, plus performances of Steve Mackey's Lost and Found and Reich's For Strings, with winds and brass. In addition, Alan Gilbert will lead Adams's Naïve and Sentimental Music and Franz Welser-Most's program includes Dahl's Concerto for Alto Saxophone.
The Seattle Symphony under Gerard Schwarz will present two centennial commissions during the season—works by Schoenfield and Gabriela Lena Frank—as well as the world premiere of David Schiff's Intrada. In addition, Marin Alsop will lead Bright Sheng's Tibetan Swing during her guest appearance with the orchestra.
CORRECTION: The Houston Symphony has since contacted NewMusicBox to alert us that, although the works were not mentioned in their February season press release, they have scheduled three works by American composers in 2004-05: Richard Lavenda's Clarinet Concerto and Jennifer Higdon's Blue Cathedral to be conducted by Music Director Hans Graf, and Richard Danielpour's First Light which will be led by Michael Stern.