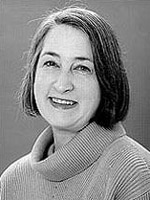 Susan Youens
Photo courtesy of S. Youens
Notre Dame Professor of Musicology Professor Susen Youens is "thrilled" to have received one of the two Guggenheim Fellowships awarded to music scholars. The grant will allow her start a new book on the social history of the 19th-century German lied.
"I'm interested in finding out about how nationalistic and patriotic ideas and imperatives were advertised in song. Songs were intended for the domestic market, so I am also interested in how gender roles were fostered by the song repertoire, and how notions of sexuality, motherhood, and childhood were showcased in lieder." Dr. Youens will be using a wide variety of sources in her research: in addition to the music, she will look at memoirs, paintings, social histories of cities like Berlin and Hamburg, novels, diaries, and chronicles.
Dr. Youens is also starting work on a book on the musical settings of Heinrich Heine's poetry. "There are thousands of settings," Dr. Youens stated. "I'm trying to answer the question of why Heine was central." She will be investigating "not only what his poetry meant to the composers, but also how he was misrepresented, and why those misrepresentations became so paramount to the development of the lied." Heine was a complex personality, Dr. Youens emphasized. "He was a Jew who went into self-imposed exile in Paris when he was only 32. He was the most German of poets, he was deeply bound up in German culture, and yet he couldn't live in Germany." She plans on conducting much of her research at the Heine Archives in Dusseldorf, and at the Berliner Stadtbibliothek, particularly what used to be the East Berlin branch.
Currently, Dr. Youens is using an NEH grant to finish a book — her fifth for Cambridge University Press — on the songs Schubert wrote during the last six years of his life. The Guggenheim Fellowship will cover the cost of some of the travel involved in her research, but Dr. Youens feels that the real value of the award is the free time it provides. "My teaching load is normally two classes each semester," she explained. "If you take your teaching seriously, that can fill all your time."