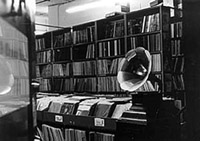 In preparation for an exhibit at the Metropolitan Museum of Art on surrealism, I am in the midst of re-reading André Breton's first Surrealist Manifesto. I am always a little tickled by his vigorous academic defense—calling upon Freud, Proust, and Pascal—of the games he and his hand-picked disciples played.
In a less pretentious, yet equally rigid way, John Cage was the André Breton of indeterminacy and chance music. Through his voluminous writings, lectures, and interviews, John Cage emerged with his own appropriately scattered manifesto of what indeterminacy is, carefully contrasting it with other unpredictable forms of music. He carefully dismissed improvisation from his definition of indeterminacy, stating that improvisers are continuously making musical choices according to their likes and dislikes, either on a conscious or sub-conscious level. Indeterminacy focuses on unintentional sounds, while improvisation is saturated with intention.
On the other hand, at every live performance there is always an element of surprise and the contribution of the soundscape to random sound generation, so in essence each performance is indeterminate. Furthermore, since most improvised recordings are recorded live and undergo minimal editing, one cannot deny that there is a certain amount of indeterminacy to each recording. For example, a track on "Mister Peabody Goes to Baltimore," one of two recordings issued from the High Zero Festival (a three-day extravaganza of improvised, experimental music led by improv enthusiast John Berndt) consists of a solo pocket trumpet playing a languid blues on the side of a highway. Although the choice was made to record next to the road, one could not know when the cars would pass or what other sounds would contribute to the piece. Titled Homeless, the piece successfully capture the quiet desperation of one without shelter.
The other recording from this festival features versatile singer Carol Genetti, whose emotional musings follow the ebb and flow of her multiple collaborators who play everything from the sax to the theremin. Appearing on both of these recordings, John Berndt also released a recording of a solo concert he gave in Montréal. Certainly on the edge and possibly over it, John Berndt plays everything from a school bell to mechanical doll hearts (whatever those are) to his self-built feedback processors and instruments.
Group improvisations seem to be the fashion, and The Nommonsemble, featuring compositions by drummer Whit Dickey and the talents of Rob Brown (winds), Mat Maneri (viola), and Matthew Shipp (piano), is jumping on the boat. The addition of viola to the other more traditional jazz instruments adds a viscous quality to the music, as ideas pour slowly into others. Matthew Shipp, a major figure in improvisational music and jazz, has been a member of David S. Ware's Quartet for years, and their new album titled Corridors & Parallels deserves superlative praises. Incorporating a synthesizer for the first time, the quartet gains an extra layer that only underlines the incredibly rich talent of Ware, Shipp, William Parker, and Guillermo E. Brown. While I admit that the improvisation on this album is truly what Cage meant about people choosing what they like and don't like, I sure am glad that these men have such great taste!
William Parker, the astoundingly talented bassist in this ensemble, was also involved in another project with percussionist Hamid Drake. Their earlier recording volume 1: Piercing the Veil, was mixed and altered by Sasha Crnobrnja, one of the founders of the Organic Grooves Collective that throws boundary-stretching parties in the New York underground.
Another example of mass improvisation, this time with a definite jazz bent to it, is Implicate Order, one composed piece and four completely improvised tracks played by a quintet of standard jazz instrumentation. One-at-a-time does not apply to David Berkman's more traditional jazz album Leaving Home either, as multiple players engage in an intricate give-and-take of ideas and responses.
The first thing that many people think when they hear improvisation is jazz. Although it is obvious that there are many other manifestations of improvisation in the universe of music, Mark Elf's Dream Steppin' figures as a perfect embodiment of classic light jazz. On the other end of the jazz spectrum are John Hollenbeck's two new recordings, one with Quintet Claudia expertly mixing ambience and ethnic musics with solid structure and the other, more song-oriented album with Quartet Lucy.
Improvisation is also an element in the music of La Monte Young protégé Michael Harrison's music, especially his new 100-minute long piece for harmonically-tuned piano called Revelation. A through-composed piece for the most part, he uses improvisation to create different timbres of tone clouds in each performance. A truly enlightening experience!
Finally, coming back to John Cage, despite his involvement with indeterminacy, we cannot forget his other contributions to music, such as "octophony," which is the basis of Larry Austin's newest album titled Octo Mixes. Each piece was written to be heard using eight speakers, but since this is not possible on CD, he attempted to remix the pieces to preserve as much of the effect as possible. Included on the recording is remix of John Cage's tape piece Williams Mix.
Other SoundTracks This Month: