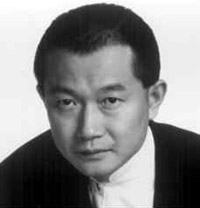 Tan Dun
Photo by Steve Zaho
Congratulations to Tan Dun for his "Best Score" Academy Award for the acclaimed Ang Lee film Crouching Tiger, Hidden Dragon. Tan Dun's soundtrack had already been honored with the British Academy Film Award for Best Original Score, the Los Angeles Critics Award, and the Gold Horse Award (Taiwan) for Best Music.
In his acceptance speech, Tan Dun thanked cellist Yo-Yo Ma, whose playing is featured on the soundtrack; Peter Gelb, President of Sony Classical; Columbia Artists Management; and G. Schirmer, among others.
Dr. Tan took on the project "in the very beginning, to help friends," he explained. "It was a great honor to do so. Ang Lee is a good friend of mine, and I loved the film that he had made. I thought it was an art film, an experimental film – it bridged many things. [There was also] a lot of space for me to have my music and this music could be conceptually quite interesting." Until Sony Classical signed on as a sponsor, there was no promise that Dr. Tan would receive any compensation for his efforts.
Tan Dun invited Yo-Yo Ma to participate in the film because he felt that the cellist could "bridge many things." He describes the score as "experimental, while at the same time Oriental, deeply involved with old traditions. There are the sounds of the Turkish desert, of Chinese villages, and the high-tech electronic sounds of the swords and the wind." Yo-Yo Ma was the "invisible bridge" he wanted to build between all these elements, someone who could link not only East and West, but also "art music" and "film music," according to the composer.
The composer had ten days to write the 90-minute soundtrack. This is not unusual in film, he explained. "You have almost no time to compose. [You have to write] almost as soon as you have figured out the concept and the timing." When you learn to write for film, he explained, you learn to write "extremely fast." "You write as you are reading the script – you write with your passion."
This soundtrack is Tan's second for a Hollywood feature film; his first was the jazz-tinged score for Fallen. He wrote his first feature film soundtrack at the age of 21, while still a student at the Central Conservatory in Beijing. While still living in China, he wrote about 20 scores for experimental art films; he has also written scores to many documentary films for PBS.
Though he stresses that only "one percent" of his total output is film music, Dr. Tan believes that specific training in film scoring is necessary. "A good opera and concert music composer can't automatically write film music," he stated. "In film music, you have to be able to analyze your purpose and your role. The best film music is natural sounding, naturally balanced in terms of color, sound, story, and dialogue. It lays out the things the film director can not say directly." Writing film music is difficult, he explained, because unlike concert music, where the "music dictates the whole thing," you are working within specific limitations.
Crouching Tiger, in the composer's words "a martial arts movie with a soul," is set in the 19th century near the Chinese gate to the Silk Road. Tan's lyrical soundtrack uses a Chinese orchestra and indigenous instruments, as well as Western musicians including a cello soloist. Distinctive fiddling sounds and instruments from the Silk Road region are heard, such as the Mongolian horse-head fiddle, the rawap, and erhu.
Dr.Tan called the success of the film "totally surprising." "Even the record company is surprised," he explained. "Nobody thought that this music and the film would be accepted by all kinds of people. It's in a foreign language; it's low budget; it has the experimental flavors and colors of art film." Audiences seem to like it not only on the entertainment level, he thinks, but also on a spiritual level. "This is a big encouragement to me, to Ang Lee, and to Yo-Yo Ma."
Dr. Tan is happy about the recognition that his award is bringing to the work of Asian-American artists. "The most interesting films today are from the East – it's a phenomenon. Eastern culture is slowly opening up." American-Chinese composers are can participate in this renaissance, he explained, because "American music is so free and so driven by all kinds of culture."
The fact that two classical composers have been honored in the last two Academy Award ceremonies is also very meaningful to him. "A boundary has been broken, and Hollywood is changing," Tan Dun commented. Three composers that Dr. Tan considers his mentors – Prokoviev, Shostakovitch, and Takemitsu – were never so honored, he pointed out. "All three of them combined the artistic vision of classical music, of concert music, with that of film music."