The end of the year is always rife with gift guides and best-of lists. While NewMusicBox as a matter of principle doesn't engage in such hierarchies, I'm going to take a little leeway to wax poetic about ten of my favorite recordings put out in the past year. In doing so, I acknowledge this list to be not only arbitrary, but incomplete; while the roughly 150 new CDs that I heard this year are probably more than the average listener sampled, they clearly represent only a tiny fraction of what's actually out there. So here they are, ordered according to release date, with only American artists considered (otherwise I most certainly would have included Portishead's Third, possibly the most interesting album I heard all year). Add any I missed in the comments. And stay tuned – CD and other media reviews will commence in the site's Radar section starting in the new year.
Elliott Carter: String Quartets Nos. 1 and 5 (Naxos)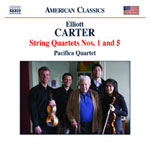 Sample from: String Quartet No. 1
This was The Year of Carter, not least in the recorded medium. Ursula Oppens released a remarkable recording of the (to-date) complete piano works, but it was this Naxos disc featuring two of Carter's string quartets that really did it for me, giving me a new appreciation for not only these works, but all of Carter's oeuvre. The Pacifica String Quartet simply owns these pieces, throwing themselves into it with a vigor and passion that most quartets reserve for the Great Works of the literature, imbuing the music with a precision and transparency not afforded to them by other interpretations. And the music is some of Carter's best. Although his first and last numbered quartets were written 44 years apart, both show the composer in transition, approaching and then receding from his highly complex and saturated style of the interim.
Punch Brothers: Punch (Nonesuch)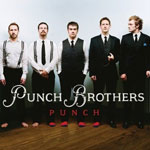 Sample from: Punch Bowl
The New York Times called this record "American country-classical chamber music," and despite what such ludicrously pretentious genrefication might lead you to believe, it's also pretty damn good music. Bluegrass musicians have never been afraid of exhibiting a bit of grime, and the extended harmonic vocabulary brought to this music by Chris Thile & co. is more like a logical extension of the tradition than any sort of contrived syncreticism. The multi-movement experiments with form are less successful, but the musicians involved are so burning on the tracks that it hardly matters. Keep a sharp eye out for their next release, which promises to be even tighter.
Johanna Magdalena Beyer: Sticky Melodies (New World)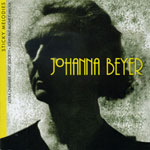 Sample from: String Quartet No. 1
Beyer is one of those composers whose name is invoked almost inevitably along with the terms "overlooked" or "underrated", when it's invoked at all. Though she never achieved the recognition of contemporaries such as Ruth Crawford Seeger and Henry Cowell, there is a high degree of inventiveness and quality in her music, as this release from New World Records proves. The string quartets are particularly notable for their alternately proto-Carter or proto-Vierk qualities, reveling in weird and dissonant beauty; but the entire disc is full of gems, finally getting some of their due after more than 70 years.
Elliott Sharp: String Quartets 2002-2007 (Tzadik)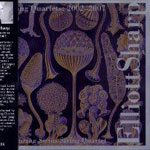 Sample from: Light In Fog
Elliott Sharp, like several other composers on this list, often is at his most piquant in his music for string quartet – they can shatter worlds. This is the second album released on Tzadik of his quartet music, and it's a very worthy addition to the excellent first volume. This disc is generally less assaultive than its predecessor – he even allows a rare moment of reflective stasis in Light in Fog – but that doesn't mean that Sharp has lost his edge. Rather, the different emotional shadings bring even greater depth to an already formidable body of work.
Grouper: Dragging a Dead Deer Up A Hill (Type)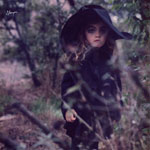 Sample from: Disengaged
I fell in love a little when I heard this disc. It doesn't wash over me so much as completely envelop my consciousness in its warm somnolence, all the while extracting emotions whose names I don't know and functions I don't understand. Grouper, the moniker for Portland-based musician Liz Harris and her effects-laden guitar, has moved gradually towards a greater musical clarity, but that doesn't mean its still not attractively veiled. Harris turns the typical mix upside down, with the vocal harmonies drifting into the background while the drone of feedback and effects are up front, camouflaging what are in actuality perfectly nice little indie-folk songs. The trick is that this hazy obfuscation only serves to deepen the beauty of each track; ambivalence is sexy, and Harris knows it.
Totem>: Solar Forge (ESP-Disk')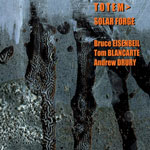 Sample from: Blooming Ore
"Forge" is an appropriate metaphor for the music contained on this disc, as it sounds at times like a field recording of Hephaestus' workshop. It can be pulverizing and relentless in the best sense of the word, then soft and disquieting when it needs to be. It represents one of the most effective kinds of free improvisation – the lack of cohesive narrative is turned into a strength, its lack of predictability or arc used to keep the listener completely imbalanced. Naturally, this is not an easy listen, but its certainly a rewarding one.
Keeril Makan: In Sound (Tzadik)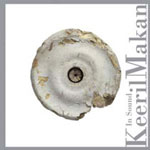 Sample from: Washed by Fire
The truth is, very few composers fit neatly into taxonomies; some spurn them outrightat every level. Keeril Makan is one such example. The two string quartets on this disc (butressing a piece played by the Paul Dresher Ensemble) could not be more different. The Noise Between Thoughts steels itself with noise and an almost physical assault, while Washed by Fire funnels that intensity into strong rhythmic drive and insistent melody. Makan lifts the curtain on old biases, revealing the validity of any style of music when placed in skilled hands.
Hurray for the Riff Raff: It Don't Mean I Don't Love You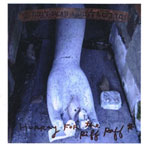 Sample from: Fly Away
This album elicits nostalgia for a life I haven't even lived, which is just about the most remarkable thing music can do. This is the debut record from the New Orleans-based group, which finds it exploring its folk-flecked worlds with manifold instrumentation, including toy pianos, singing saws, and accordions. Alynda Lee, the singer and banjo player, has one of those voices that is distinctive not just for its timbral qualities but its emotive ones; she sings with a touching pathos that completely belies her age, and the backing musicians give a sometimes sultry, sometimes sparse, but always beautiful accompaniment to her woven tales of longing.
Various Artists: The Language Of (quiet design)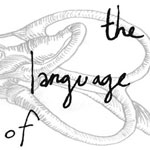 Sample from: Nucleus (composed by Alex Mincek)
Might as well get the journalistic caveat out of the way: the producer of this disc, who is also one of the eight represented composers, is my roommate, which is pretty much the only reason I heard about this disc out on a small Texas-based label. But I'll swear on anything that there's so much more to this disc than nepotism. The eight composers featured are all young New Yorkers transplanted from around the country, and the city speaks through their works, whether it's the grime, aggression, or moments of quiet desperation. But really, most of the pieces rush at the listener in dereliction of any sense of a refined audience, incorporating just as much outside influence from ethnic and popular sources as anything else, without using it as a raison d'être for the music's existence.
Corey Dargel: Other People's Love Songs (New Amsterdam)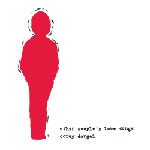 Sample from: Berkeley, California
A similar full-disclosure falls on this disc, as Dargel wrote one of the songs on it for NMBoxer Molly Sheridan and her new husband. Many media descriptions of Corey's "artsongwriter" style will mention his detached, ironic delivery, but the truth of the matter is that his heart lies firmly on his sleeve. These songs were the results of Dargel's "commission a love song" project, and he treats other people's very personal love stories with humor, intimacy, and honesty. More than even his notable first release, the songs are structured to give the album a wonderfully cohesive arc that feels greater than the components.