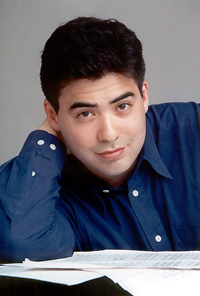 Composer Kenji Bunch
On September 17, Double Talk: A Conversation for Marimba, Trumpet, and Orchestra by Kenji Bunch had its world premiere in Tyler, Texas. The 20-minute work was performed by the East Texas Symphony Orchestra led by its Music Director and Conductor Per Brevig, with the soloists Makoto Nakura, an internationally recognized marimbist, and James Sims, principal trumpeter of the East Texas Symphony.
The Portland-born Kenji Bunch, a former Young Concert Artists' composer-in-residence, has had a flurry of recent commissions and premieres. In 2004, Bunch's Symphony No. 1, "Lichtenstein Triptych," was premiered by the Santa Rosa Symphony, earning critical praise for its zesty energy and diverse influences, from Bernard Herrmann—who wrote film scores for Alfred Hitchcock—to Carl Stalling, composer of music for Warner Brothers cartoons.
Double Talk benefited from equally varied influences. During a phone chat a few days before the work's world premiere, Bunch explained that he was especially influenced by the jazzy irony of Shostakovich's Piano Concerto No. 1 for piano, trumpet, and strings.
Bunch wrote the new piece expressly for Nakura, the fourth work he has written over the past six years for the virtuoso. "Before meeting [Nakura] I never thought of the [marimba]," Bunch admitted. "But he makes a strong case for it as a solo and orchestral instrument. I love its color and rhythmic vitality. There's a roundness to the tone and I have a sensibility for that, since I'm a violist. The marimba is the viola of the percussion world, with a mellowness and versatility that can remind you of a gamelan orchestra or the sounds of nature."
Bunch didn't find there to be any special challenges in orchestrating a work for marimba and trumpet. He explained that the two instruments "offer a delightful counterpoint" and the trumpet does not drown out the marimba since "the marimba can be really loud—you'd be surprised! The balance is quite nice between the two—the trumpet doesn't feel he has to play on eggshells."
Bunch said that he chose to write for a scaled-down classical-sized orchestra, defying the trend in contemporary music, including Bunch's own, to include a battery of percussion driving an entire work. Instead, he opted for a work that was "really about the soloists and the orchestra as characters in the piece, not to overwhelm one with another."
Bunch's new work, which was performed alongside works by English composers like Handel, Britten, and Elgar, had an appropriately British-like wit. As Bunch stated to me, "I'll never be British, but I do think [Double Talk] will fit in because it has a certain neo-classic sensibility which I find a lot in Britten, who is a composer hero of mine."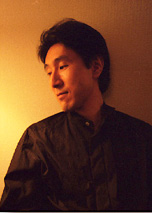 Marimbist Makoto Nakura
Photo by Emi Hatsugai
Bunch composes music with the pleasure principle firmly in view, and in this sense Per Brevig was the ideal conductor for the occasion, as he seemed able to inspire his Texan musicians to play as if for the sheer enjoyment of it, a very rare quality among conductors. Double Talk was notable for its Stravinsky-like bright rhythms and blithe, Poulenc-style melodies. Nakura, dressed in a saffron-colored silk shirt, played with exuberant, urban zest, with some of the acrobatic humor of Danny Kaye—light years away from the humorless playing of Japanese kodo drummers. Sims displayed plenty of burnished tone, although some of the ironic razzing in Shostakovich's works for trumpet might have also been welcome in this context.
Dispite the work's title, the marimba and trumpet do not really converse, but like a long-married couple, they carry on two separate monologues, sometimes simultaneously. The real conversation seems to be as much between the composer and his marimbist as between the two soloists. While the writing for trumpet is plush and glamorous, at times close to European jazz-influenced compositions like those of Claude Bolling, the challenging marimba part is more often in earnest.
In the slow second movement (Double Talk follows the three-movement form of the classical concerto) the marimba seems to express a series of interrogations about unfulfilled love. As a solo instrument, its limited range, even when played as exquisitely as Nakura does, creates a certain isolation onstage compared to the rest of the orchestra. The marimba might almost be a sort of soon-to-be-extinct bird or other endangered species, telegraphing solo taps like an SOS message doomed to remain unanswered.
Although Double Talk ends with a spirited conga like an orchestral dance composed by Leonard Bernstein, it leaves a lingering impression of the sheer virtuosity of Nakura's playing. There is a sense not just of a showcase for a brilliant player, but an emotional portrait of the abilities and personality of a soloist. When writing a concerto, any young composer might take heed of Bunch's evident awareness of the performer he is writing for, both as a musician and as a person.
This intimate knowledge became especially clear when Nakura played a solo encore in response to the audience's ovation, the surefire dazzler Rimsky-Korsakov's "Flight of the Bumblebee" arranged for marimba. Yet although played with brisk perfection, the work seemed generic, and even cutesy, compared to what Bunch had written with the same soloist expressly in mind.
Double Talk: A Conversation for Marimba, Trumpet, and Orchestra will receive two more performances on November 17 and 19 by the Stockton Symphony conducted by Peter Jaffe with the soloists Makoto Nakura (marimba) and Brian Anderson (trumpet).
Though there are no immediate plans to record Double Talk, Makoto Nakura's performance Bunch's Triple Jump for solo marimba (2001) is available on his recent disc out on Kleos Classics
***
Benjamin Ivry is a New York-based writer on the arts, broadcaster, and lecturer. He is author of biographies of Francis Poulenc (Phaidon Press, 1996), Arthur Rimbaud (Absolute Press, 1998) and Maurice Ravel (Welcome Rain Publishers, 2000). He has also published a poetry collection, Paradise for the Portuguese Queen (Orchises Press, 1998). He also translates from the French, including the books André Gide's Judge not (University of Illinois Press, 2003); Witold Gombrowicz's Guide to philosophy in six hours and fifteen minutes (Yale University Press, 2004); and Jules Verne's Magellania (Welcome Rain Publishers, 2002). He writes about music for a variety of publications both in the US and abroad.