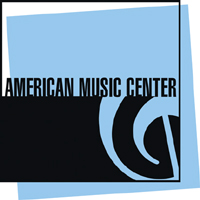 The American Music Center houses the Aaron Copland Fund for Music Performing Ensembles Program
In December 2002, the Aaron Copland Fund for Music Performing Ensembles Program, administered by the American Music Center, awarded $500,000 to 94 performing ensembles. The program was developed 11 years ago with the objective of supporting "organizations whose performances encourage and improve public knowledge and appreciation of serious contemporary American music." Grants are given annually and this year the Fund received nearly 200 applicants requesting over $2 million.
Applicants to the program were required to submit a proposal for either a specific project or general operating expenses with accompanying materials documenting a decided focus on contemporary American repertoire, budget information, and at least three recordings of the ensemble. Recipients were selected by an independent, five-person panel based on the organization's proven commitment to contemporary American music, the quality of programming and performances, and a demonstrated financial ability to carry a season or project to completion.
This year's awards were granted to chamber ensembles, opera companies, symphony orchestras, and presenting entities located in 16 states, Washington, D.C., and Canada. Prize amounts ranged from $1000 (primarily for small chamber groups) to $35,000 to support the general operating costs of the American Composers Orchestra in New York City. Many organizations applied for money that would be used directly for special projects and the awards will directly support the production of new operas, concerts and series, and several outreach initiatives in support of new music. President of the Aaron Copland Fund, John Harbison, was thrilled by the quality of applicants. "From Absolute Ensemble to Zeitgeist this year's choices represent the remarkable rich and diverse activity in the performance of American music."
The next postmark deadline for applications to the Performing Ensembles Program is June 30, 2003. Click here for more information.
For a complete list of grantees, visit the AMC website at http://www.amc.net/about/news/2003.0103.pep.pr.list.html