On April 17, 1861, Louis Moreau Gottschalk staged a "monster concert" in Havana, Cuba, gathering some 500 musicians onto the stage of the 2,300-seat Teatro Tacón. Along with a huge orchestra, solo singers, chorus, and 40 pianists, Gottschalk also recruited from Santiago in eastern Cuba the King of the Association of French Negroes, who brought an ensemble of native percussionists to play bamboulas and other Afro-Cuban instruments. Their sound was essential to Gottschalk's Symphony No. 1, "La Nuit De Tropiques," which was receiving its first full performance under his baton. For its second and final movement, Gottschalk had set a bouncy rumba, a Cuban dance form then unknown in the States. This delightful music is driven and celebrated by its percussion—and makes nowhere near the same impression when performed without those instruments.
Composer/pianist Gottschalk was perhaps the most gifted of music's multi-culturalists in the 19th-century, and his scores abound with Caribbean and South American influences. His death in 1869 at age 40 robbed American music of what might have been decades of further explorations and innovations. Without him, the appetite for exoticism remained muted in American concert music, emulating the European model, until the early-20th century. In 1917 Charles T. Griffes composed Sho-Jo, a dance score for the Japanese mime artist Michio Ito, which called for an ensemble of four muted strings, flute, clarinet, oboe, harp, Chinese drum, tam-tam, and two timpani. (His full orchestration of the work in 1919 retained all the percussion.) During the late teens, Griffes also employed Javanese, Chinese, and Native American strains in his music (without, alas, employing percussion), but American multi-culturalism was once again set back by a premature death when Griffes died in 1920 at age 35.
But the genie didn't go back into the bottle. Henry Eichheim, besides being a violinist, conductor, and ethnomusicologist who collected hundreds of exotic musical instruments, was also composing with East Asian techniques at this time. In 1922 he orchestrated his piano piece Oriental Impressions (1918-22), and the percussion demands included four street bells, Burmese cymbals, Burmese castanets, Chinese drum, fish-head drum, and Japanese wood-bell. Gamelan percussion—bonang, gender, saron, gongs—are featured prominently in two later orchestral works by Eichheim, Java (1929) and Bali (1933). When Henry Cowell inaugurated his epochal series of New Music Society concerts in 1925, Henry Eichheim was on the organization's Resident Cooperating Committee (along with Arthur Bliss and Dane Rudhyar). Cowell's Ensemble (1924) had its own striking use of exotic percussion: The piece is scored for string quintet and three thundersticks, a Native American instrument similar to a bullroarer, which is whirled overhead on a string to produce its distinctive sound. (The effect was literally striking for one unfortunate journalist: Peter Garland has described how one of the thundersticks "took off from its string in a revolutionary trajectory, straight at the critic Lawrence Gilman.") By the late '20s Cowell was teaching classes in "Music of the World's Peoples"; in 1931 he was in Berlin studying with Raden Mas Jodjhana of Java, Professor Sambamoorthy of Madras, and the comparative musicologist Erich von Hornbostel. World music would remain one of Cowell's great passions.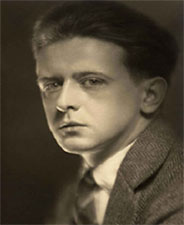 The Ethnomusicology Archive at UCLA houses the Colin McPhee Collection. Photographs, films, and music selected from the McPhee Collection are featured in an online presentation.
It was also in 1931 that Colin McPhee relocated to Bali. The Canadian-born composer had been active in the New York music scene since 1926, but he lived and worked in Bali until 1938, studying the indigenous music and reorganizing and maintaining the renowned Gamelan Semar Pegulingan. His best known work, the piano concerto Tabu-Tabuhan (1936), is also his first score based on gamelan music, and its title refers to the Balinese word tabuh, meaning the mallet for striking an instrument, as well as the musical beat or strike itself. The concerto is especially percussive and rhythmic in its first and third movements, with a gamelan-like grouping of piano, xylophone, glockenspiel, celesta, and small gong evoking the sound of Balinese percussion music—a device McPhee also employed in such later works as his Symphony No. 2 (1957) and Nocturne for chamber orchestra (1958).
Ethnomusicology was only one route through which foreign percussion entered American music during these years. Latin influences had been percolating in popular music, and in the 1930s composers with pop affinities were employing Cuban percussion in American concert halls. George Gershwin recalled Gottschalk with his Cuban Overture (1932), also a rumba for orchestra. Gershwin's percussion scoring, however, was still so anomalous that, according to Isaac Goldberg (George Gershwin: A Study in American Music), he had to provide illustrations: "The bongos, maracas, sticks, and gourds were so little known at the time that Gershwin—so there might be no mistaking what he meant—sketched into the conductor's score little drawings of the instruments and how they should be placed for best effect." Latin percussion also defines George Antheil's 1935 orchestral piece Archipelago: Rhumba (from Antheil's withdrawn Symphony No. 2). William Russell's percussion-ensemble work Three Cuban Pieces (1935, also called Studies In Cuban Rhythms) was scored for instruments that Russell had to obtain himself from a Cuban music store in New York City, including a marimbula and a rattling quijada, or jawbone of an ass—and yes, one of the three pieces is a rumba.
A different realm of exoticism led Alan Hovhaness to abandon his classes at Tanglewood in the early 1940s in favor of exploring the music of Armenia. He quickly found his own voice thanks to these studies, and percussion played an essential part in his new direction: Armenian Rhapsody No. 1, Op. 45, for percussion and strings (1944); Invocations To Vahakn, Op. 54 No. 1 (1945) and Hakhpat, Op. 54 No. 2 (1946-51), both for piano and percussion. Egyptian-born Halim El-Dabh is another American composer/musician who has drawn inspiration from his ethnic and cultural heritage. El-Dabh created his own notation system for the derabucca, a ceramic Egyptian drum featured in his solo scores Sonic No. 7 and No. 10 (1965); he also played the solo part in the premiere of his Fantasia-Tahmeel (1959) for derabucca and string orchestra.
In the 1950s, Henry Cowell's love of world music produced two scores that showcased foreign percussion: Persian Set (1957) for chamber ensemble, tar, and Persian drum, and his Symphony No. 13, "Madras" (1958), with its Indian percussion. Alan Hovhaness's fascination with the musics of other cultures grew steadily in the '50s, and his studies included the classical music of South India and Japanese Gagaku. Numerous important compositions resulted; most relevant for the percussion focus of this article are Nagooran, Op. 237 No. 1 (1960), for South Indian orchestra, Fantasy On Japanese Woodprints (Hanga Genso), Op. 209 (1964) for xylophone and orchestra, and Nagooran, Op. 237 No. 2 (1964), for cello and percussion ensemble. Lou Harrison's study of Asian musics began in the 1960s, and it flowered in such compositions as Moogunkwha, Se Tang Ak (1961) for Korean court orchestra and Pacifika Rondo (1963) which combined Korean and Japanese percussion instruments. La Monte Young's ensemble music of the 1960s owed much to the polyrhythmic hand-drumming of Angus MacLise, who'd traveled abroad in 1964-65 (and again in 1971-76) to study the percussion playing of Morocco, Turkey, Syria, Iraq, Iran, Afghanistan, Pakistan, and India.
The postmodern spirit of appropriation has continued to feature exotic percussion music. The approach can be as intimate as the tabla playing of the cryptically-credited "Kris", which accompanies the voice of Robert Ashley and the keyboards of "Blue" Gene Tyranny in the 1977 version of Ashley's Perfect Lives (Private Parts); it can also be as raucous as Henry Brant's epic spatial work Meteor Farm (1982), in which a Javanese gamelan and a West African drumming ensemble perform along with Western and South Indian vocal soloists, a symphony orchestra, chorus, and big-band ensemble. Other notable examples include Lou Harrison's Music For Violin And Various Instruments, European, Asian, And African (1967), with its quartet of African mbiras; Steve Reich's Drumming (1971), composed after what he called the "confirmation" of his trip to Africa where he studied the indigenous drum music; John Cage's Roaratorio (1979) and its use of Irish drumming; George Crumb's A Haunted Landscape (1984) for orchestra, with a percussion arsenal that includes Cambodian angklungs, Caribbean steel drums, Brazilian cuica, and Japanese Kabuki blocks; John Zorn's reinvention of Ennio Morricone, The Big Gundown (1985), and its incorporation of a Brazilian percussion ensemble; the African hand drumming of Edwina Lee Tyler; Henry Brant's outdoor spatial work 500: Hidden Hemisphere (1992), combining a Caribbean steel-drum band with a trio of concert bands; and the Philippine Kulintang gong music and Southeast Asian gong music mastered by percussionist/composer Susie Ibarra.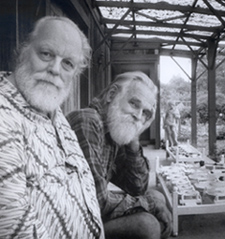 Lou Harrison and William Colvig with gamelan
Photo by Dennis Keeley
When asked if the musical belief in cultural availability was peculiarly American, Lou Harrison insisted, "Yes, this whole open thing, this rich culture, is part of being American." Sometimes the foreign percussion is a natural inheritance of the composer, as with the derabucca scores of Halim El-Dabh or the Kulintang gong performances of Susie Ibarra; more often it is adopted, just as America herself has adopted people from every corner of the planet. The most pervasive and loving adoption of foreign percussion by American music has to be our embrace of the gamelan—and here again, the debt our music owes Lou Harrison is incalculable.
This sea change can be traced back to the 1971 version of Harrison's opera Young Caesar, for which he and William Colvig constructed a just-intonation percussion orchestra that they called their "American Gamelan"—and later on, simply "Old Granddad." They worked mostly from found objects, many of which they carefully modified: cut-off oxygen tanks, aluminum slabs with tin-can resonators, conduit tubing, and even large galvanized garbage cans. Old Granddad was featured in two subsequent works by Harrison, the choral Buddhist setting La Koro Sutro (1972) and the Suite For Violin And American Gamelan (1974, co-composed with Richard Dee). These pieces led Harrison to begin composing traditional gamelan scores, a pursuit that redefined his music in the last decades of his life. He studied with the master Javanese composer and musician Pak Chokro and with two Americans, Daniel Schmidt and Chokro's assistant Jody Diamond, and his first formal Javanese gamelan works came in 1976: Gending Samuel, Gending Pak Chokro, and Bubaran Robert (known collectively as Music For Kyai Hudan Mas). Although the gamelan music of Central Java would remain Harrison's great love, he also gained expertise in the Sundanese and Cirebonese styles, and even composed for Balinese gamelan with his A Round For Jafran Jones (1991). Some of Harrison's gamelan scores include Western instruments: viola in Threnody For Carlos Chavez (1978), French horn in Main Bersama-sama (1978), violin and cello in the Double Concerto (1981), soprano saxophone in A Cornish Lancaran (1986), piano in the Concerto For Piano With Javanese Gamelan (1987), violin in Philemon and Baukis (1987). He also featured chorus and solo voice in Scenes From Cavafy (1980) and A Soedjatmoko Set (1989), chorus and harp in Gending In Honor Of Aphrodite (1986), and solo voice in Ketawang Wellington (1983) and Gending Moon (1994). Mostly, though, Harrison stuck to the pure gamelan instrumentation, creating dozens of pieces for various gamelan ensembles. (The proliferation of gamelans in the United States—today they number in the hundreds—can be attributed as much to the persuasiveness of Harrison's music as to the innate attractiveness of the gamelan itself.)
Other American composers who have been devoted to gamelan music since the 1970s include Jody Diamond (Bubaran Bill; Guru, Murid, Teman), Daniel Goode (Circular Thoughts, 1977; Semaphores, 1981; Dans Music, 1992), Barbara Benary (Vancouver; Hot Rolled Steel, 1989), Daniel Schmidt (Ghosts, 1981; Faint Impressions, 1982), and David Demnitz (Either/or-or/eitheR, 1981; Second Hand, 1985). Philip Corner, a co-founder of the American ensemble Gamelan Son of Lion along with Barbara Benary and Daniel Goode, composed over 400 works between 1972 and 1989 in his Gamelan series, scored for gamelan and/or indeterminate instruments. In the 1980s established composers also set their hands to producing such noteworthy scores for gamelan as Alan Hovhaness's Pleiades, Op. 350 No. 2 (1981), Virgil Thomson's Gending Chelsea (1981, arranged for Javanese gamelan slendro and speaker by Lou Harrison and Jody Diamond), Ingram Marshall's Woodstone (1982), David Mahler's Coast (1983), Bun-Ching Lam's Yangguan Sandie (1984), Nick Didkovsky's Phase 10 (1985) and Don't Be A Hog (1986), John Cage's Haikai (1986), and Elaine Barkin's Encore (1988).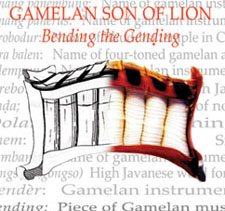 Bending and Gending includes eleven pieces in various contemporary styles by ensemble composers: Barbara Benary, Nicholas Brooke, Mark Steven Brooks, David Demnitz, Daniel Goode, Darryl Gregory, Lisa Karrer, Jody Kruskal, Marnen Laibow-Koser, Laura Liben, and David Simons.
Numerous American composers have also combined gamelan with Western and/or other foreign instrumentations. Notable works include Alan Hovhaness's Stars Sing Bell Song, Op. 350 No. 1 (1981), for coloratura soprano and Javanese gamelan; Janice Giteck's Ah Ah Sh! Listen (1981) for gamelan, cellos, bassoons, drums, narrator, and dancer; Jarrad Powell's The September Vision (1984) for Javanese gamelan, soprano, and Chinese erhu; Daniel Goode's Slendro Clarinet, Welcome! (1986) for slendro-tuned clarinet and gamelan, and Needles And Thread (1989) for two violins and gamelan; James Tenney's The Road To Ubud (1986) for gamelan and prepared piano, and Last Spring In Toronto (2000) for small orchestra and gamelan; Jody Diamond's Pangkur N.Z. (1989) for solo voice and Javanese gamelan; Larry Polansky's Bedhaya Sadra/Bedhaya Guthrie (1990) for gamelan, melody instruments, singers, and kemanak; Elaine Barkin's Gamélange (1993) for harp and mixed Javanese and Balinese gamelan; Evan Ziporyn's Tire Fire (1994) for Balinese gamelan, two electric guitars, electric bass, and keyboard, and Ngoben (For Sari Club) (2003) for Balinese gamelan and orchestra; Henry Brant's Dormant Craters (1995) for gamelan and steel-drum band; David Simons's Tugu Aneh (Strange Monument) (1996) for gamelan and homemade instruments; Barbara Benary's Aural Shoehorning (1997) for Javanese gamelan, percussion, piano, and clarinets; and Richard Felciano's In Celebration Of Golden Rain for Javanese gamelan and organ. The ensemble "Daniel Popsicle" was founded by Dan Plonsey to present such works as his Two Eyes And A Nose (1999) and Cow With Ears (1999), which combine Western and foreign instruments, including Balinese gamelan percussion.
The inevitable marriage of electronics with gamelan ensemble has also become a staple of American gamelan music. Among the compositions that add electricity to the mix are Daniel Goode's The Brooklyn Bridge Comes To… (1981) for gamelan and tape; Pauline Oliveros's Lion's Eye (1985) for Javanese gamelan and sampler; Neil B. Rolnick's ReRebong (1989) for gamelan with electronic processing; Nick Didkovsky's Phoneme Music (1990) for gamelan, voices, and computer; Janice Giteck's Home (revisited) (1992) for gamelan, six male voices, cello, and synthesizer; Malcolm Goldstein's Counting Cow Bells for gamelan and tape; Alvin Lucier's Music For Gamelan Instruments, Microphones, Amplifiers, And Loudspeakers (1994); David Simons' Kebyar Leyak (1995) for digital gamelan and acoustic instuments; Elaine Barkin's touching all bases/di mana-mana (1996) for Balinese gamelan, electric contrabass, and midi percussion; and Evan Ziporyn's Amok! (1996) for Balinese gamelan, double bass, and sampler.
Recent works strictly for gamelan ensemble of one type or another include Larry Polansky's Four Voice Canon #7 (1990), Evan Ziporyn's Night Bus (1990) and Kebyar Kebyar (2002), Lou Harrison's In Honor Of Munakata Shiko (1997), and Daniel Goode's Sad – Happy (1998) and 5 SE (2002). Barbara Benary has combined voices with Javanese gamelan for her shadow-puppet operas Karna (1994) and Wayang Esther: A Javanese Purimspiel (2001). Javanese gamelan was also the focus of Lisa Karrer's music-theater piece Woman's Song: The Story Of Roro Mendut (2003), based on a 17th-century Javanese legend.
As this array of composers suggests, the gamelan is employed by Americans with the same freedom and originality that have defined our use of Western instruments. Indeterminate, minimalist, and improvisatory structures have all found their way into our gamelan music; so too have familiar American tonal forms, from Jody Diamond's settings of Stephen Foster (Hard Times, 1984) and the traditional "Wayfaring Stranger" (In That Bright World, 1981), to Barbara Benary's use of ragtime, blues, and swing in her second volume of gamelan scores, Satires (1993). This wide-open approach toward methodology in our gamelan music can also be heard in our music for percussion instruments from Latin America or Asia or Africa or the Middle East or anywhere else on the globe. The attitude is fundamentally American, yet it was best defined by an Englishman, William Shakespeare, in this exchange from Act I of Hamlet:
Horatio: O day and night, but this is wondrous strange!

Hamlet: And therefore as a stranger give it welcome.
From The Beaten Path: A History Of American Percussion Music
by Nicole V. Gagné
© 2004 NewMusicBox