With the emergence of ragtime music in the late-19th century, an original drum-set style began evolving. Musicians such as Buddy Gilmore, Tony Sbarbaro, William Reitz, and James I. Lent (who recorded "The Ragtime Drummer" in 1904) looked beyond the military conventions that had characterized percussion in popular music, and would syncopate familiar march-like figurations and improvise with a special fondness for halving the value of notated rhythms at their discretion.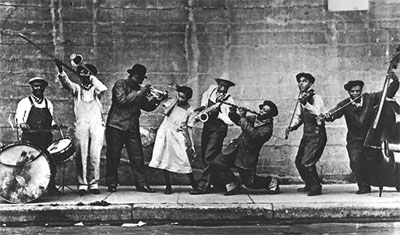 King Oliver's Creole Jazz Band – San Francisco 1921. Left to right: Ram Hall, Honore Dutrey, King Oliver, Lil Hardin-Armstrong, David Jones, Johnny Dodds, Jimmie Palao, Ed Garland
The importance of the jazz drummer emerges in the 1920s with Baby Dodds who inventively varied his patterns while playing with such classic Chicago bands of the 1920s as King Oliver's Creole Jazz Band, Louis Armstrong's Hot Seven, and Jelly Roll Morton's Red Hot Peppers. Prior to the popularization of the bass-drum foot-pedal in the mid '20s, Dodds would kick the bass drum or strike it with the heel of his drumstick. Sonny Greer began drumming with Duke Ellington's ensemble at its inception in 1923; his percussion arsenal developed as the band grew, and Greer's chimes, timpani, gong, and vibraphone contributed powerfully to Ellington's "jungle sound." In 1951 he was replaced by Louis Bellson who'd played in the bands of Harry James, Tommy Dorsey, Count Basie, and Benny Goodman. Drumming with Ellington, however, taught Bellson something special: "I learned a lot about tempos and blending from Benny and Harry and Basie, and about endurance from Tommy. But from Duke I learned the importance of sound."
"The importance of sound," above and beyond questions of rhythm and tempo, becomes a recurring motif in jazz and rock drumming, as well as in the concert music it came to influence—just as it is in the concert works that would influence American popular music. Alas, not all the great jazz drummers were able to get their sound adequately preserved. The dynamic and stylish playing of Chick Webb, who fronted his own band from the late 1920s until his untimely death in 1939 at age 30, was never properly caught on recordings but remains legendary. One powerful testimonial to Webb came from Gene Krupa, who was drumming with Benny Goodman on May 11, 1937, when Webb and Goodman had a classic 'battle of the bands' at the Savoy Ballroom in Harlem. "He just cut me to ribbons," Krupa is quoted as saying in George Simon's exhaustive book chronicling the scene, The Big Bands. "When [Webb] really let go, you had a feeling that the entire atmosphere in the place was being charged."
High praise indeed. Krupa had been making music history since 1927, when the 18-year-old drummer became the first musician to record with a full drum set. By 1937, his drum feature on Goodman's "Sing, Sing, Sing" (played mostly on floor tom-tom) had made him a full-fledged star, and Krupa fronted his own bands from 1938 until 1951. Another great swing drummer, as sensitive an accompanist as he was stellar a soloist, was Sid Catlett who'd played in the bands of Fletcher Henderson, Louis Armstrong, and Benny Goodman. The acknowledged master of the drum solo, however, was Buddy Rich. A self-taught player, Rich had been drumming since his vaudeville days at the age of 18 months! His ascendancy came in the years 1939-45, when he played with Tommy Dorsey's band. Rich went on to record with many of the giants of swing and bop in the 1950s, and pulled off the amazing feat of fronting a new big band from 1966 until shortly before his death in 1987.
The percussion palette of swing music was wide enough to make a star of xylophone virtuoso Red Norvo, who fronted his own bands from 1936 to '44; he then switched permanently to playing vibraphone and achieved a whole new level of success, recording with such greats as Charlie Parker, Woody Herman, Charles Mingus, and Benny Goodman. Vibraphone virtuoso Lionel Hampton found fame playing for Benny Goodman in the late '30s and then launched his own band in 1940. He had a monster hit in 1942 with his single "Flying Home," but became a legend with his uninhibited live performances of the tune. As author George Simon described it, "He flays away first on vibes, then on piano, using just two fingers like vibraphone mallets, then switches to a frantic, stick-tossing session on drums, and eventually climaxes the whole affair by jumping up onto a tom-tom and dancing wildly on top of it!"
The central role of percussion in jazz inevitably effected American concert composers of the 1920s and '30s. One of the first to reflect the impact was George Antheil, who quoted pop and salon music of the day in his Sonata No. 2 For Violin And Piano With Drums (1923), in which the pianist must double on drums. Antheil's Jazz Symphony (1925)—"after the finale of my First Symphony, my second attempt at symphonic synthesis of jazz"—was premiered in New York in 1927 by the W.C. Handy Orchestra, and its percussion scoring included gong, bass drum, cymbal, cowbell, and a wooden box. Jazz also influenced several 1920s works by Aaron Copland, most notably his Piano Concerto (1926), a score that required what he called "extra percussion, such as tam-tam, Chinese drums, woodblock, and xylophone." The orchestration of George Gershwin's An American In Paris (1928) demanded even more extra percussion: timpani, snare drum, bass drum, cymbals, rattle, triangle, two tom-toms, xylophone, wire brush, woodblock, glockenspiel, celeste, and automobile horns.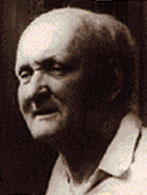 William Russell
The purest examples of pop- and jazz-derived percussion music came from William Russell. His Three Dance Movements (1933) features rhythmic reinventions of familiar forms: a Waltz in 7/4, a March in 3/4, a Foxtrot in 5/4. (In 1990, he composed a tango and renamed the piece Four Dance Movements.) The swing of jazz informs Russell's amazing Made In America (1936), in which the instruments include tin cans, a suitcase, automobile brake drums, a washboard, and a drum kit made from found objects. (A similar sensibility exists in Henry Brant's 1932 Music For A Five And Dime, scored for piano and kitchen hardware.) In Chicago Sketches (1940), composed for one of John Cage's percussion concerts, Russell evoked music he'd heard in locations throughout the Windy City, from the blues to a washboard band; he also called for finger-snapping and foot-stomping from the musicians as well as percussion playing. Russell had begun collecting early jazz records in the 1930s and developed a great love of New Orleans jazz. By the '40s his work in this field had seduced him away from his own music: He founded a jazz-focused record label with the auspicious name American Music in 1944, and spent the next 13 years recording and releasing over 60 recordings. In 1958 Russell became curator of Tulane University's jazz archive, and didn't return to composing until the 1980s.
The mid 1940s marked a significant shift in popular music with the decline of swing bands. Changing audience tastes compelled many of the giants to disband by the end of 1946, including Harry James, Woody Herman, Benny Goodman, and Tommy Dorsey. A relative newcomer, however, was then riding higher than ever: Stan Kenton, who'd fronted his own big band since 1941, had one of the most popular bands in the country. Audiences inevitably responded to his music's energy and originality, yet his band was also dogged virtually from the start by certain recurring complaints: It was too loud; it was too dissonant; you couldn't dance to it; it didn't play audiences' favorite tunes; it could become pretentious and self-important; and, most damning of all in the 1940s, it didn't swing. Drummer Shelly Manne played with Kenton from 1946 to 1952 (and was showcased in the 1946 "Artistry In Percussion" by Kenton's frequent composer and arranger Pete Rugolo). Kenton's biographer, Carol Easton, attributed Manne's importance to his realization "that there was more than one kind of swinging. Although Stan's band never swung in the conventional rhythmic sense, Shelly was able to make it move by what he calls sound pulsation. The momentum of the sound made the band swing; it created excitement through sound and dynamics. Shelly demonstrated that 'Textures and colors can make drums become really musical, rather than just a percussive thing.' Using little triangles, cymbal rolls, unorthodox glissandos on tom-toms, and big cymbal flares, Shelly turned the drum chair into a color chair, irreversibly expanding the role of the drummer in the band."
Kenton's band folded with his death in 1979, but his music has remained controversial, dividing jazz scholars and enthusiasts alike. Nevertheless, history has borne out the approach Shelly Manne typified for Kenton. Today, swing is a specialized music of its era, not unlike ragtime or disco; but the notion that a drummer occupies not just a rhythm chair but a color chair as well is fundamental to our understanding of percussion, regardless of genre.
As bop displaced swing in the 1940s, the drummers Kenny Clarke and Max Roach played essential roles in its development, pioneering the use of the ride cymbal for rhythmic time-keeping instead of the more familiar reliance on the bass drum. Clarke, who'd drummed in the combos of Benny Carter and Coleman Hawkins, co-composed "Salt Peanuts" (1941) with Dizzy Gillespie and "Epistrophy" (1946) with Thelonious Monk. An original member of the Modern Jazz Quartet, Clarke also had the range to record the Pieces Of Time LP in 1983 at age 69, playing with the free-jazz drummers Andrew Cyrille, Milford Graves, and Famoudou Don Moye. Roach had played with such luminaries as Gillespie, Charlie Parker, and Miles Davis during the 1940s, and with Bud Powell, Charles Mingus, Sonny Rollins, and Clifford Brown (with whom he co-led a quintet) in the '50s; by the '70s he was readily playing free jazz with Cecil Taylor and Anthony Braxton. In 1970 Roach formed the celebrated ten-percussionist ensemble M'Boom; he was equally capable of creating important solo works, such as his mid-'60s pieces "Drums Unlimited," "The Drum Also Waltzes," and "For Big Sid."
Hard bop, a rhythmically looser approach that grew in the 1950s, had its master drummer in Art Blakey who nurtured generations of important jazz musicians as leader of the Jazz Messengers ensemble from 1956 until his death in 1990. Blakey had been to Africa in the late 1940s and adopted such techniques as altering the tom-tom's pitch with his elbow and rapping the side of his drum. African drumming also informed his memorable performances with conga-player Sabu Martinez in "Message From Kenya" (1953) and "Star Of Africa" (1954)—a music further developed in the 1957 sessions that produced the two LP volumes of Holiday for Skins, where Blakey played with Martinez and a quintet of Latin percussionists. Another all-percussion LP featuring African drummers, The African Beat, was recorded for Blue Note in 1962.
The role of the vibraphone also continued to grow with bop in the 1940s, and Milt Jackson gained renown playing with Gillespie, Monk, and Parker before helping found the Modern Jazz Quartet in 1952. Important vibraphone players in the hard-bop and post-bop styles include Bobby Hutcherson, Gary Burton, and Walt Dickerson.
The popularity of Latin jazz had grown steadily over the 1930s, and in 1940 the Cuban-born singer/percussionist Machito formed his band The Afro-Cubans which found a wide audience after World War II. Cuban music wedded with bop as well when Havana's Chano Pozo began playing percussion with Dizzy Gillespie's band in 1947. New York-born Tito Puente fronted his own band by the late 1940s and played everything from timbales and vibraphone to congas and bongos. He became the undisputed master of Latin jazz, salsa, and Afro-Cuban music, and remained at the top until his death in 2000. In the 1950s, non-Latin Cal Tjader gained renown for his inspired Latin-jazz vibraphone playing.
Latin instruments also found unexpected homes in some of the more unusual percussion-driven music of the 1950s and '60s. Excepting piano and string bass, virtually the entire instrumentation of the Exotica Music composed and arranged by Martin Denny is percussion, performed on a unique blend of European, Latin, and Asian instruments. The music of Sun Ra's Arkestra readily incorporated a Brazilian capoeira troupe alongside the band's multiple drum sets, African drums, and homemade percussion. Yet Latin America is only one region that has influenced percussion in more recent American pop and jazz and rock. Tabla players have become a fixture in American ensembles that embrace both pop and world influences, and important musicians include Krishna Bhatt in Terry Riley's Khayal; Badal Roy's performances with trumpeters as different as Miles Davis and Jon Hassell; Collin Walcott and, later, Trilok Gurtu, who played tabla with the band Oregon; drummer Famoudou Don Moye, whose tabla studies have enriched his playing with the Art Ensemble of Chicago, along with his use of other ethnic percussion instruments; the multiple tabla players of the Diga Rhythm Band, formed by Mickey Hart with other members of the Grateful Dead. Tabla players were just some of the international percussionists who joined Hart on his celebrated recording Planet Drum (1991). The globalization of American music is also reflected in such noteworthy percussionist/composers as Angus MacLise, Glen Velez, Edwina Lee Tyler, and Susie Ibarra.
Drummer Andrew Cyrille eloquently observed, "In our music the drum is like the mother of the music, it's like the heartbeat. It transmits the pulse, the energy, the basic feeling of the music, so this is something that is like very, very close. If you take the drum out of most Black music it would probably almost be lifeless." Perhaps the most compelling support for that argument is the jazz tradition of musicians expanding their specialties to include percussion playing. Musicologist George T. Simon lovingly recalled how Chick Webb's band would often perform "a long, 20-minute version of "Stardust," played at a medium swinging tempo, with the whole band getting into the act with maracas, claves, and other percussion instruments, building and building, and rocking and rocking until the whole ballroom floor was literally moving up and down from the dancers' reactions." Sun Ra also encouraged the musicians of his Arkestra to double on percussion, and had a virtuoso such as tenor-saxophonist John Gilmore playing snare drum. Arkestra bassoonist James Jacson ("You can't even spell your name right," Ra used to tease!) would play the Ancient Infinity Lightning Wood Drum that Sun Ra had instructed him to build from the wood of a tree that had been struck by lightning. This philosophy of multi-instrumentalism is exemplified in composer and reed-player Anthony Braxton's 1968 recording Three Compositions Of New Jazz, in which a range of percussion is played by Braxton, violinist Leroy Jenkins, and trumpeter Leo Smith. The Art Ensemble of Chicago developed a special fondness for also playing on what they called "little instruments, some of them homemade, [which] include harmonicas, kalimbas, bells, recorders, sirens, kotos, whistles, temple blocks, and log drums."
"The role of the drummer is primarily to keep time," insisted Elvin Jones, who played with Bud Powell, Miles Davis, and Sonny Rollins in the 1950s; but during the years 1960 through '65, when he was drumming with John Coltrane, he demonstrated the power of playing not just the given time of the music, but a supplementary time as well. This musical breakthrough caused the role of drummer to shift from accompanist to an equal partnership with the other instruments. Another important innovator was Tony Williams, whose drumming with Miles Davis from 1962-69 had the special quality of implying the beat while still playing freely.
The need to keep time had been dispensed with all together in the playing of drummers Edward Blackwell and Billy Higgins on Ornette Coleman's landmark 1960 recording Free Jazz. In the late 1950s, Cecil Taylor had a similar freeing effect on Dennis Charles's drumming — an impact Taylor also exerted on Charles's successor, Sunny Murray, in the early 1960s. By the mid '60s enough of a tradition had accumulated to make an unlearning process less necessary. Andrew Cyrille could hit the ground running when he replaced Murray with Taylor. Milford Graves, whose studies included Indian and African drumming, could readily play free with Albert Ayler. (Cyrille and Graves also collaborated for their landmark 1974 duet album Dialogue Of The Drums, playing a spectrum of percussion instruments.) When Rashied Ali joined John Coltrane's group in 1965, he knew how to supply the "multi-directional rhythms" Coltrane prized, just as Charles Moffett was right at home in Ornette Coleman's trio of 1965-67. The ranks of drummers able to play free have swelled inexorably ever since. Outstanding players include Beaver Harris, Thurman Barker, Ronald Shannon Jackson, Rashid Bakr, Clifford Jarvis, Famoudou Don Moye, Roger Blank, Gerry Hemingway, Joe Chambers, William Hooker, Denardo Coleman, and Susie Ibarra.
Rock music was more resistant to free playing, but certain performances from the late '60s and the 1970s have become legendary. John "Drumbo" French played drums with Captain Beefheart on the classic albums Safe As Milk (1967) and Trout Mask Replica (1969). Performing with the Grateful Dead from 1967 to '71, Bill Kreutzmann and Mickey Hart became known as the "Rhythm Devils" thanks to such albums as Anthem Of The Sun (1968) and American Beauty (1970), with Kreutzmann favoring the drum set and Hart playing other percussion, domestic and foreign. American-born drummer Chris Cutler was an essential part of the music of the landmark British avant-garde band Henry Cow from 1971-78, with a discography that includes Leg End (1973) and Unrest (1974).
By the late '70s, the streams of rock and free jazz had merged with John Cage's belief in the emancipation of sound to create a generation of musicians who have come to be known as free improvisers. Their ranks include virtuosi on just about the entire gamut of instruments, from the mainstays of the concert hall to the latest innovations in electronic media. Percussion, however, has been an especially fertile ground for these artists, as it so willingly accommodates virtually any available sound-making device. Some of these musicians, such as David Moss and David Van Tieghem, have employed a dazzling array of appropriated implements, including toys and household goods, alongside their instruments. Others have been more involved with coaxing unusual colors and rhythms from conventional percussion via innovative performance techniques: Charles K. Noyes, Gregg Bendian, Joey Baron, Bobby Previte. Ikue Mori is equally skilled at performing on drum machines or drum set. Drummer/percussionist Samm Bennett led the band Chunk from 1990-94, releasing the CD Life Of Crime (1993). David Simons' playing can reflect his enthusiasm for homemade instruments. Fast Forward and Z'ev have created memorable performances on found objects, especially of the metallic variety.
The different realms of popular music have continued to expand the nature of percussion in concert music. Contextures: Riots – Decade '60 (1964) by William Kraft features violin and drum soloists against an orchestra and jazz quartet; Kraft's Configurations (1966) is scored for four percussion soloists and jazz orchestra. Leonard Bernstein's Mass (1971) calls for an array of percussion sounds on over three-dozen instruments, including a rock drummer and a "street percussion" ensemble of steel drums, claves, tambourine, gourds, bottles, and tin cans. Henry Brant's mind-boggling Fire On The Amstel (1984) is a three-hour outdoor work performed by boatloads of musicians traveling the canals of Amsterdam: 100 flutes, four church carillons, four street organs, three brass bands, and four jazz drummers. A single jazz drummer plays with four quartets of trumpeters in Brant's Jericho (1996). Pop and jazz rhythms figure strongly in such works by Michael Daugherty as UFO (1999) for solo percussion and orchestra and Used Car Salesman (2000) for percussion quartet. Rock drummer Stewart Copeland has composed numerous film soundtracks as well as operas and ballet scores, and soloed in the premiere of his recent score The Stars That Played With Lucky Joe's Cards for drums and orchestra.
Popular music, by definition, arises from needs and characteristics common to all people, regardless of how their environments and socializations may lead them into different instruments, tunings, rhythms, and ensembles. It's no accident that the ubiquity of percussion in general and the drum in particular approach a universal human constant. The term "eardrum" is not a metaphor but a fact: The tympanic membrane, stretched over a cavity of air, vibrates and thus communicates sounds that are relayed to the brain. We know music because of the drums we carry within us.
From The Beaten Path: A History Of American Percussion Music
by Nicole V. Gagné
© 2004 NewMusicBox