In early September, Ned Corman, Director of The Commission Project, announced an impressive line-up of composers and musicians who will engage in long-term residencies at a wide variety of schools in 12 American cities this fall. The Commission Project is a non-profit arts education organization that brings professional composers and musicians into classrooms to write music for student ensembles and mentor young musicians as performers, improvisers and composers.
In 2000-2001, The Commission Project will carry out a wide range of programs in over 40 schools, almost double last year's number, engaging over 3,000 students in collaborative projects with professional composers and musicians. At least 42 new titles for student bands, choruses, orchestras, and jazz ensembles will result. Prominent guest artists will give additional workshops and solo with student ensembles. Partnerships are built with sponsoring schools and colleges over the long-term, each for a minimum of 3 years. Many of the artists involved with The Commission Project give their time and services pro bono, or for a nominal fee.
"Increasingly in public education, standardized testing has become the norm, and this makes me fearful," Corman commented in a phone interview. While the time spent preparing for these tests tends to be factually driven, the residencies generated by The Commission Project help to "bring highly creative people in contact with students as much as possible." While the "visible and audible byproduct" of the residencies is often "music that is performed," Corman emphasized that "what you can't put your hands on" is the fact that the students come away with "a better idea of what the creative process is all about."
The list of this year's participants includes well-known composers David Liptak, Tania León and Paquito D'Rivera, each of whom will begin a one to three year commitment to mentor the music students at a particular school, creating at least one new work for them that will in turn be performed by each student ensemble and a guest artist. The guest artists, who conduct workshops and clinics for the students in addition to performing, include renowned instrumentalists Larry Combs and The Ying Quartet.
"A typical residency has the composer in the school twenty times over the course of the year," Corman explained. He encourages the composers to "use all their tricks: bring in recordings, play [their instruments] with the kids, talk to the teacher about [the class'] strengths and weaknesses." Then he recommends that they "disappear for a while" and at some future point "show up with 16 measures, play it and talk about how it came to pass." By witnessing the compositional process as the work evolves, Corman believes, the students will gain a sense that "all creativity is a balance of inspiration and perspiration."
Twenty-two schools from the Rochester area will benefit from TCP programs, affecting at least 1500 students. Many of these projects are composer residencies. Eastman School of Music faculty composer David Liptak will compose a work for the Rochester Philharmonic Youth Orchestra and give workshops on his creative process. Jazz composer and pianist Michael Holober will write a piece for the Rush Henrietta High School jazz ensemble, featuring himself and saxophonist Dave Demsey as soloists. Howard Rowe will write for bands at Pittsford Middle School and chamber groups at Brookside Elementary in Greece, NY.
The Commission Project will also sponsor four community-wide events in Rochester during the 2000-2001 season. The first Commission Project Retrospective Concert will be held in Greece in February 2001. The concert will consist entirely of music commissioned by The Commission Project, performed by various school ensembles and professional soloists. One of the highlights of the program will be a new piece commissioned by TCP from University of Maryland faculty member Mike Crotty for the Prism Brass Quintet and saxophonist Chris Vadala.
As part of the Swingin' Jazz Festival, created and produced by The Commission Project, over a dozen prominent jazz musicians will come to Rochester in June, 2001, to give free community-based workshops for kids and perform concerts. At each site, children will get to play for and with these musicians, and they will also receive free tickets to the evening concert. Additionally, through the support of the Mr. Holland's Opus Foundation, participating schools receive new instruments.
In December, trombonist and composer Richard Fote will direct the third installment of the Trombone Circus, a daylong festival and workshop. The event attracts trombonists of all ages and levels from throughout the region. Highlights of this year's festival will be the performance of a new piece commissioned from Bob McChesney for the Fairport High School Jazz Ensemble, and two new titles by Fote written for all participants to play en masse.
The fourth community-wide project, now entering its third year, is the Ying Quartet Project. In a partnership with the Eastman School, the Ying Quartet will present a series of lecture-demonstrations on the creative process. They are planning to commission a piece for the Quartet and Jay Stetzer, the storyteller. Over 200 students from orchestras and theory classes will participate and attend the Quartet's public premiere of the new work.
At least 500 students from the greater New York City area will be involved in this year's program. Paquito D'Rivera will write a piece to play with the All-City High School Jazz Ensemble. Composer Judith Lane is composing an opera for the Children's Opera Company of Ossining.
The opera is named after the book The Secret Cave that Lane first read when she was 9 years old. (The book is currently published as Twenty and Ten.) The book tells the story of twenty French schoolchildren who hid ten Jewish children from the Nazis. Currently in Europe for a five-week stay, Lane intends to make a visit to Dieulefit at the end of her trip in order to verify some of the facts. "It takes place at a school called Beauvallon, which is now a school for emotionally disturbed students," Lane explained. "We do know that the school hid people during the war, but we don't know specifically if they were Jewish children."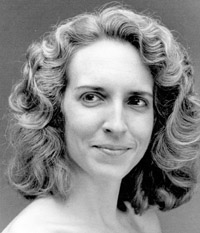 Judith Lane
Photo credit Dennis Purse
Lane describes her opera as "music theater, but different, with unusual harmonies." She has finished the actual composition of the opera, and has begun work on the orchestration. Lane has been named co-director of the opera. She will function as composer-in-residence with the Company, educating them about the holocaust and leading them through preparatory exercises. She emphasized, however, that she has not written this piece to be performed exclusively by children. "I would like to see it performed at some point with adults in the adult roles, and children in the children's roles," she confessed. "Ideally, you want the height and vocal differences between a Nazi soldier and a child; when it's performed all with children you are going to miss a little bit of that."
The Children's Opera Company of Ossining will give The Secret Cave its premiere on April 4, 2001. The Company, which was founded ten years ago, consists of children from area schools between the ages of 8 and 10. They meet once a week for much of the year, increasing the amount of rehearsal time as performances draw near. Lane enjoys working with the children because they are always willing to except a challenge. "I don't write down for children," Lane stated. "Children will sing anything, if you just don't tell them it's difficult. These kids are amazing."
Lane's connection with the Children's Opera Company did not begin with this project. Lane wrote another opera The Mill Girl that was given its premiere by the Company in 1998. Having already made the decision to collaborate again on The Secret Cave, Lane was determined to find funding. Corman sees the grant as a significant step for TCP, as it marks their first involvement with opera.
Tania León is writing piece based on Latin American texts for the virtuoso percussionist Andres Patrick Forero and professional vocal soloists to perform with the senior chorus at Herricks High School in New Hyde Park. Adam Silverman will write a new work for the Tottenville High School on Staten Island.
The Commission Project is also sponsoring projects in eight schools located outside New York State. Greg Yasinitsky, on the composition faculty of Washington State University, will be in residence at the Clarkston (WA) High School to composer a new work for the Concert Band and give a series of 20 workshops on composition. Corman praised Yasinitsky not only as a "good composer, " but also as someone adept at "writing something to suit the situation."
At Deer Path Middle School, a school of about 250 students in suburban Chicago, composer Antonio Garcia will give workshops and write for the 8th grade concert band. Corman thinks this may be the "most outstanding residency" on the calendar this year. "Tony is extremely good at doing these sorts of things," he explained, "and the program at that middle school is full of vitality." Garcia started his residency at Deer Path at the end of September with a "kick-off concert" for the 8th grade band, featuring himself and pianist Dan Cray. He has visited the school every Friday since then, working with the 8th grade concert and jazz bands and giving private lessons to three students.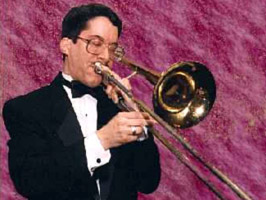 Tony Garcia
Photo credit José L. García II
Garcia will take a hiatus from the regular visits during December and January, partly in order to complete the new work he is writing for the students. He will return in February to help the students prepare the piece for concerts on March 12 and 13, 2001. The jazz and concert bands have also been working on some of Garcia's previously-written works; of these, "Shaping Thought" and "Jaguar Blues" were both written on previous TCP commissions.
Garcia is currently working on a piece for the students that will make use of Latin jazz rhythms. "There is not a lot of music for that in the concert band realm, especially for kids," he commented. He particularly wants to make use of what he calls the band's "large and talented percussion section." The student body at Deer Path is largely white, and Garcia hopes to use the piece as a way to "share Latin culture and discuss how it affects the way they play the music."
He also wants the piece to act as a "vehicle to interact with the community, administration, and support staff," by providing opportunities in the piece for guests soloists to improvise. Potential soloists include not only Garcia himself, but also two of Deer Park's assistant principals who are trained musicians.
In addition, Garcia will take some of the ideas generated by his private composition students and arrange them for smaller groups within the concert bands. "This way, they will get to hear their ideas read, and possibly performed in concert by their peers."
Garcia initially became aware of Ned Corman's Penfield Commission Project as a graduate student at Eastman in the early 1980s. His first official involvement with The Commission Project came later, however, when he started a three-year residency with Evanston Township High School near Chicago in 1996. As part of a "whole variety of things" that Garcia accomplished at Evanston, he wrote four pieces for their jazz band; one of these pieces was premiered in collaboration with Angel Melendez 911 Mambo Orchestra at the Midwest Clinic in 1997. After that, Corman asked Garcia to write pieces for the jazz bands at Limestone Junior High School in Illinois and Jefferson Middle School in Missouri. In addition, TCP supported the visit of Max Roach and his student Zim Ngqawana to work with students at Northwestern University in May 1997.
Garcia feels that the kind of outreach supported by The Commission Project is "all about giving back to the next generation." "It is the most important part of my life as an educator," Garcia commented," and one of the most exciting parts of my life as a musician." Garcia "does a lot of outreach on [his] own," but he claims "Ned offers the opportunity to develop long-term relationships with schools and their programs. With his support I can develop elbow-to-elbow relationships with the kids that last months, even years. They come away knowing what it is like to interact with a living composer, and they have a chance to ask questions and share lessons." He related that some of students who were involved in his TCP projects have graduated and gone on to college at Northwestern, where he teaches. "Whether they go to Northwestern or not, they have a resource in me," Garcia emphasized.
In addition to his position as Associate Professor of Performance and Integrated Arts at Northwestern, Garcia is the Editor of The International Association of Jazz Educators' Jazz Educators Journal and is a past President of the Illinois IAJE chapter. Garcia is Co-Editor and Contributing Author of Teaching Jazz: A Course of Study. He serves on the Illinois Coalition for Music Education coordinating committee, has worked with the Illinois and Chicago Public Schools to develop standards for multi-cultural music education, and is currently engaged in a curricular grant from the Council for Basic Education. Garcia thinks that jazz is excellent for exposing children not only to African-American and Latin music, but also the music of women and Jewish-Americans. "You can provide them with that kind of variety using other kinds of music, but you have to dig deeper," he explained.
The Commission Project is also inaugurating a relationship with the New England Conservatory in Boston. NEC's Jazz Ensemble will mentor the Jazz Ensemble at Foxborough High School in coaching and side-by-side rehearsals.
Corman oversees the formation of the residencies. "The process is mysterious," he confessed, "I look for people who are interested. It has to do with how energetic a collaborating teacher is, because it requires organizational effort. It is easier [for the teachers] to go in and do their regular stuff." Typically, Corman tries to meet with the composer and the teacher before the project starts, and then he "turns them loose."
The result of this personal approach, according to Corman, is that the residencies are all different. "They don't pass through a cookie-cutter." For instance, when Augusta Read Thomas spent time at the Harley School in Rochester, she determined that a better use of her time would be to work with three talented composition students, rather than writing a piece herself. The result was "three fine tunes," written by the students themselves.
Ned Corman founded The Commission Project in 1994 as a national extension of the local Penfield Music Commission Project that he founded in 1984. "At the time I started to teach in Penfield in 1968, the Ford Foundation was still putting money into Composers in the Schools. I really enjoyed watching the composers work with the kids. Then the money dried up." In 1980, following the departure of a superintendent who did not support the arts, Corman and fellow teacher John Turner were appointed co-chairs of the music program. Jim Doser joined the faculty in 1984, and the three men came up with the idea of reviving the kind of residency the Ford Foundation had sponsored more than a decade before.
The Penfield Music Commission Project commissioned 117 titles, most of them for student ensembles in Penfield. When Corman retired from teaching in 1994, he set about expanding the program. The first TCP residency paired Eastman graduate students with the Fairport High School Jazz Ensemble. "Fairport seemed like a good place to do it, initially, because they had an outstanding jazz program." Corman had never worked outside the district, and he was pleased to be working with Bill Tiberio, the capable director of the Fairport program. (Tiberio is now on the TCP Board.) "We put composers in residence there for two years, but we have supported the program less since then," Corman explained, because the Fairport schools started their own program, Fairport Commissions. Several districts, in fact, have started their own commissioning programs, following the initial "push" from Corman.
The Commission Project is growing. Ted Wiprud currently looks after the Project's "satellite" office in New York. The Board recently held its first long-range planning meeting, according to Corman, and resolved to hire a full-time administrator. "If we can raise enough money that that happens," Corman explained, "we will have more time to find teachers and composers who have a sense for what we are doing." Corman currently receives no salary for his services.
In late October, The Commission Project received three major grants totaling $65,000. These grants were awarded by The Dorothy and Jonathan Rintels Charitable Foundation; the New York State Council on the Arts; and New York State, with the help of Senator James Alesi. The Commission Project also receives support from the Arthur M. Blank Family Foundation and Morgan Stanley Dean Witter.