I was in Osaka recently to perform at the 10th Annual Festival Beyond Innocence, otherwise known as FBI. It was a lot of fun, but also bittersweet, as this was almost certainly the last festival—certainly the last ever at its weird and wonderful location known as Festival Gate, which is being sold by its owner, the City of Osaka, to private developers. Rumor has it that the eight-story building will be turned into a so-called "super sento," the newly popular public baths that have taken on a scale and a level of gaudiness not unlike a casino in downtown Las Vegas. It's a terrible shame because FBI was an international-class festival and a great way to hear a lot of improvised and electronic music in an environment that was unlike any other in Japan. Musicians, audience, families, and friends mingled freely, and everyone had a great time. A number of people would bring small children who, while being very well behaved by American standards, still had their run of the venue, enjoying the sights and strange sounds, but somehow never getting in the way.
FBI has always presented a nice mix of international musicians such as Lee Konitz, Bob Ostertag, Elliott Sharp, Jöelle Léandre, Steve Beresford, and Hans Reichel, but this year, perhaps in closing, festival organizer Kazuhisa Uchihashi decided to concentrate almost exclusively on fine local talent. In fact, fellow Tokyo ex-pat Samm Bennett and I were the only non-Japanese on the bill. Other composers, performers, and composer/performers presented included Yuji Takahashi, Koichi Makigami, Shunichi Chino, Seiichi Yamamoto, Keiji Haino, Yoshida Tatsuya from Ruins, KK.NULL, Nobukazu Takemura, and about twenty others, with their performances spread out over fours days. Attendance was at record levels, and everyone joked that they should have gone out of business more often. Here's a photo that was taken by a friend from backstage while I was performing.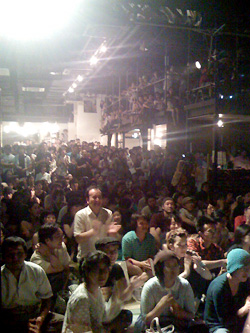 Festival Beyond Innocence
One trademark technique that Uchihashi always used in programming the festival was to devise combinations of musicians to perform together; many times having them meet for the first time ever onstage. The results were predictably varied, but, as the spirit of experimentation and challenge was strong, so was that of relaxation and fun. This time I found myself paired with Koichi Makigami, the experimental vocalist who has spent a lot of time studying homi and other extended vocal techniques that exist in Central and East Asia. Makigami and I actually had worked together a few years ago, and so I knew we would get along. While I can't be sure how the audience heard it, from my subjective vantage point onstage, it felt good and I'm looking forward to hearing the recording.
Uchihashi also gave me a solo slot, and I performed my piece Babita, whose character of sweet sadness I thought was appropriate as a closer for a festival that was going out of business through no choice of its own, but which was leaving a great history and a lot of good will in its passing.
For more information about Festival Beyond Innocence and Bridge, the sponsoring organization that produced it every year, check www.beyond-innocence.org. A four-CD archive of 67 performances from the first eight years is available, and I understand more are in the pipeline for future release. I recommend we all stay tuned.
Dewa mata kondo…