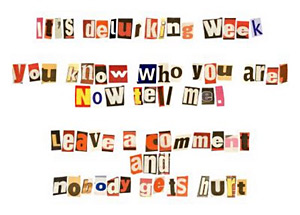 [via fourkidsandadog]
In an attempt to avert the post-holiday slump, bloggers have established National De-lurking Week. They're not doing it for the paycheck, folks, so spread the love among the new music bloggers and let them know you're out there reading.
"[Cage's] silence was imperfect, owing to the limitations of the technology available at the time."
Lord, we hope this is an example of that post-ironic sarcastic irony the hipster kids are so fond of, but frankly we're a little worried that it isn't. Hey, if it gets them interested in the masters of the avant garde, at least their phones won't ring during concerts.
Clearly we can't hope that they're learning this stuff in school where the profs are caught up in an epic battle against the tenure committee. [via Dial "M" for Musicology]
In a way, though, you could say we've been asking for this. Many pundits have been working very hard on the theory that if our music was, well, not so hard, not so long, dressed more fashionably, and came with a side order of drinks and snacks, we could be popular. We can't say how popular, but if you've slept your way through a symphony, Muso magazine needs your help.
Things may be hot on stage, but the audience arrives at a concert looking for something else. Apparently, a trip to the symphony keeps the husbands away from the strippers. The public wants, indeed they expect, a higher class experience, and Universal Music Classics and Jazz is stepping up. They'll sell you digital downloads, but not for your iPod—classical music is too good for that. [via sounds and fury]
If listening to downloads at home leaves you feeling cold and isolated and longing for the camaraderie of the concert hall, just put this portable audio couple on in the background (might as well do something with that turntable). They're guaranteed to keep up the banter through the entire set no matter how many dirty looks you throw their way—just like real life!