Photo of the Week: Nixon in Cincinnati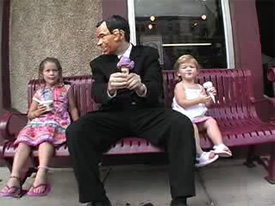 Nixon takes a little detour on his way to China. The Cincinnati Opera will keep him in town long enough for one more performance of John Adams's widely discussed work tomorrow night.
As with all things Paris Hilton, gazing at the possibly-dead-but-more-likely-in-a-sort-of-coma classical music industry just never seems to get old enough to fall completely out of the headlines, and the media has been especially attentive to this trippy little pastime of late. The most reasonable bit of journalistic essaying on the matter was tossed like a bucket of cold water off the pages of The Huffington Post: "The great tradition of classical music is not 'timeless' but entirely temporal….[T]he grand narratives of Beethoven or Melville seem alien to most people. This is not the form in which they understand their lives." Already I hear marketing departments across the land crying, "Dammit, that's just not true!" No…no, wait. We are an audience made up of idiots, and we don't understand. Maybe we'd do well to take a cue from the Italians.
Or maybe, pace Charles Wuorinen, we might take some compositional cues from T.V., specifically the Food Network. These guys sound game. Maybe an exotic performance space can even be the secret ingredient? Apparently back in the day(s of Bach) you had the occasional rock star church organist (though we doubt it ever got this out of control). Post-Cage, however, such antics have become an entire academic discipline.
Back to issues of pay-to-play, the internet radio rate debate is a complex issue for sure, but wherever you fall, it's time to pay the piper a lot more. As for me and my house, it's also this time, and I have done my homework.