Cartoon of the Week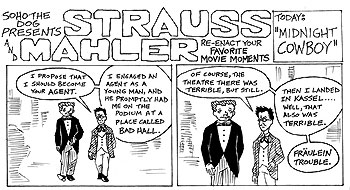 Soho the Dog slays us again. Do follow through for the—ahem—punch line.
Not sure if Soho the Dog meant to play off the "gay cowboy" theme with that little cartoon there, but it's been something of a trend on the wire this week. And anyone brave enough to write an opera about two cowboys who don't say more than five words to one another—well, I guess that shortens the libretto considerably. Who would you have commissioned? Thanks to Gerard Mortier, they may even find they have a place to stage it once he gets those pesky repertoire items out of the way.
Speaking of reviving the classics, Denk gives us Romeo as emo Juilliard freshman and, taking a cue from Hamlet, the Seattle Symphony has hired a whole coven of concertmasters. We joke you! It's classical music organizational innovation, not the third circle of hell! But now that I mention it, is complex modern music a tool of the dark one?
There are lots of ways to define innovation and infuse novelty into the industry in these rapidly changing times. There's the backwards version and the secret black gospel chords version (just to illustrate). I don't advocate shaking up the dress code so much, but lordy, do I hear you on those little prayers for the last page turn sometimes. Thankfully, music is too civilized to try the lawsuit version. (At least as far at this week's headlines go.)
Muti gives the lecture, but Matthew has the quiz.