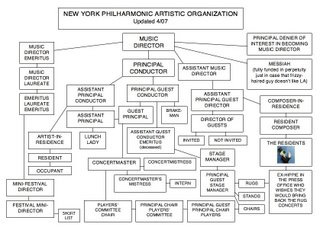 This week's scathingly perceptive illustration of a rather complex musical strategy is brought to you once again courtesy sohothedog.
Though no one can say definitively that the LA Philharmonic's appointment of 26-year-old Gustavo Dudamel inspired this bit of East Coast vs. West Coast action, the resulting behind-the-curtain fantasy is certainly entertaining. If you like your fantasies with illustrations, click the image at right. (Completely safe for work, I assure you. Just don't take a sip of coffee first.)
But, truth be told, the administrators of the New York Phil weren't the only ones getting rowdy in musicland this week. There was the incident with those cellists. And then there was that little thing with the vodka, the drugs, the Rachmaninoff, and the airplane. And we probably shouldn't even get into that business with the new music mob. Lord knows the only exit from there is 6 ft. in the wrong direction.
It appears I might have underestimated the impact of the rapping squirrel last week, and before any more people alert me to my oversight, here you go. It's leading performers to commit other strange acts of rhyme scheme, and leading musicologists to the door of artforms their children were hoping to keep them away from. Wow. Enjoy, but do not try and download anything. And while you're at it, don't clap, either, even if you really, really like it.
When presidents lie, it's a symphony to some, but when governors are bigots you get a whole opera (or, in both cases, the story of our lives). And we knew that leaving the RIAA in charge when it came to matters of non-commercial music was dangerous, but personally, I'm wondering about the person who designed this "Umbilical Chords" concert, too.