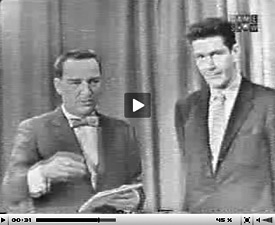 He was a man with a water pitcher, several radios, a bathtub, and secret to tell!
[via pretty much everyone with a blog]
I start thinking that maybe Lebrecht is right when a brother with a (wildly successful) raunchy movie is what it takes to make a splash in classical music these days is. I mean, I'm sure the words "world's first pornographic opera" help move the tickets and all, but seriously, when your porn stars become your opera annotators, things can get confusing. And it gives the conductors ideas.
And I'm really not sure the audience can handle such dramatics. Sure, wow them if you can, score them if you want—even analyze their DNA and sing about their pneumonia if you must. But why make it so fast and furiously new? How about a friendly Midwestern orchestra swap? Lord knows the critics have too much to think about already.
For once the news this week brings a little new music dust up that involves neither Mr. Lebrecht nor Mr. Teachout and has absolutely nothing to do with Mr. A.C. Douglas (though we suspect he'd be appalled). Mr. Teachout did weigh in on this matter, however, as did Prof. McJeebie. Personally, I'll be waiting for the harsh words and resulting music that's created when this composition project gets underway.
There's a torrent of concerts happening this weekend, kids. Carry your digital cameras on you, and send us your new music celebrity sightings.