Photo of the Week:
Stretched to the Limit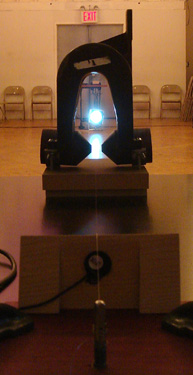 Time to unwind?
From a recent performance of Lucier's Music on a Long Thin Wire. Courtesy ISSUE Project Room.
Sometimes we all need a hero, but in our field that's usually just another night at the opera. When word came down that the Cadillac hotel was ablaze, we worried for the health and well-being of resident composer Prof. McJeebie. Wire reports carried good news—not only he, but all his scores and TANDY computers seem to have been left unharmed by the smoke and sprinkler system. Perhaps he should tread carefully from now on, however—rock music may not be as dangerous as we once thought, but composers with impure thoughts are another brimstone-churning matter entirely.
That's not to imply that composers are only earning headlines if they're sitting on the back end of a FEMA truck. Elsewhere their super-cool hairstyles and their Scorsese-worthy repartee with Scorsese are dissected in the magazine articles cluttering coffee tables across the nation. It's even confusing the hipsters, not that they'll admit it.
Now, I don't like to stereotype, of course, but we've all heard the one about how men like to collect things—things like records—in massive quantities. Apparently, however, some scientists want us to believe that they also have more—how shall I put this—"intellectual" tastes in music. Guess that's why we needed "the world's first symphonic ode to hockey," eh?
Feeling miffed, ladies? Well, a picture paints a thousand notes—particularly if you're vodcasting. So beat the drum and remind everyone that the females of the species are equally qualified to geek out over musical minutia—both emotional and cerebral. Maybe if we can talk about jazz like it's just a sonic basketball game, that would help bridge the Mars/Venus dialog gap. Hey, it worked for Colbert.