Photo of the Week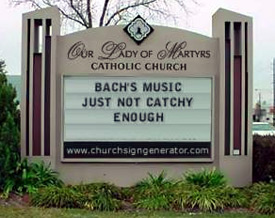 ClassicallyHip directs us to a little vote they're having at a radio station across the pond. Who will be your write-in composer candidate?
If you actually managed to miss the Bell-busker story and the resulting chatter this week, this report is perhaps the most intelligent assessment of the publicity stunt/pearls before swine experiment. Personally, I was getting a whole lot more from watching composers and puppets on T.V.
But Bell wasn't the only rock star keeping the Fourth Estate employed this week. Esa-Pekka drew gasps when he announced that he was stepping down and passing his baton to the 26-year-old Venezuelan conductor Gustavo Dudamel. If this is how they do it in L.A., I think I might want to move there. But I'd need a car.
Orchestra composers seem to be getting younger every time I turn around, only adding fuel to the clearly "not dead yet!" side of the argument (a.k.a. to some people as That Thing We Don't Mention—okay, okay, I'll try). Even the Republicans are happy we're still breathing as long as they don't have to pay for our Ramen noodles. Seems there's a reason we often talk to each other without hearing anything. And so we auction our talents to pay the piper.
Not all artistic issues in the news this week were politically based. There are critics who have serious problems with the art, and artists who take serious issue with the press. In these cases, the word "idiot" gets tossed around a lot. No one tossed it this way, but yikes, you've got to feel for these guys.