Movie of the Week: Ultimate Air Guitar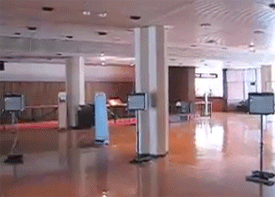 Phil Kline is out in Champaign, Illinois, for the premiere of his World on a String sound installation, and he sends in this cellphone flick from the soundcheck. It's "made of 360 one-minute sound files, all produced by me and a Fender Stratocaster. The files are loaded into a gigantic computerized carousel, iTunes-style, and played in the vast Krannert Center lobby (about the size of a football field)."

But the real news: Not a boombox in sight.
Wow, a whole week and only good news and heartwarming tales about classical music in the paper? And wait, we might also be much cooler than we thought? To what might we attribute this turn? (Despite what the Gray Lady is selling, I don't think Rick Rubin is the answer.) Maybe it's because we've found a way to reach people with only limited attention spans? (Though I don't think we've really converted those people at FOX News.)
Wait, I know! Maybe it has to do with the industry's focus shift to the pretty young things. Seriously, you have to feel for that legion of 50-year-old conductors who have been patiently waiting for their turn at the helm of one of the nations great ensembles. (Maybe they should try Venezuela?) Of course, none of the lot will ever be as good as the dead guys.
Pavarotti has passed; wonder if it was the new opera about voluntary amputation or the one about penis pumps that did it.
For those who would rather stay home, you could play the "Six Degrees of John Zorn" game or read up on your pianist gossip. The pianists themselves, however, are up to something a bit more refined—new music and poetry: Amy is writing it, Jeremy is analyzing it. Or you could always do something constructive.
I'll be catching up on this gentleman's videos. "You know how it is; sometimes you like something and everybody else doesn't."