Internet radio is different than downloading in that it allows you to hear the music but does not allow you to save it to your hard disk. This is called "streaming." There are two main types of streaming Internet radio stations, "MP3-on-Demand" and "MP3 broadcasting" or "real streaming".
"MP3 broadcasting" or "real streaming" means that the show is happening in real-time and cannot be altered in any way by the listener. It is similar to a regular radio or TV broadcast. In fact, the real-streaming format is often used for radio shows that are already being broadcast in real time. I interviewed DJs from eight webcasts in the United States featuring contemporary, experimental, electro-acoustic, improvised and other avant-garde styles. The shows I spoke to all indicated increases in their listenership due to the real-streaming format, though some noted that this listenership was limited by available bandwidth. For instance, the Kalvos & Damian radio show at Goddard College in Vermont, which specializes in works by new contemporary and experimental composers, said their statistics indicated that every week during their Saturday afternoon webcast their server was filled to its maximum of 60 listeners.
WFMU is a free-format station in New Jersey that intermingles contemporary and experimental music with many other genres. It webcasts its signal 24 hours a day, and has a large bandwidth and several servers available. They estimate their average online real-time listenership worldwide is about 2,500 per day. Ken Freedman, program director at WFMU, noted that even though Internet usage was leveling off in some sectors, it was increasing in the area of webcasting. He said, "Last year, 10% of our listeners were listening to us online. I expect that a month from now when I will be able to see the new stats, that percentage will have doubled."
"MP3-on-Demand" is a group of files which one can play continuously. The number and length of files varies greatly depending on the station. With MP3-on-Demand you have control over the music playback. You can play through the files continuously, or you can skip ahead to a certain selection and start from there. You can play a certain selection over again, or scroll forward or backward. The files are there in a stationary fashion. Any time you access the site, unless the webmaster has made changes, you will get the same data (the same set of songs). MP3-on-Demand is comparable to listening to a long tape or CD.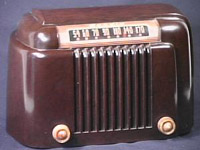 The Antenna Radio site produces its shows radio-style, but has no actual radio broadcast and presents them only in the MP3-on-demand format. Herb Levy, of the "Mappings" show on Antenna Radio, which features contemporary composers and improvised music, estimates that he has 500-750 listeners every week. Antenna Radio only leaves the current week and previous week's shows on the server at any given time.
Many of the radio shows now provide MP3-on-Demand archives where a listener can access the desired show at any time of day or night. Larger archives can logically receive a greater numbers of hits. The Kalvos & Damian show's statistics indicate that the total archive of their show dating back to 1995 gets well over one thousand listeners each week. WFMU's archives of their entire 24 hours of broadcasting dating back to mid-2000, receive about 3,500 hits per week.
No doubt this numerically and geographically expanded listenership has had an affect on various aspects of innovative music.
Of the eight shows I explored, some webcasts featured new artists and others featured more established artists. Some webcasts mixed the new music with other genres, and some had a specific theme. The DJs said that emails from listeners and reports from composers indicated increased interest in innovative music due to the webcasts. Curiosity, combined with availability, apparently forms the prime motivation for this new group of listeners. Many seem to come to these webcasts through the free-associative approach that defines the web. They may stumble across a station when searching for an artist that has interested them, they may read about it in a new music listing, they may come to it via links on other sites, they may read a posting in an email group, and so on.
(A good listing of webcasts of new and experimental music can be found on the Canadian site Earsay.)
There is no doubt that webcasts give artists worldwide, rather than local, exposure. Several DJs recounted instances of composers who had received offers to perform from organizations in other countries, due to the webcasts. International collaborations and commissions resulting from webcast connections were also noted. Webcasts allow unknown artists to be heard by large international audiences.
Websites associated with webcasts can also provide educational opportunities for new listeners. The Kalvos & Damian Show site is not only the starting point for listening to their show and its back-issues, but they also feature web pages for composers that have been featured on the show, a section with essays by composers and contemporary music authors and a directory of composer resources. Currently, they are organizing a cyber-cast music festival for August of 2001.
Other internet DJs interviewed for this section were Steve Bradley of Steve Bradley's "art@radio" on WBMC, Carl Stone of "Ears Wide Open" on KPFA, Christopher DeLaurenti' of "The Sonic Stratosphere" on KSER, Davey Schmitt of "Le Vide" on Antenna Radio and Kenny G of "Unpopular Music with Kenny G" on WFMU.