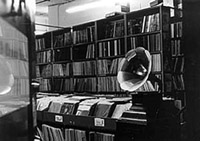 Although I am not a heavy television watcher, there is generally at least one program (usually with some kind of cult following) that sparks my interest for a short period before I move on to the next trend. The Powerpuff Girls, Iron Chef, and Junkyard Wars are a few of the strange and fascinating diamonds that I have found in the rough of cable television. Recently, a friend of mine introduced me to a show on The Learning Channel called Trading Spaces, in which two parties trade homes and decorate the new space. As I watched the show, I realized that creating ambiance is much more than adding a fish tank, some framed art, and a cool lamp or two. Therefore, I have taken it upon myself to add another dimension: music—so, without further adieu my spatial visions for the 36 new releases of American music this month.
The Big One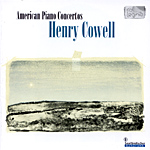 Jacob Druckman's rich tonalities are elevated on a new recording of orchestral music including a song cycle featuring Dawn Upshaw and his Viola Concerto, played by Roberto Diaz. His thick compositions music necessitate a large and lush traditional concert hall. Considering that Druckman was born in Philadelphia, perhaps the newly opened Kimmel Center would be the perfect space to celebrate his music. The bombastic tone clusters and polyphonics of Henry Cowell's music should never be relegated to anything less than the greatest of concert halls, despite the criticism of some. Furthermore, there is no question that Gian Carlo Menotti's Apocalypse requires ample space and resonance to create the proper drama. Also included on this recording is a ballet suite, titled Sebastian, indicating that a large ballet theater or opera house would serve this recording's needs for live performance the best. Meanwhile, the energetic music contained on the University of Michigan's Symphonic Band's new recording would fill a large space magnificently with the sounds of winds and brass. Rosa Parks Boulevard by Michael Daugherty would be especially powerful in a classically enormous concert hall.
Small is Beautiful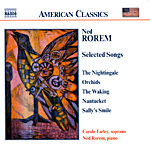 Having received a good deal of chamber music recordings this month, it should come as no surprise that small recital halls and auditoriums have copious musical options. Although the spirituals would be best suited to a semi-resonant church, the poignant art songs by Robert Owens and William Grant Still on Amen! African American Composers of the Twentieth Century, require the intimacy and attention given to music in a small recital hall. The ingenious text settings of the Selected Songs of Ned Rorem, featuring soprano Carole Farley and Rorem himself on piano, will also penetrate through a small hall and fill it with warmth. I imagine a stage with flowers on it and red seats in the audience… Stanislaw Skrowaczewski's subtle orchestral music, which unfolds into delicate yet complex harmonies, would also breathe best in a cozy space such as a recital hall. In addition, the pieces on flutist Katherine Hoover's new recording Kokopeli, which includes the music by J.C. Bach, Mozart, Pleyel, and musings written herself, would be most appropriate for a small, standard venue. However, even more suited to such music would be a small hall in London, for a majority of the pieces included on the disc were either written in or about the British metropolis. With London as our theme, American ex-pat and current London resident Andrea Cavallari's atonal-tonal hybrid Self Portrait delivers diverse impressions of self, desiring small gestures and an involved audience.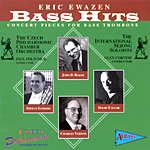 A slightly larger auditorium with more modern fixtures would create the right environment for the bass trombone, featured on Eric Ewazen's new recording. A piece like his Concertino for Bass Trombone and Trombone Choir, will fill the whole space with mellow tenor tones. Expand the space a little and perhaps add a small balcony and you are ready for a new recording of Leo Kraft's chamber music. My vision for this music involves scattering several different ensembles (violin and piano, percussion and flute, harpsichord, and tenor plus five instruments) throughout the auditorium with the chamber orchestra of sixteen instrumentalists on stage; each piece played fluidly in succession to emphasize the stark contrast of style between each finely crafted (or Krafted, if you will) piece. Turn this space into a high school auditorium and the environment is just right for a collection of simple piano pieces by Norman Dello Joio, which appear on Family Album. Each piece was written for his children as they learned to play the piano.
Going Downtown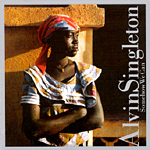 Some of the composers represented this month would probably consider any performance that they give really to be a "gig", a word that indicates a certain level of informality about a performance or something not traditionally associated with the concert music tradition. When playing at a jazz club, for instance, any performance is inevitably deemed a gig. The disc that would best be represented in a jazz club this month is Dave Douglas's Witness, a politically and musically progressive project, which dedicates each track to a significant activist who has striven for positive social change. His music is complex and enthusiastic and is sure to get the heads bobbin' and the feet tappin' in a traditional basement jazz club. Bridging the gap between jazz clubs and the small performance spaces popping up here and there in abandoned buildings and old factories, is the music of Alvin Singleton. Singleton's new album Somehow We Can, includes a heavily jazz-influenced pieces, "Vous Compra" for trumpet and piano, a post-minimalist, intense string quartet, and a piece for solo 5-string electric viola.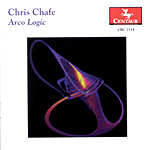 Chris Chafe's seamless melding of algorithmic composition and acoustical performance, heard on his new disc titled Arco Logic, requires a slightly more formalized setting, demanding attention. His plaintive melodic lines and army of synthetic sounds defy both the neo-romantic and new age aesthetics that such music has fallen prey to before. Many of his pieces would be enhanced by a psychedelic visual display. Also suited to such a space is Al Margolis's dark-humored recording If, Bwana I, Angelica. Between ridiculous sound effects (including the sound of a dog walking, a clown horn, and a whoopee cushion noise) and dark layers of noise, the audience's experience may be enhanced by a drink.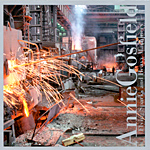 More suited to a larger art space is the new improvised musings of vocalist Thomas Buckner and digi-man, Tom Hamilton. The echo of the electronics would bounce great off of metallic walls and heighten the intensity of the dialogue between two musical extremes: the human voice and electronics. Meanwhile, a converted factory (preferably with some old machinery still kicking around, would accentuate the crunchy industrial sounds that form the skeleton of Annie Gosfield's new recording Flying Sparks and Heavy Machinery. The sonic abyss she creates with her music requires an equally cavernous space. Have some artwork that you want audience members to discover in your space? Try putting on Judith Lang Zaimont's …3: 4,5, which will cause the frenetic energy of the crowd to burst into bouts of exploration. Or for a conceptual art piece, try out John Cage's Thirty Pieces for Five Orchestras, which involves the orchestra being broken into five ensembles, conducted separately through the piece.
Inside the Box
Two deeply meditative recordings have been selected for black box performances, where there is nothing to contemplate but the music and the depths of the unconscious. Matthew Shipp's New Orbit, with pieces for piano, trumpet, drums, and bass, create harmonically and rhythmically complicated gestures with an ethereal glow about the sound. I feel that his music would illuminate such a dark space. On the other hand, the somber theme (9/11) and heartfelt playing on George Winston's Remembrance: a memorial benefit, demand a peaceful and solemn room.
Four score and twenty years ago…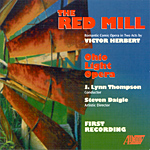 Not only does the theater music included in SoundTracks this month have special staging requirements, but the ideal space would also have to serve the right historical period of the piece. Written in 1906, The Red Mill, a romantic operetta (or musical, what's the difference anyway?) by Victor Herbert would have to be housed in an old theater. The quaint Americana sound would be exalted in any of the turn-of-the-century theaters that are scattered across the United States. The Middle Eastern melodies that infuse A. Louis Scarmolin's 1948 one act musical drama, The Caliph, would be especially suited to a rococo theater with luxuriant sets depicting ancient Baghdad. Opening up the seats up an old time dance hall, reminiscent of Ricky Ricardo's Tropicana, would create the proper atmosphere for the music of Stan Kenton, whose big band performs such standards as Tampico, Body and Soul, Begin the Beguine, and Tea for Two. A different kind of theater, however, is required by Irving Berlin's classic Alexander's Ragtime Band. Here, the stage is replaced by a movie screen in the classic style of the 1930s movies houses, complete with balconies and curtains and certainly without that blasphemous stadium seating!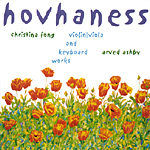 Three other pieces struck me as having deep ties to the past, but for these more intimate pieces, I would rather hear them in the depths of a an old estate house. Alan Hovhaness's tender and experimental works for violin/viola and keyboard, reach back into the traditions of many cultures and translate these themes into a modern language. Also suitable for such a salon setting is the Jazz Inspired Piano music of the 1920s, when trendy jazz and "classical music" deeply imbued with tradition, were blended by such great composers as Gershwin, Copland, Debussy, Satie, and Hindemith. The subtlety of each creation is best enjoyed on a sofa with a glass of wine. This setting would also match the heart-wrenching settings of Lorca's poetry by David MacBride. The pained elegance of his poetry, reflected by MacBride's intense suite for piano and poet's voice, would reverberate through the bodies and souls of the small audience.
Some Mel Tormé with your braised pork?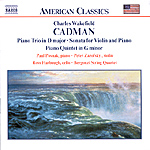 The combination of food, drink, and music has long been identified with the good life. Therefore, it seems like a great venue for new music would be some of our country's eateries and watering holes. For a romantic, candlelit meal, the sensual chamber jazz of Joe Beck and Ali Ryerson on alto guitar and alto flute respectively would yield the perfect ambiance. With a group of friends and a busier restaurant, perhaps the vocal jazz of song-styling legend Mel Tormé (and his Mel-Tones) would be just right. Featuring great tunes by Cole Porter, Gershwin, and Rodgers and Hart, this recording seems to fit on the menu right between dessert and a digestif. More appropriate to an old saloon, than an upscale restaurant, Charles Wakefield Cadman's transcendent, optimistic music reveals the roots of his training. One of the first significant American composers not trained in the European tradition, it makes much more sense to set him in the Old West rather than a concert hall. On a recording of his chamber music, you can hear the Native American influences on his distinctive personal style. In a divier place, probably a bar filled with the elusive "locals", Bobby Previte and the Bump's funk-blues tunes, would be great accompaniment to a draught beer and some darts. Upbeat and catchy, the music of this small jazz combo would appeal to many.
The Summer Sun is Calling My Name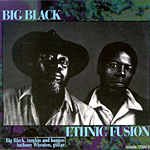 It must be remembered that some music simply cannot be contained within the walls of a building. In such cases, the perfect place to hear these works is on the grass. For example, the colossal orchestral works of Harold Farberman, often sounding like or actually being (The Great American Cowboy Suite) the soundtrack to a Western, would be best enjoyed in a bandshell at an outdoor festival. The freedom expressed in the music is reflected by the unrestricted, open air. A reissue of a 1982 LP by drumming artist Big Black, called Ethnic Fusion, seems to be afternoon music in an urban park. Blending African, American, and Caribbean rhythms together in five dialogues between Big Black's drums and Anthony Wheaton's guitar truly get to the roots of American music. Such natural music belongs in a natural setting. On the other hand, the elegant, sentimental chamber music of David Maslanka would be the perfect musical accompaniment to a garden party and belongs amongst cultivated flowers and strolling people.
Like matching wine with food or proper attire with weather, so we must consider the correct space for particular music. Hopefully, this guide will help you so you don't get stuck drinking a Chardonnay with beef stew or wearing a wool sweater on a summer day in New Orleans.