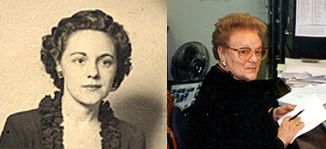 Sylivia Goldstein: A Life in Music
Thursday, January 10, 2002, 1 PM
Baldwin, NY
Recorded and transcribed by Frank J. Oteri in collaboration with Lyn Liston
---
FRANK J. OTERI: What first drew you to music?
SYLVIA GOLDSTEIN: Accidents! I started college to be a journalist. I found when I got to school, I was impressed with an economics teacher, and I got switched to an economics major. When I got out of school, it was war time, and I thought, what am I going to do with an economics major? So I went to work at Boosey & Hawkes as a junior secretary.
FRANK J. OTERI: Were you interested in music at that point?
SYLVIA GOLDSTEIN: No, what happened was that I was a member of a young Jewish organization out here on Long Island at that time, and my best friend there had a friend who was Harold Winkler. And Harold Winkler's father was the owner of Belwin-Mills, well, what eventually became Belwin-Mills. So, he was running for president of that organization, and I had slipped out of a meeting of that organization to listen to Franklin Roosevelt on the radio. When he counted heads, Harold saw that I wasn't there, and my friend told him that I was out resting in the car because I was tired from job hunting. He said "Get her in here, she's got a job tomorrow." So, I went to work at Boosey, Hawkes, Belwin, and gradually that grew into Boosey & Hawkes. And I worked my way up from that, from junior secretary to treasurer of Boosey & Hawkes. And I went to school at night to become a lawyer.
LYN LISTON: How did you get interested in law?
SYLVIA GOLDSTEIN: I was always interested, but I never thought I'd have the money to get the degree, so I worked and went to school at night at Brooklyn Law.
FRANK J. OTERI: And you got a passion for music at some point?
SYLVIA GOLDSTEIN: I got interested as I came along. Well, as you're in the business, for me, anyway, my ear developed more and more, things I never knew before I could recognize. Now when I hear something I could say, that's Copland, that's Bartók. I couldn't do that in my thirties and forties.
FRANK J. OTERI: Being around all these composers and all this music, did you ever feel a desire to perform or compose music?
SYLVIA GOLDSTEIN: I have no ear for music in that sense. I have an ear for listening. Don't ask me to sing!
FRANK J. OTERI: Oh well, that was the next thing I was going to ask you to do!
(both laugh)
---
FRANK J. OTERI: You have been connected to some of the most important composers of the 20th century. You personally knew Aaron Copland and Béla Bartók….
SYLVIA GOLDSTEIN: …when we had to go around giving away his music. People didn't know Bartók in the United States
There used to be a joke about two men who were in business together, and they were both in an accident, and one went to heaven and one went to hell. The one who was in heaven said, "I have to go see my business partner." And when he went down to hell, there was his friend on this lovely fur rug and there was a woman fanning him from the heat, and there was a man in the corner playing a violin. And he said to his friend indignantly, "I don't understand. I'm in heaven, and I have none of this. Here you are on this lovely fur rug."
And his friend said, "There are nails underneath it."
And he said, "What about that woman?"
"She's my first wife."
"And that man in the corner?"
"He's playing Bartók."
FRANK J. OTERI: I wouldn't mind being in hell if I heard Bartók all the time! So how was Bartók to work with?
SYLVIA GOLDSTEIN: He was a very honest but difficult man. He insisted on the letter of the law. You couldn't give Bartók charity. There are all sorts of false rumors around about how Boosey and other people left Bartók starving. But you couldn't help Bartók. There was a man who was the head of Remington Records who wanted to give him some money, so he sent a hundred dollars to Boosey & Hawkes that we could give Bartók for royalties. It was only a hundred dollars, but Bartók sent it back and said, "You forgot to take your commission."
FRANK J. OTERI: So you knew him when he was writing the Third Piano Concerto…
SYLVIA GOLDSTEIN: He wouldn't take money in advance because he didn't know if he'd live to write it.
FRANK J. OTERI: Who was the first composer you met when you started working for Boosey & Hawkes?
SYLVIA GOLDSTEIN: I guess it would have been Copland, whom I met in the '40s.
FRANK J. OTERI: And your memories…
SYLVIA GOLDSTEIN: Oh, so many. My memories of Copland are endless.
FRANK J. OTERI: I've heard that Copland was instrumental in getting quite a few other composers signed to Boosey as well….
SYLVIA GOLDSTEIN: He was not a pusher. Aaron was not somebody who came and said, I like this composer; I like that composer. Aaron did not push a lot of composers. He helped many, many, many, many composers, but he was discreet about who he pushed as far as publication was concerned.
FRANK J. OTERI: Are there any composers that he made a special push with?
SYLVIA GOLDSTEIN: Del Tredici, who was brought to the attention of the Koussevitsky Foundation…. He was in his 20s….
FRANK J. OTERI: The spiky 12-tone music he was writing at the time is so much different than the lush neo-romantic orchestral scores he eventually became widely known for.
SYLVIA GOLDSTEIN: Aaron didn't restrict himself to any particular kind of music…. If he didn't write it, it doesn't mean he wasn't interested. Like Bernstein…
FRANK J. OTERI: Did you have many dealings with Leonard Bernstein?
SYLVIA GOLDSTEIN: Not too many directly. Indirectly, through Aaron…
LYN LISTON: I was thinking that Barbara Kolb was one of the ones that Copland nurtured….
SYLVIA GOLDSTEIN: Well, she was also someone that Ned [Rorem] came around with. I'm very close to Ned.
LYN LISTON: What do you think about the chapter he wrote about you?
[Ed. Note: "Who is Sylvia?" is collected in Other Entertainment (New York: Simon & Schuster, 1996)]
SYLVIA GOLDSTEIN: Well, I appreciate it very much because people refer to it.
FRANK J. OTERI: Ned is a very interesting story because he's contributed not just to music, but also to the literary world through his diaries. And he's also the head of the American Academy of Arts and Letters. He's very prominent. Yet his music is not played as often as you might think, and many of his pieces are not well known.
SYLVIA GOLDSTEIN: He's one that will span the ages, not necessarily as a composer but in many capacities, and he'll be quoted in many capacities in the arts world, not just the music world, for what he has said. He's outspoken in many fields, and it goes into also personal fields.
FRANK J. OTERI: How about Dominick Argento?
SYLVIA GOLDSTEIN: He's a very fine person. He's somebody I've always wanted to do things for. In Yiddish they say, a mensch!
FRANK J. OTERI: Did you get to know Irvine Fine?
SYLVIA GOLDSTEIN: Very shortly, because he died so young. It's heartbreaking. But it's amazing that the public is still interested in his material, and he didn't have a wife who was a pushy composer-wife.
FRANK J. OTERI: Who would you say had a pushy composer-wife?
SYLVIA GOLDSTEIN: I can't think of her name but I can see her in my mind. She was the wife of a German composer and she was in our office endlessly.
FRANK J. OTERI: As someone working for a publishing firm, how do you deal with that kind of behavior? You obviously want to promote the composers, and no one could ever do enough for anybody. It's a very tough balancing act.
SYLVIA GOLDSTEIN: Well, one thing you learn as you age, you have to get out of the business on a certain level. You no longer can have the enthusiasm that you had at a younger age for the same kind of promotion. You know that you're going to break hearts. You know hundreds of young people pass before you whom you want to help and you can't. They have to fall by the wayside. There's a certain group that are gonna make it and deserve to make it. And there's also a group that deserve to make it and they're not going to. And they have certain reasons for making it, and you can't help them. And you learn that there are self-promoters. You have people who make it at their own level, and they succeed. But they succeed a lot because they push themselves, and with a little help from you, they can do it at a certain level. I hate to say this…. They're never going to make it to the top, but they're never going to be stuck at the bottom either.
FRANK J. OTERI: But clearly the industry has changed so much. What are some of the key changes, for better or worse, affecting the relationship between composers and publishers?
SYLVIA GOLDSTEIN: Self-promotion.
FRANK J. OTERI: Well, Copland in the '30s with Arrow before he got to Boosey was what nowadays we would call a self-published composer…
SYLVIA GOLDSTEIN: And I remember him saying to me very distinctly, "Sylvia, I'm so happy that I don't have to roam with scores under my arm."
FRANK J. OTERI: But now there are so many composers who desire to be self-published, and I look at this as a composer and think if I had the luxury of having a publisher handle my work, why would I want to waste my time printing parts and getting scores to people?
SYLVIA GOLDSTEIN: That's true for Steve Reich. He feels he wants to devote himself to writing music and having somebody else take care of all the other elements for him.
FRANK J. OTERI: Steve Reich is an interesting story because he forged his own career path. He started his own ensemble, he put out his own music…
SYLVIA GOLDSTEIN: But so did Peter Maxwell Davies… I feel very close to Steve now. He was very difficult to deal with when I first got to know him, very exacting. But he's very appreciative. He's now calling me once or twice a month, which is an awful lot from somebody like Steve Reich. And he told me he loves me.
FRANK J. OTERI: What are some of the things that composers expect from publishers that are not realistic?
SYLVIA GOLDSTEIN: Well, they expect publishers to put them at the top of the heap. To make them the people that producers seek for their next venture, for their next commission. Composers are the greatest element, but they can't do it themselves. They have to have producers. They have to have conductors. They have to have somebody who is interested in them. They can write the most glorious work in the world, but if no one's going to play it, so what? They have to have cooperation from some other source, some underlying support, and the best a publisher can do is get that music to the right person to make those connections. That's really the basic source of publishing. You can have the greatest opera in the world, like the operas of Ginastera, but if you can't get it to a conductor, forget it! They're great operas, but nobody plays them….
FRANK J. OTERI: Did you have many personal dealings with Alberto Ginastera?
SYLVIA GOLDSTEIN: Oh, yes, …and I've still kept up regular contact with Aurora Ginastera. And I went to Geneva for the production of Beatrix Cenci and it was a magnificent success. It was a fantastic production! But you've got to get a conductor or an opera company to give you that underlying support, otherwise you're wasting your time.
FRANK J. OTERI: You have represented so much music. Were there composers you felt you couldn't relate to, composers whose music you just didn't appreciate?
SYLVIA GOLDSTEIN: Yeah, an interesting thing is Elliott Carter whom I like dearly. I think he's a very dear man but I couldn't relate to him at all early on in music–as a person, yes–but now I can. Now, I like his music.
FRANK J. OTERI: I've gotten really excited about Carter's music only in the last few years.
SYLVIA GOLDSTEIN: I don't know whether his music has gotten easier to listen to or if we've all gotten more accustomed to his music.
FRANK J. OTERI: Certainly his most recent music is stripped down and has a clarity to it that makes it much more immediate.
SYLVIA GOLDSTEIN: But has the music changed or has our relationship to it changed?
---
3. Advocacy for American Music
FRANK J. OTERI: You have a strong belief and an advocacy for American composers.
SYLVIA GOLDSTEIN: People tell me, and I don't know if it's true or not, that in my advanced age I have a younger mind than many older people.
FRANK J. OTERI: I think that's true. What got you involved with the American Music Center?
SYLVIA GOLDSTEIN: Jim Kendrick said, "I need some help."
FRANK J. OTERI: How long have you been on the Board of Directors of the American Music Center?
SYLVIA GOLDSTEIN: This is my last year. It's been eight years. I still think we're lacking one thing. And it's a very important contribution to American music, and that is the Richard Rodgers end of it. The big American contribution has been the stage, and we don't represent it.
FRANK J. OTERI: We have members who write musical theater works, and we devoted a whole issue of NewMusicBox to the whole question of what musical theater is at this point. It's interesting because once upon a time it was an extremely viable avenue for composers to get their music heard, and then it dried up for a while, and Broadway seemed to be in worse financial and creative shape than symphonies or opera houses. But recently there seems to be a comeback.
SYLVIA GOLDSTEIN: But it's not part of what the American Music Center represents and I think that it is a big part of American music. The other thing is gospel music. We don't represent it in any way.
FRANK J. OTERI: The counter argument that could be made is that these other forms of music have other organizations that specifically serve these fields.
SYLVIA GOLDSTEIN: They do serve their function but there should at least be a relationship.
FRANK J. OTERI: How about jazz?
SYLVIA GOLDSTEIN: Jazz we do cover.
FRANK J. OTERI: The relationship with jazz is always evolving and a lot of it is through our members who include some very prominent jazz musicians and composers. We've featured jazz-related topics on NewMusicBox a couple of times and we always include information about new jazz recordings whenever we learn of them. But this strikes to a larger issue about our field. There are so many different types of composers, even within jazz there are so many different areas, how can you possibly serve them all? What more could and should we do?
SYLVIA GOLDSTEIN: We could easily add gospel the way we do jazz…
FRANK J. OTERI: What are some of the pieces of music that you've been most excited by?
SYLVIA GOLDSTEIN: I run the gauntlet. I like Copland. I gravitate toward Copland. Ned [Rorem]… But these are people who personally rip at my heart.
LYN LISTON: Were there any pieces that surprised you that you thought might not make it but made it in a big way?
SYLVIA GOLDSTEIN: No, because pieces that I thought would make it didn't. I really thought that Ned's big piece [Evidence of Things Not Seen] would and it didn't.
LYN LISTON: Maybe it hasn't yet.
FRANK J. OTERI: Something that I think is really reassuring for the future of American music is what's happened with Morton Feldman's music. When he was alive there were less than a handful of recordings and now there are tons of CDs with handfuls of different recordings of the same piece. It's unbelievable.
SYLVIA GOLDSTEIN: I'm so glad to see a revival of interest in that period of music.
---
FRANK J. OTERI: Any thoughts about younger composers?
SYLVIA GOLDSTEIN: I think there are a lot of temporary stars. Aaron [Kernis] is one that I think is a real shining star. One that hasn't been as recognized is the Scottish composer James MacMillan. His music is very solid.
FRANK J. OTERI: How can you ever know if the music that you're writing is going to be something people care about next year let alone a hundred years from now?
SYLVIA GOLDSTEIN: Or if you're going to care about it! That's the bigger point, not if the public is going to care about it. I think it's important to create a work that you will continue to care about.
FRANK J. OTERI: What advice would you give to a composer starting out in a career?
SYLVIA GOLDSTEIN: I think what Aaron did was great. He kept a notebook of ideas and later on he used them.
FRANK J. OTERI: Any other anecdotes you'd like to share?
SYLVIA GOLDSTEIN: In the early days, Ralph Hawkes used to get here to run the company by acting as midshipman–working on the ships. He would arrive, close his office, and change from his filthy work clothes into his elegant, board-of-directors outfits, and run the company. And when it was time to return, he would get back into his work clothes, and get back on a ship and go back to England.
LYN LISTON: Was that during the War?
SYLVIA GOLDSTEIN: Yeah. There was no other way of getting back and forth.
LYN LISTON: How many times did he do that?
SYLVIA GOLDSTEIN: Not too often, but he and his brother actually worked on the ships; they both were sailors. After the war, they raced boats. Once, we thought they were lost. They raced boats for fun.
FRANK J. OTERI: It's so hard to imagine a CEO of a company working on a ship in order to come to the office. It seems like we've lost something in this industry.
SYLVIA GOLDSTEIN: We changed the curve for me when we went from private ownership to public ownership and corporate ownership, and that changed the whole world. It meant we had to start making profits, not just making comfortable livings. The interest of the company was not necessarily for everybody to survive and live comfortably, but to make a sizable profit so that the corporate owners could go home and say, "We made it: 10 percent today; next year we're going to make 12 percent!" And the world changed. Now you're in business. You're no longer in something that you love.
FRANK J. OTERI: But this kind of music is ultimately not something you can be involved with in order to make a lot of money.
SYLVIA GOLDSTEIN: It has to be because you love it and want to devote your life to it and leave a legacy. They don't care about a legacy. It's my prayer that the person who buys Boosey & Hawkes is someone who is going to pay attention not to "the business" but to "the lifestyle," to creation, to leave a name, to have a heart…
FRANK J. OTERI: Well you certainly have a heart and have been the heart of this business for such a long time. Thank you so much for sharing your thoughts with us this afternoon.
SYLVIA GOLDSTEIN: Thank you so much for coming.