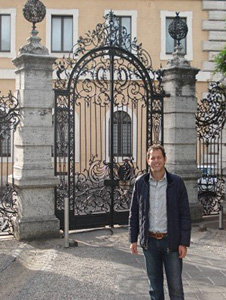 Haber outside the Villa Aurelia
This past week, Nuova Consonanza, the oldest new music organization in Rome (founded in the 1950s), presented my clarinet piece, Knife in the Water, as part of a marathon of concerts at the Villa Aurelia.
The first event started at 4:30 p.m. and continued until midnight, with short, one-hour concerts in different halls. A makeshift bar on the ground floor provided tramezzini (sandwiches with mayonnaise, without crusts) and drinks throughout the evening.
Aleatoric music and improvisation is a big part of Nuova Consonanza's world and the festival included several works by John Cage, notably the intimate Cartridge Music, for several performers who create amplified sounds with the cartridges of old phonographic pick-ups and lots of small items, such as pipe-cleaners, matches, feathers, or wires.
Erin Gee had a short, quiet, and extremely beautiful electronic piece performed that explores her ongoing research on extended vocal techniques.
Gavin Bryars played a large part in this year's festival. Among several of his works, his The Sinking of the Titanic was performed, open rehearsals and masterclasses on his music were held, and all of Rome was plastered with posters of sinking ships.
My own Knife in the Water was played by the superb young clarinetist Francesco Bonafè and came after 45 minutes of very early music for piano and violin by John Cage.
Listening to my piece, composed over a year ago, I was so completely divorced from it, I couldn't believe I had written it—it was like listening to someone else's work. It had nice moments, but it was disjointed and lacked a structure. I palpably felt the incomprehension of the audience as one idea inexplicably followed another, followed by another.
Most of the comments from visual artists and architects: "I don't know much about music, so I am not exactly sure what to say, because it was really complex, but it was…um…interesting."
Frankly, I'd rather have an audience member say that on the first-listen, they were reminded of the first time they ate jellyfish and the incredible sadness they felt as it squished in their mouth, or that the music was strange and evocative and that they need/want/can't wait to listen to it again. Forget the abstractness of music—aren't I trying to express ideas and emotions that we all have?
Afterwards I spoke with Michael Grimaldi, an affiliated fellow at the AAR, and an artist who is concerned with technique, accuracy, and realism. He is as far from an abstract painter as one can get, and I feel that there still remains a certain courageous fearlessness to that kind of depictive work.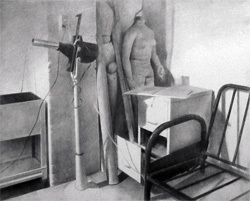 Valentines Day by Michael Grimaldi
We talked about timing in a drawing, a concept I never thought about before. How does an artist lead a viewer's eyes through a painting? How does a composer lead a listener? For Michael, the end of the work of art occurs when he has fully captured exactly what he's looking at. I don't compose that way, and I wonder if I should. Does any composer work like a figurative artist?
On a bright note, last week I learned that in Naples you can go into a bar and have a caffe sospeso—literally, a coffee in suspense. When someone orders a caffe sospeso, s/he is actually paying for two coffees, but receives one. Later, if someone unable to afford a coffee walks in the bar, the person can ask if there are any coffees in suspense.
Yesterday in Rome, I was running low on gas as I rode down the Lungotevere and stopped my scooter at a roadside gas pump. An elderly, well-dressed gentleman on a beautiful vintage Vespa was in front of me in the queue and gave the attendant 10 euros while asking for him to fill up the tank with 5 euros worth. The attendant was about to give him 5 euros change, but the customer told him to fill up my tank with it, nodded to me, smiled, and rode off. Benzina sospesa.