Pianist and composer Michael Djupstrom may have been born in 1980, but don't come to his work expecting trendy, genre-bending, "I want my MTV!" sonic pop-culture references.
"Well, we didn't have cable," Djupstrom teases. He also didn't have musician-parents to guide him, and his own conservative classical training was provided by the public school system and the town's local organist—largely revolving around Bach, Beethoven, and Brahms. Though he had plenty of opportunity to expand his listening while earning his undergrad and graduate degrees at the University of Michigan, in the end he came back to a fairly straight-ahead style of composing music.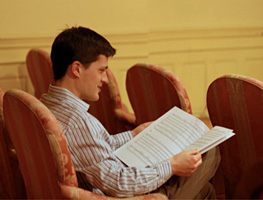 Michael Djupstrom
Photo by Molly Sheridan
---
Listen Up

Hug your grandma, eat your turkey, and then tune in to Counterstream Radio at 9 p.m. on November 22, when Djupstrom will tell us more about his approach to writing music and share concert performances of his work. If the tryptophan puts you to sleep before the show, don't worry—you can catch a reprise broadcast of the program on November 25 at 3 p.m.

Listen to a sample of the interview right now.


---
"When I was a student, I was deliberately trying to stretch boundaries a lot and experimenting," he explains. "But honestly, I think just in terms of the music that I respond immediately to as a listener, as a performer, as a musician, is music that's more traditional, frankly."
Djupstrom, who is now facing the very traditional problem of being a young composer and performer picking up a variety of jobs while establishing himself, says that he appreciates the many musical roles he plays. "I wouldn't be the kind of person who can sit in a room all day long and compose and compose and compose, let's say ten hours a day—or even six hours a day—every single day. And if I didn't have some other aspect of my musical life that kept me so busy, I wouldn't be able to deal with it."
When he is at work on a piece, collaborative ventures keep him from feeling isolated. Djupstrom has found himself to be a particular fan of text setting, which allows him to step into a world created by another artist. "The fact that a piece [of poetry] is finished usually suggests a lot of things to you when you're trying to set it to music," he says. The challenges of working with such a fixed object can provide inspiration, but it can also be painfully limiting. Djupstrom stumbled upon the ideal combination while paired with the poet Michelle Deatrick in a workshop setting. "I remember when I was composing it, I couldn't get a certain stanza to work—I just couldn't do it…it sounded great when you read it, but every time I'd try and compose it, the climax needed to come now, but I still had another stanza to get out of the way."
So he called her up. "I said, 'You know, Michelle, can we just cut that?' And she thought yeah, okay, that's fine. And it was that easy."
The process is not always so effortless.
"This summer I did a Neruda setting and there was a stanza I really wanted to cut," Djupstrom admits. "But he couldn't be reached."