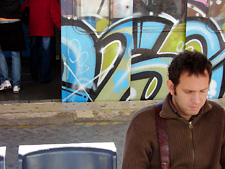 Haber waiting for the subway in Rome
Eight of us arrived at the enormous estate of the German Academy at Villa Massimo last Sunday: Chris, the American Academy chef; Hendrik, our coach (a fellow from last year who has managed to remain in Rome, teaching at a university); and six fellows in arts-related fields. We came wearing shorts, black shirts, sneakers, and the longest socks we could find. We were about to take on the Germans in a soccer tournament with the promise of a barbecue to follow.
We lost. Badly, considering that the Germans had a four-year-old kid on their team. The Germans passed the ball to each other in careful, precise, small movements. We, on the other hand, focused on going for the gold as quickly as possible, barreling down the field and whomping the ball in the general direction of the goal in the hope that God would take care of the rest.
But the barbecue was great, as were the German fellows. Their Academy is funded by the government, while the American Academy is not. What implications does this have? Ten fellows versus our thirty. Each fellow receives a massive studio complex with an apartment, guest quarters, kitchen, and private garden. They do not eat lunch and dinner together like we do, they don't have an operating bar like we do, but they did have a lot of beer—endless cases and cases of beer.
Otherwise it seemed, on the surface, quite similar to our Academy: a beautiful space, fellows working in diverse fields who collaborate with one another. When I spoke to several of them about public funding, they were happy to have it so.
The day after the game I sat down to lunch with Bill Franklin, associate director for external affairs, and asked him what he thought about the public vs. private question. He spoke of the American Academy's pride in remaining private, fitting with the American spirit of independence and entrepreneurship. Government control often means a government-appointed director bringing with him or her a government agenda. If a certain administration chooses to cut back on arts funding, the academy suffers, while a private academy may continue despite any political shifts.
Franklin also pointed out that whereas a state-run academy has a directive to support its own citizens, the AAR is gradually opening its doors to non-U.S. artists and scholars. Aside from thirty American fellows, the AAR has visiting artists and affiliated fellows from an increasing number of countries who fill up the many extra rooms: certainly it is a solution to paying housecleaning and electrical bills, but it also means we have a constant influx of artists and scholars from around the world who enrich our halls.
Franklin spoke of the American Academy's pride in being private since its inception. Can a private institution control its artistic agenda in a way that a public one cannot? How would the American policy makers effect the course of this institution were it to be government run?