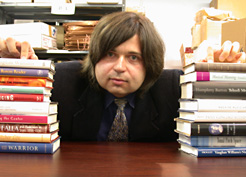 Frank J. Oteri
Photo by Molly Sheridan
According to my family, the first motion picture I ever attended was The Beatles' A Hard Day's Night the year of its original release, 1964, when I was just a few months old. They tell me I provided my own soundtrack of loud cries and hollers and that I had to eventually be removed from the theater but I don't remember that first exposure to the movies at all.
I can't honestly remember what the next movie I saw was, but what I do remember from my early exposure to films was that I was always more interested in the music than in the movie and my attitude has remained mostly the same to this day. And when I analyze the films I enumerate as favorites—Vertigo, The Cook, The Thief, His Wife and Her Lover, The 5000 Fingers of Dr. T., Koyannisqatsi, even Woody Allen's Sleeper—it's largely because of the ways these films use music.
So, when people decry film music as "background" rather than "foreground," it's a bit of a disconnect for me. To me, the music is always foreground even in a movie where the images and storyline are frequently just background, especially if the music is good. The movies I treasure most are the ones celebrating the music contained in them: the endless car drives in Vertigo which are largely window dressing to Bernard Herrmann's amazing score; the gratuitous treks through the kitchen in Cook, Thief to observe a boy soprano singing Michael Nyman's ravishing Miserere; the over-the-top ballet featuring Dr. Seuss impressions of orchestral instruments in Dr. T.; the wonderful temporal displacement that Woody Allen's faux '20s clarinet-led Dixieland band gives to a science fiction narrative that is supposed to be taking place 200 years in the future; and, of course, Koyannisqatsi is all music.
Few composers are more articulate about what the film world and the concert hall can learn from each other than Elliot Goldenthal, who has maintained a triple compositional career writing for motion pictures, the concert hall, and theatre. Four composers who have created music for films as well as the concert hall—Paul Chihara, Laura Karpman, Roger Treffhouse, and Douglas J. Cuomo—describe the different realities in which these realms exist. And we ask you "Where do you see the relationship between film and music going in the future?".
Throughout its history and to this day, film music, whose first century is summarized in a massive HyperHistory by Nicole Zaray, is still somehow perceived as a second-class musical citizen in certain quarters of the music establishment. Nowadays, this seems stranger than ever when music, originally intended as foreground—the enshrined masterpieces of Beethoven et al.—are introduced to most listeners as background music: a recording which almost always competes unsuccessfully with life going on around it or as a radio broadcast which has signal in addition to life as added counterpoint… Ironically, as the results of the Knight Foundation's Classical Music Segmentation Study as well as an NPR survey of the core values of classical music radio sadly confirm, film music may be more in the foreground to more people than classical music is these days!