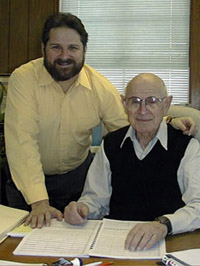 Tom and Arnold Broido
Photo courtesy of Theodore Presser Co.
The Theodore Presser Company recently gave a glimpse of what music publishing in the 21st century will look like. By teaming up with a CD-ROM company called CD Sheet Music, the company recently began publishing sheet music as PDF files on CD-ROM disks. This means that thousands of pages of sheet music can fit onto one CD-ROM.
The first 15 CD-ROMs to be released include the complete solo piano music of Beethoven, Brahms, Chopin, Mozart, and Schumann, as well as "The Ultimate Collection of Piano Studies and Exercise" which includes exercises by Berens, Burgmuller, Czerny , Gurlitt, Heller, Kohler, Pischna, and others.
Most of the CDs cost $15 dollars each and include Adobe Acrobat software that enables users to view the sheet music on their computer screens and print it out on 8.5″ x 11″ paper. Users are also allowed to print unlimited copies of the music.
Currently the CDs contain only scans of the sheet music, although future releases may include opera and possibly other CDs with MIDI accompaniment files. By the end of 2002 the company plans to sell a series of 110 discs.