Like people, conferences have their own personalities—public personas that take shape through programs of panels and presentations—but also private sides that reveal themselves more fully in hallway conversations, impromptu lunches, and after hours parties. If the Experience Music Project (EMP) Pop Conference's recent meeting in Seattle (April 19-22) provides a reasonably accurate impression of its character, the precocious six year old acts its age: playful, intellectually curious, receptive to new ideas, and still growing. A bookish, nerdy-but-cool adolescent sporting square glasses and skinny jeans, EMP is the Elvis Costello of conferences.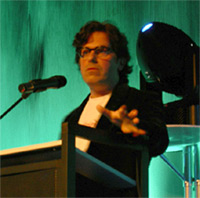 Jonathan Lethem delivers the conference keynote address, "Collapsing Distance: The Love-Song of the Wanna-Be, or, Fannish Auteur."
Photo by Joe Mabel
That image has more than a little to do with the fact that pop journalists and critics represented the majority of this year's approximately 150 attendees, who also included a large percentage of music academics—well-heeled graduate students and post-docs in somewhat greater numbers than junior and senior ranking profs. Few musicians participated, aside from those who double in one of the aforementioned categories, nor did many music industry types. There were no performances, no conference exhibits. Instead of a celebrity rocker or record label exec, noted novelist and sometime music writer Jonathan Lethem gave the keynote, "Collapsing Distance: The Love-Song of the Wanna-Be, or, Fannish Auteur." Rhapsody and Real Networks counted among the handful of conference sponsors that made free admission possible, but their understated presence impacted the overall vibe of the gathering very little.
While the small number of attendees lent the conference an intimacy, the blend made for a congenial, low B.S., nearly hype-free convergence of music enthusiasts that felt tight-knit without being exclusive or cliquish. Instead of the pervasive high-octane networking encountered at CMJ (or the conferences of the American Musicological Society, Society for Ethnomusicology, International Association of Jazz Education, and Chamber Music America, for that matter), budding EMP relationships seem less effected by the desire for professional expediency and an individual's place in the pecking order. Being there is unlikely to provide quantifiable results in terms of landing more freelance work, getting tenure, or scoring a job at a nicer college, which places the focus of interaction squarely on intellectual interests. A core constituency attends year after year, but conversations between regulars and newcomers started easily as attendees chowed down on free continental breakfast in the lobby, hung out at the lone book table, or grabbed lunch in the shadow of the Space Needle at the Seattle Center next door.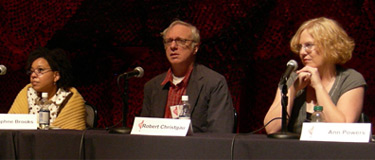 (L to R) Princeton English & African-American studies faculty member Daphne Brooks, critic Robert Christgau (Rolling Stone, ex-Village Voice), and Los Angeles Times culture critic Ann Powers at 2007 Pop Conference, Experience Music Project, Seattle, Washington.
Photo by Joe Mabel
Perhaps it takes co-mingling individuals from different spheres of intellectual enterprise to create a healthier, less hierarchical environment for exchange. But thanks also go to EMP's psychic parents, conference organizer Eric Weisbard, a former editor at the Village Voice and Spin, and program committee member Ann Powers, chief pop critic at the L.A. Times and ebullient spirit. These two appeared to be everywhere: moderating panels, asking questions from the audience, leading lunchtime discussions, chatting informally with old and new acquaintances, and generally meeting and greeting those present. From the outset, they established a collegial tone and created a welcoming atmosphere. Instead of adopting a traditional format for the conference's closing panel on Sunday afternoon, "The Future of Thinking About Music for a Living," Weisbard conducted it more like a town meeting: chairs arranged in a circle large enough to accommodate around a hundred people, whose lively and productive dialogue he orchestrated. After some talk about the successes of the conference and where there might be room for improvement, discussion touched on such topics as writers' intellectual property rights, the underexploited potential of the academy to support writers, and the migration of work to the web. Pitchfork news editor Amy Phillips' made the provocative assertion that even webzines failed to reach many of today's young readers, who get most of their information from message boards. The future of music journalism? Hope not.
Having four simultaneous sessions at any given time, an expansion of last year's three, made Weisbard and Powers' omnipresence an even greater feat. This year's loosely defined theme, "Waking Up from History: Music, Time, and Place," generated a wide range of panels with titles like "Urban Dance Squads," "A Seventies Moment," "Indieland," "Breaks in Time: Rethinking Hip-Hop Roots," and "Pazz & Jop Live!"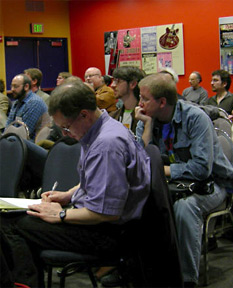 Audience for a talk in the EMP Learning Lab.
Photo by Joe Mabel
The individual papers varied in style and in strength—some more journalistic in approach, others more scholarly, irrespective of their quality. On the "Year Zeros" panel, poet Joshua Clover ruminated on 1989 and its "Winds of Change," while Caroline Polk O'Meara used the Bush-Tetras's "Too Many Creeps" to map early 1980s New York. An exploration of "Suburban Soundscapes" included Patricia Jeehyun Ahn's analysis of music's role in the hit show The O. C. and its representations of racial diversity. Between Daphne Carr's exegesis on the Hot Topic chain in suburban malls and Erica Easley's history of concert T-shirts, the panel on iconography revealed much about clothing and identity, whether or not it provided viable fashion tips. "Pazz & Jop Live!," a conference highlight, started off with Robert Christgau speaking out on his firing from the Village Voice and the fate of his respected poll, followed by Princeton professor Daphne Brooks' poetic exploration of the band TV on the Radio, and closed with Tim Quirk's predictions about future listening habits as based on Rhapsody's subscription model. (He is Rhapsody's vice president of music content and programming.)
The panel topics also went well beyond "pop music" or "popular music," however one might define it. Others included "Jazz Journeys," "Forks in the Folkways," and "Space, Place, and Race in Country Music." A moving lunchtime session paid tribute the career of culture critic Ellen Willis. The University of Washington, a conference sponsor, hosted an evening discussion between Jeff Chang, author of the award winning Can't Stop Won't Stop: A History of the Hip-Hop Generation, and Gaye T. Johnson, faculty in the Black Studies Department at UC Santa Barbara, titled: "Made It Funky: New Orleans, James Brown, and the Foundations and Futures of U.S. Pop Music." The fate of New Orleans and its musical culture remained a theme throughout the three days.
Academics might find EMP lightweight in terms of its theoretical rigor—nothing there shook the foundations of scholarship—while journalists and critics might rightly counter that the academic tone of many papers and the thick critical studies vocabulary that they tend to employ hinders their ready comprehension. Nonetheless, this conference provides a welcome venue for journalists and critics to reflect on their favorite subjects outside the daily grind and to work out long term projects in front of an audience of dedicated researchers, while also serving as a place where academics can catch up on current pop and media trends and benefit from the knowledge of insiders. The specifics may change year after year, but EMP is a precious and incredibly unique young hybrid, an open space for exchange between the two primary groups who think and write about music for a living.