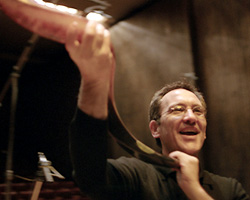 Osvaldo Golijov
Photo by Caroline Irby
With the Globes behind us and the Oscars on the horizon, awards season is in full swish. Along with the hangover, the New Year also brings the announcement of Musical America's Composer of the Year. This year's honor goes to, drum roll please, Osvaldo Golijov! Okay, no surprise here since Golijov has been gathering hype and praise nearing Brokeback proportions. What with a Grammy nomination, his very own festival at Lincoln Center beginning later this month, and the list goes on…bets are Musical America made a smart decision.
While the year may belong to Ang Lee and Golijov, others out there are getting recognized for their work too. Indiana University professor Jeffrey Hass received $5,000, winning the ASCAP Foundation's Rudolf Nissim Prize for his Symphony for Orchestra with Electronics. The 27-minute work was selected from a pool of nearly 250 submissions. The jury—Gil Rose, Diane Wittry, and Michael Morgan—also awarded a special distinction to composer Paul Richards (Gainesville, FL), and Tyler White (Lincoln, NE) received an honorable mention.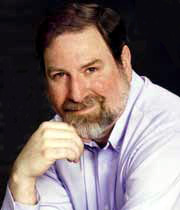 Jeffrey Hass
Photo Courtesy of Indiana University
Hey, modern composition fans in the Bay Area, your Magic 8-Ball says "Outlook Good" thanks to Silicon Valley venture capitalist and philanthropist extraordinaire Kathryn Gould, who is single-handedly bringing nine newly commissioned works to a consortium of orchestras including Oakland East Bay Symphony and its neighbors, the Santa Rosa Symphony and the Marin Symphony. Meet The Composer just announced the complete lineup for Gould's Magnum Opus project, which has already supported the creation of new orchestral works by Kenji Bunch, Kevin Puts, and Ingram Marshall. Now add to that list David Carlson, Osvaldo Golijov, Pierre Jalbert, Bezhad Ranjbaran, Roberto Sierra, and Peteris Vasks.
New to the cha-ching circuit is the Beverly Sills Award, which bestows $50,000 to singers between the ages of 25 and 40. The first recipient is the 35-year-old baritone Nathan Gunn fresh off the premiere run of Tobias Picker's An American Tragedy at the Metropolitan Opera. In another first-ever, Bright Sheng will spend '06 as New York City Ballet's composer in residence. As a result, expect two new pieces by the composer during NYCB's 2007-08 season. Just goes to show you, there's always something to look forward to.