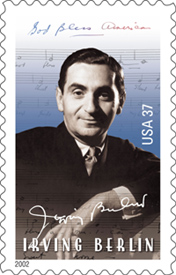 Courtesy the USPS
American songwriter Irving Berlin will be honored by the U.S. Postal Service next month with a commemorative stamp. The 37-cent Irving Berlin stamp will be dedicated on September 15 in New York at a ceremony held in conjunction with the 11th annual Broadway on Broadway concert (a free public concert marking the official kick-off for the Broadway theater season) at Times Square. It will be available for purchase at post offices across the country the following day.
The portrait of Irving Berlin on the stamp is a colorized version of a 1932 black and white photograph by Edward Steichen, superimposed over Berlin's handwritten score of "God Bless America." His signature from that score appears at the bottom of the stamp. The stamp was designed by Greg Berger of Bethesda, Maryland.
John F. Walsh, a member of the presidentially appointed Postal Service Board of Governors, will dedicate the stamp. In his announcement, he noted that Berlin "made a significant contribution to the culture of our nation and to the world, and we are proud to issue this stamp honoring his numerous accomplishments."
About Irving
In the course of his influential career, Irving Berlin penned more than 1,000 songs, many of which are now regarded as American classics and continue to be performed on Broadway, in movies, and by vocal artists today. Born in Russia, his family immigrated to the States in 1893 and settled on the Lower East Side of Manhattan where he sang on the street to help support his family. His first published song, "Marie from Sunny Italy," was published around the time of his 19th birthday. He went on to earn millions and compose the scores for landmark musical comedies such as Annie Get Your Gun (1946), Miss Liberty (1949), and Call Me Madam (1950). His countless hits for Broadway and the silver screen include "Easter Parade," "There's No Business Like Show Business," "Puttin' on the Ritz," "Cheek to Cheek," "White Christmas" (which earned Berlin an Academy Award for Original Song in 1942), and "God Bless America." Berlin died at the age of 101 on Sept. 22, 1989, in New York City.