United States Artists, a new organization which seeks to provide direct support to living artists across the U.S., has announced the first recipients of 50 USA Fellowship grants of $50,000 each. Fellows include artists in the fields of architecture and design, crafts and traditional arts, dance, literature, media arts, music, theater arts, and visual arts. The awardees were selected through a panel process from among 300 applicants.
Among the winners, artists connected to the music field include: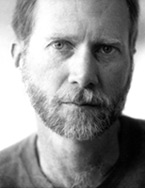 John Luther Adams
Photo courtesy Dennis Keeley
John Luther Adams, Alaska—USA Ford Fellow
The work of composer John Luther Adams is deeply rooted in his experience of the Alaskan landscape. He writes a wide variety of music, orchestral and electronic, for ensembles large and small. Most recently, he has explored site-specific works, including The Place Where You Go to Listen, a sound and light installation derived from seismic and electromagnetic data, shown at the University of Alaska Museum of the North. Adams is now working on installations and compositions based on data from weather stations around the world.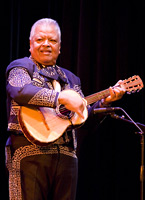 Natividad Cano
Photo courtesy David Bazemore
Natividad Cano, California—USA Rockefeller Fellow
Born in Jalisco, Mexico, into a family of mariachi musicians, Natividad Cano is widely recognized as one of the masters of his genre. He came to Los Angeles in 1957, and in 1961 he founded Los Camperos, a mariachi group that is still in existence. After touring with the group for eight years, he opened the restaurant La Fonda as a way to continue performing while staying at home. Cano is almost single-handedly responsible for the wide reach of mariachi music in the United States and has done much to preserve and perpetuate this genre in the course of his fifty-year career.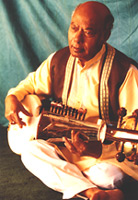 Ali Akbar Khan
Photo courtesy Lawson Knight
Ali Akbar Khan, California—USA Glover Fellow
Ali Akbar Khan is a master of the sarod and is one of the most respected Indian classical musicians in the world. He came to the United States in 1955, and in 1967 he founded the Ali Akbar College of Music in Marin, California. Since then Khan has had a tremendous impact on music in the United States, through both his teaching and his performances. He was named a MacArthur Fellow in 1991 and was honored with a National Heritage Fellowship from the National Endowment for the Arts in 1997.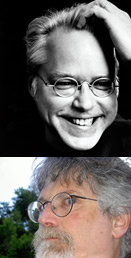 Bill Frisell (top) Photo courtesy Ralph Gibson and Jim Woodring (bottom) Photo courtesy the artist

Bill Frisell and Jim Woodring, Washington—USA Rasmuson Fellows
Musician Bill Frisell and cartoonist Jim Woodring have created a number of short animated films exploring the themes of spirituality, the evolution of consciousness, and the contrast between horror and beauty. Frisell is well known among his fellow musicians as a consummate guitarist, composer, and bandleader. He has collaborated with artists such as Petra Hayden, Burt Bacharach and Elvis Costello, John Zorn, and Vernon Reid. Jim Woodring is the author of Jim—an illustrated "autojournal" that includes drawings, comics, and stories based on his childhood experiences—and is perhaps best known as the creator of Frank, a wordless cartoon series.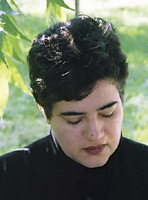 Lourdes Pérez
Photo courtesy Lisa Nickle, 2005
Lourdes Pérez, Arizona—USA Stevens Fellow
Lourdes Pérez is a singer-songwriter noted for the richness of her voice who blends various Latin American vocal traditions, engaging deeply personal stories as well as global politics in her music. She has particular mastery of decimal (a complex Mexican vocal style of singing and improvisation) and Puerto Rican trova. She has recorded six albums of music and is equally committed to performing in community, national, and international settings. Her immediate plans are to finish converting her mother's stories into decimas and seis, composing music for these songs and recording them.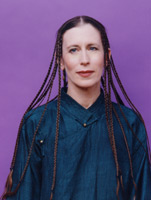 Meredith Monk
Photo courtesy Jessie Froman
Meredith Monk, New York—USA Prudential Fellow
Meredith Monk is a composer, singer, director, choreographer, filmmaker, and installation artist. Her groundbreaking exploration of the voice as an instrument, as an eloquent language in and of itself, expands the boundaries of musical composition, creating landscapes of sound that unearth feelings, energies, and memories for which we have no words. Noted for work that blends sound, music, and movement, Monk continues to capture the spirit of our time and is an inspiration for many artists both in the United States and abroad.
The Ford Foundation, the Rockefeller Foundation, the Prudential Foundation, and the Rasmuson Foundation contributed a total of $20 million to establish USA as a structure through which private philanthropists, corporate donors, and other foundations can support individual artists. Awards are given annually across an array of disciplines. This year's USA Fellowships include one in architecture and design; six in crafts and traditional arts; four in dance; nine in literature (fiction, non-fiction, poetry); six in media (audio, film, radio, video); five in music; seven in theater arts, and twelve in the visual arts.
Edited by Molly Sheridan