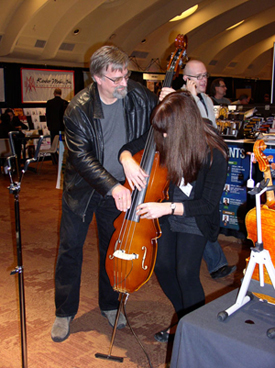 Ratzo B. Harris and Jennifer Leitham playing a duo at the Eminence Bass booth at JEN 2011 at the Roosevelt Hotel in New Orleans
I know…the JEN conference ended Saturday, but I have to add a last entry that shouldn't be too epic. Thanks to NewMusicBox.org for letting me send it; I hope it meets a sympathetic eye somewhere.
The annual JEN conference is probably going to replace the IAJE convention, and I think that it's a good thing. I used to think that the institutional codification of jazz pedagogy was watering down the vitality of the music, but not any more. I was seeing a trend towards the trivialization of jazz and the redefining of its raison d'être, the assimilation of an oppressed people into its oppressor culture and the eventual transformation of that culture into an egalitarian society. It's a process, but one fraught with deception and disappointment; think about how an art form generally regarded as "African-American" was mislabeled "indigenous" by an act of Congress (HR 57, 1987) and how that reinforces the centuries-old push to the genocide of Native Americans and their culture. But, for now, jazz finally has a toe-hold in its striving to achieve, for better or for worse, American musical art-form status. Whatever subtext its founders were speaking is still there and, as long as the music has an audience, it can still be accessed. But while jazz education is still growing and gaining acceptance as "legitimate," it's still actually in its infancy, which means there's still a future for its practitioners.
I think what hit home for me was a clinic I had the honor to perform in with Janet Lawson called "2-as-1: The equal relationship of bass and voice." Although it never really explored strategies for presenting the outer voices as equal, it did offer something that is still pretty much avoided in jazz pedagogy, even though it has been a mainstay of the tradition for at least half a century: free improvisation and loosely structured improvisation. Lawson's penchant for presenting music-making as play is something that is very deeply rooted in traditional jazz pedagogy. Unfortunately, we didn't get to include the deeply rooted tradition of criticism, but that's being de-personalized and shifted to the institutionalized set of standards that many fear will be the "death of jazz." Fortunately, jazz died in the 1930s with big bands, and again in the '40s with bebop, and again in the '50s and '60s with Black Nationalism and the avant-garde, and then again in the 1990s with Ken Burns. I guess we still need to kill it some more.
But Lawson brought something to her clinic that really struck the heart of jazz. Jazz is a music credited (rightly or wrongly) to a section of humanity that was considered by the American super-cultural elite to be incapable of success. The music that has been called jazz has always been seen as something less than excellent, even though its fans are constantly amazed at the level of technical and theoretical prowess needed to play it. There is a grey zone in academia where that prowess has become legitimized, but jazz is still discussed, taught, administrated and performed separately and largely apart from "legitimate" Western art music. Jazz is still something less-than-art in the American consciousness, and it's probably because mainstream America still can't accept that black people are really normal people.
Lawson was bitten by a deer tick and contracted Lyme disease in the mid-1990s and lost the use of her voice for over a decade. She became part of "the largest minority," the disabled (although one could argue that women are the largest minority, even though they're not a minority). She was still able to teach, though, and has been on the faculty of the New School for Jazz for as long. About two years ago, as she was nearing the age of 70, she began an arduous journey of self-exploration and self-improvement with the intended goal of singing again. Those who know her work from the 1980s know that she was one of the finest singers and improvisers ever. Her first album, The Janet Lawson Quintet, was Grammy-nominated, losing to Ella Fitzgerald. So what she did in her clinic was to tell her story in song over a blues form. Although the five-octave range that she used to smack her vocalise improvisations out of the park with is greatly reduced, the music was there, and that reminded me and showed the lucky few who attended the clinic of what this music is really about: struggling to beat the odds and play. It's about keeping yourself in the game for no other reason than to make a piece of high art from the purity of spirit jazz musicians call "soul." And that's what JEN represents, whether it knows it or not.