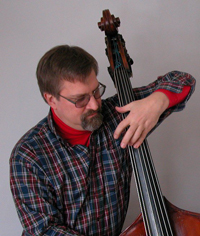 Ratzo B. Harris
[Ed. Note: It's only a few days into 2011 but the winter conference mayhem has already begun. In New York City, The Arts Presenters Conference is about to begin and folks are already blogging about it. Plus next week is the annual conference of Chamber Music America. And later this month, MIDEM will take place, as per usual, in Cannes, France. Stay tuned for further reports. Meanwhile, over in New Orleans, the second annual conference of the Jazz Education Network is about to begin and composer/bassist Ratzo B. Harris is on hand to give some play-by-play on the proceedings.—FJO]
The 2nd Jazz Education Network conference is being held in New Orleans at the beautiful Roosevelt Hotel near the French Quarter. I chose to drive there from New York because, after you factor in cab fares to and from airports, the cost is about the same and I get to bring my bass. (Bass players haven't been able to fly with their instruments for nearly a decade now—the result of improved national security.) It's also great to have my own car here, especially since I'm staying much closer to Lake Pontchartrain than to the Roosevelt. So my notes from day 1 in New Orleans won't have much convention news.
The drive down, while arduous, was beautiful after the sun had risen and Doc Keepin' Time (my car) and I had traveled beyond Birmingham. Whatever the trees are that take the place of the Southern California palm trees here in the Southeastern US, they're eerily charming as well as stunningly ubiquitous. The next most prevalent panoramic event seemed to be the serrated green circle with the letters "BP" in them that reminded me to not eat any local meals featuring bottom feeders from the Carribbean.
I arrived a little after 6pm and finished registering and settling into my N. Broad Street digs by 8. I got a rush of energy with my eighth wind and decided to try my hand at some low-level schmoozing, when I bumped into a guitarist I worked with in Boston thirty years ago, Bill Brinkley, with his wife, Roberta Radden, and their friend Kris Adams. Roberta and Kris teach at the Berkelee School in Boston and Bill is here as "a tourist." Over dinner at a wonderful restaurant on Peters Street, I learned that Roberta would be presenting a workshop an ear-training in the morning and that Kris and Bill are finishing a book, Sing Your Way Through Theory, to be published by Gerard & Sarzin (changingtones.com) soon. After I finished my chicken Andouille gumbo, roast beef po'boy, sauteed mustard greens and praline sundae, I totally lost my eighth wind and realized I had to get back to room or fall asleep on my feet.
Reunited with Doc Keepin' Time, I got a ninth wind (they say I'm one of the cats!) and drove to Candle Light Lounge (925 N. Robertson Street) to hear snare drummer Benny Jones with the Treme Brass Band. Benny had arranged for me to meet Morgan, a very interesting woman who I'll be blogging about later, who is renting a room to me.
What a GREAT band. 2 tenor saxes, 2 alto saxes, 2 trumpets, 2 trombones, a sousaphone with a microphone hanging in the bell, a cellist, 2 snare drums, 1 bass drum with cymbal attached (New Orleans brass bands don't use drum sets), a tambourine, and a singer who held his bottle of Corona throughout his performance. They were playing a blues when I came in that featured solos from both tenor saxes, one trombone, and a trumpet solo that Ray Nance would have been proud to play. Soloing was riff-based, where motives are developed over many choruses, not the long-phrases of voice leading I'm used to hearing in New York. The trumpeter used textures as one of his motives, starting with growls and then adding drop-offs and wahs that whipped the 150+ audience into a frenzy.
Unfortunately, smoking is allowed in bars in New Orleans and I was too exhausted from my jaunt to stay for another number. I really wanted to hear what the cellist would do in a solo, but I had to leave. After only falling asleep twice at red lights, I made it back to my room. So, I want to close with a note for my wife: Honey, I think I've found the answer! I slept for nine hours straight, without tossing, turning, dreaming or snoring!