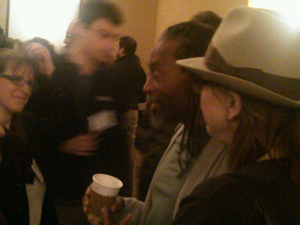 Everyone wanted to talk to Bobby McFerrin.
One of the things I love about going to Chamber Music America conferences is to be in the midst of people who are as passionate as I am about chamber music. It reminds me of going off to college, or of going to my first gay pride event, when I suddenly realized that there were other people in the world like me. I have joked with my students at UCLA as I am headed off to a conference, that I see all of these people whose lives revolve around chamber music and think, "These are my people!"
Today, that was particularly evident at Bobby McFerrin's session this morning on improvising, which virtually everyone attended. It was a nonstop demonstration of his ability to improvise, mostly in response to questions and comments he fielded from the audience. Here were several hundred musicians, mostly classical types, and mostly ostensibly unused to improvising. And some were expressing reasons why we classical types (and, actually some jazz types) think we are unable to improvise—or are intimidated by the very idea of trying it. Every answer he gave to these questions and comments was an improvisation of sorts, sometimes musical, sometimes conversational, and always fun.
He and pianist Billy Childs (whom I have the pleasure of knowing because he wrote a string quartet for Pacific Serenades two years ago) more than once improvised together—once on a jazz tune, which was amazing in how the two of them were able to respond to each other so immediately that they seemed to be of one mind, and then there were several takeoffs on tunes from Mozart's 40th symphony, both from the first movement and the minuet, as the piece kept coming back like a rondo in the conversation.
Eventually, he got the whole audience to sing back immediately whatever he sang, thereby creating an on-the-spot choral piece. Here's where knowing I was among my people comes in: the whole room was filled with the sounds of Bobby singing to us, and us repeating back to him with remarkable accuracy—and abandon—and some of the licks were not so easy. I was impressed, as well as impressed that so many people were genuinely interested in knowing how to improvise better—or at all.
One woman, a singer who said that though she had improvising baroque ornamentation down cold, when she tried to improvise anything else, it ended up sounding like baroque ornamentation—and she wanted some concrete instructions on how to get out of that loop. I loved Bobby's suggestion so much that I intend to try it myself: to set deliberate limits, like "two minutes of improvising only with these three notes," "5 minutes of improvising with only one note," and other interesting boundaries.
This was actually the second time I had experienced him with a CMA audience, the first being at the conference in San Francisco in 1992. The audience then was far more willing to go along with him than I think he expected us to be, and so we outdid his expectations. But it still wasn't on the same level of willingness as today: 19 years later, there was no question of the audience's eagerness to participate and to learn. Times have changed.
The day began for me with a session on Cross-Cultural Partnerships, with a panel made up of Meg Fagan and James Nyoraku Schlefer, from Kyo-Shin-An Arts, Susan Cheng, and Wang Guoewi, from Music from China, and Matt Levy of the sax quartet PRISM—which performed a movement of Mr. Guoewi's piece, with the composer passionately performing on the erhu. It's so intriguing and heartening to hear of all of these musicians so strongly committed to combining aspects of different musical cultures, and to doing it with such artistic success, all the while recognizing that they are paving the way for future generations doing it as if it had always been done.
The rest of the day was filled with more flute practicing on my part, showcase performances by young, brilliant ensembles, and by lots and lots of conversations around the Pacific Serenades exhibit table.
It's been great to spend a day among my people.