For my third day at the Theatre Communications Group National Conference I decided to move from the more politically-oriented sessions to a morning session on new play development and an afternoon session on teens in theatre.
The discussion on new plays began on ways to support playwrights financially (this sounded about as supportive as the commissions most composers get, i.e., not enough to live on while you're working on the piece). However, shortly after, the facilitators asked how many playwrights in the room were looking for theatres to show their work, and how many theatres were looking for new plays.
The room exploded! Hands went up all over, and a fascinating list, put up on an easel for all to see, ensued. What was particularly interesting was not the presence of playwrights, but the excitement of theatre directors who were looking for new plays. Many represented smaller theatres, like The Cutting Ball Theater in San Francisco, but there were also larger ones such as the Repertory Theatre of St. Louis. One was reminded here (painfully) of the difference between theatre and visual arts, and music: enthusiasm for the newly created is so much more prevalent in the other arts. This situation would need a much longer discussion, but one that I think we in contemporary music need to work on perhaps even more strongly than we do now.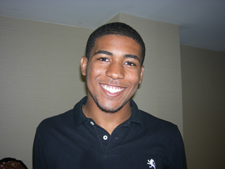 Christopher Betts, an aspiring actor from the Goodman Theatre teen program in Chicago.
The next session I went to was possibly the very best: "Fostering the Next Generation of American Theatre Audiences." The session was facilitated by Hallie Gordon, of Steppenwolf Theatre, who ran it tightly, so that almost everyone in the room of 60 people who wanted to speak had the opportunity to do so. The primary speakers were a group of about fifteen students, ages about 15-18 (more young women than young men), who were in theatre programs in Chicago (Goodman and Steppenwolf) and Berkeley (Berkeley Rep). There was a short film on the Berkeley Rep that focused on their programs for attracting a teenage audience, especially those who never had gone to theatre.
All three theatre programs had acting classes, special information sessions on the plays being given, and student-run productions overseen by Teen Councils at the theatres. Many of the teens came from neighborhoods (both urban and suburban) that either didn't have theatre programs or didn't offer theatre on the level that the repertory theatres did. Not all the teens in the room planned to go on to professional theatre, but all agreed that the experience had been a major one.
They talked about having to deal with today's emphasis on grades, and that their experience in the teen theatre programs helped them refocus, finding support in values that they believed in more than those of achievement. They loved the feeling of a theatre "family" that resulted from working on productions together. They also had suggestions about how to interest more teens in theatre, and how to get them away from their computers or iPods. Some of them suggested that their friends could be drawn in by getting them to go first to the big shows, like Wicked; the idea was to persuade them to try something a little more adventurous next. Peer pressure can work here.
I found that attending the Conference was a fascinating experience, and I'm very happy to have been able to report on it.