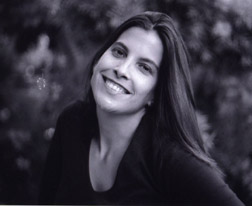 Rebecca Giacosie
Photo by Sarah Eglin
As of late, "choral music" seems to be getting more attention—as if it were a recently discovered entity that has been quietly hiding on the sidelines of "real" concert music. Composers can be divided into categories of "composer" or "niche composer," with one of the most common niche designations being "choral composer." Many composers write choral music, but not all are relegated to this ambiguous category. The May issue of NewMusicBox just this year was devoted to this bizarre world—a world that not only has its own composers, but its own community and symposia as well. In that issue Randall Davidson presented a nostalgic piece on what he viewed as the choral "niche." He identified a problem, but couldn't quite determine the cause:
"But there is something peculiar happening here. Choral music has almost the same difficulty getting broadcast as new music. You can find recordings of choral music but you'll be looking for niche labels and probably online. Although nearly every college and university has a chorus, it is rare that you will find a composition course that teaches how to write for chorus and instruments."
Davidson's article gives me pause. He asks, "What do you think we might do to emulate the world of choral music?" implying that like those who write choral music, composers of "new music" need a stronger sense of community; they need to develop their own "circles" and devotees. In doing so, he separates the "choral community" from the "new music" community. One gets the impression that the choral world is a miniature world of wonder, with the rest of the music world standing on the outside looking in. Even if we grant some of Davidson's premises, the true question remains: Where is this niche located if it isn't in the public concert hall? Is it the academy? Is it the private sector?
Davidson's initial quote forces us to question the role of the academy, which is not always benign. I remember my first year as a graduate student. A friend, a graduate student in choral conducting, introduced me to a university choral conductor rather enthusiastically as a "musicologist specializing in 20th-century American choral music." The conductor looked at me point blank, and pronounced, "There is no good American choral music."
Several years later I have a much better response than the sullen and resentful silence with which I met his pompous remark at the time. Nevertheless, when people outside of the academy or professional choral world ask me about my favorite choral pieces, I find myself saying, "Nothing you would have heard of." And some of the composers whose works I enjoy are not just choral composers—witness Stephen Paulus, Steven Stucky, and Augusta Read Thomas. There is the slight chance that the mention of something on the scale of Osvaldo Golijov's The Passion According to St. Mark might get a vague nod of familiarity. Stranger yet are the looks I get as a musicologist specializing in choral music. "Shouldn't you be in a D.M.A program?" one reference librarian asked.
Outside of large works with orchestra, what about the true "choral" works: those smaller scale pieces, performed and commissioned by groups like Chanticleer, the Dale Warland Singers, and the Hilliard Ensemble? I was fortunate to hear the Hilliard ensemble give the U.S. première of Stephen Hartke's Cathedral in the Thrashing Rain in 2001 at the University of Southern California. Fortunately a recording of the piece has recently been released on the ECM label. The work is on a much smaller scale than the Pasion of Golijov, but warrants at least as much fuss, in my opinion. And, if I'm not mistaken, not only is it purely choral music (read: a cappella), it is also new music. Of course it helps that the Hilliard Ensemble has recently hung its hat in the new music community.
This is not to say that there aren't composers who compose strictly for the chorus, because there is a myriad. The question is why they seem to face relative obscurity in the concert hall at large. Could it be that the choral world has too strong a hold on its citizenship? Are the immigration policies too stringent to allow "non-choral composers" inside, and likewise, to allow "choral composers" opportunities to sell their wares to the outside world? Certainly composers such as Arvo Pärt are becoming known in the choral world almost to the point of being appropriated into that "community," albeit willingly. On the other hand, many composers find it difficult to break into, but not for lack of desire. In that same May NewMusicBox issue, composer Jon Jang observed, "To be inspired to write more choral works is not the question for me. It is more about being given the opportunity to write more choral works." Jang honestly reveals that writing choral music is not particularly lucrative—financially or in terms of getting performances. Jang is not alone; composer Carl Stone says:
"I love choral music but have written none…I would welcome the opportunity…perhaps I have been type-cast a bit. I would be thrilled if some forward-looking choral director were to ask me for a piece."
Stone's comment demonstrates that the "type-casting" works both ways. Evidently there is even a niche for "non-choral composers" whether they choose to be there or not. Either way, it is clear that writing choral music does not seem to pay for the non-choral composer. We could try to debunk this, however, by pointing out that just last year ten composers of renown (among them: Stephen Paulus, Libby Larsen and R. Murray Schafer) were commissioned to write choral works. For what? For the Sixth World Symposium on Choral Music… But, of course. None of the three mentioned composers are strictly "choral composers," yet the commissions came from the choral community, and were likewise publicized and performed within that community.
In a recent conversation, Stephen Paulus attributed the categorizing of composers into the "choral" niche due to the high visibility of the chorus in the United States. There are hundreds upon hundreds of choral groups and societies that commission works each year. But wait—why aren't these conductors and choirs approaching Jon Jang and Carl Stone for commissions? Because they are unheard of within the choral world.
And therein lies a big part of a two-fold problem. As long as the new music community at large views choral music as a wondrous and delightful snow globe, it will be very difficult for "choral composers" to break free from the ties that bind, and vice-versa. The choral community, on the other hand, must also reach out to the outside world and investigate what possibilities there are for a healthy tourist industry within their community.
One composer who has managed to negotiate a comfortable place that is neither entrenched in choraldom, nor adverse to it, is Stephen Paulus. Many choral singers and conductors are familiar with his pieces, in particular "Pilgrims' Hymn" from his opera The Three Hermits. Ironically, as it is one of Paulus' most often performed choral works (Paulus publishes the piece by the ten thousands), the work was never intended to have a separate existence outside of the opera. Kathy Saltzman Romey, choral director at University of Minnesota, requested 200 copies of the final act chorus to take on tour. This ignited a flame of popularity for Paulus within the choral niche. The composer attributes the popularity of the piece to: "Word of mouth… people like the piece. I think being flexible is the key. If they want one movement, we give them one movement."
It is perhaps this flexibility that has allowed Paulus to remain unchained by one niche or the other. He also remarked, "I could be writing a commissioned anthem a week, but I don't want to get pigeonholed…saying 'no' is important for this reason."
Perhaps too many composers of new music are worried that they are not in the position to say no. If they have a residency with a symphony orchestra, they write orchestral repertoire. But why not take a risk and compose a choral piece, and send it out there? Has our artistic society become so dependent on patronship that the artist is now a slave to the master? Shouldn't the opportunities always be there for any composer to try his or her hand at writing choral music, or music in any other genre?
Finally, it is possible that the vast choral tradition of this country has turned the chorus into somewhat of a second-class citizen because "chorus" has a variety of manifestations ranging from the ill-trained yet passionate church choir to the multitudinous great concert and chamber choirs. Many times when a chorus is brought in to sing in the choral movement of a symphony, for example, they have the benefit of only one to two rehearsals with a conductor who may have completely different tempi and musical ideas than their own personal conductor. Certainly the string section would not be expected to feel comfortable enough to perform having one rehearsal, so why is this request so often made of the chorus?
Musicologist and composer Alejandro Planchart puts yet another card to the table. He believes that "choral music has never quite taken root in the secular concert hall, as choral music in the church remains a bedrock of American culture." And indeed, nowhere is the feeling that choral music operates on a different cosmic stratum more profound than with sacred choral music. At the bottom of the barrel of this mysterious group of people known as "choral composers" is the "church composer." Exiled from most artistic circles, these men and women must be content to hear their works performed by church choirs that may vary in musical ability from nil to excellent. The audience is made up of faithful parishioners who will love the anthem, but forget it by the next Sunday. If they bother to look at the composer's name in the bulletin, they are unlikely to rush home and search for available recordings on Amazon.com (if they were to exist).
There is a certain sense that it is all Gebrauchsmusik, unfettered by critical aesthetics. But categorizing this music as "service music" is a huge disservice to those composers who happen to write "church music" in addition to other types of works. Even college choirs, except for those in Christian and other religious institutions, never program the "church music."
There are of course those composers who see themselves as "church composers" and are perfectly happy to accept that title with pride, as is well deserved. But what of these other composers who want to write small-scale sacred pieces in addition to composing large scale works in other genres? Do these "church pieces" then become compositional exercises in the eyes of the critics? Certainly if they aren't performed and published, they at best will be laid to rest in some archive somewhere, unearthed only by the D.M.A. student craving dissertation research.
So, the problem is not a simple one. Certainly there are many contributing factors, some of them I have left unexplored. But the creation of niches always presents this dilemma—whether it is the designation "choral composer," "opera composer," or "chamber music composer." Niches can be positive ways to shelter those who wish to specialize, but may also lead to exclusivity and missed opportunities. Likewise, the world outside of the niche must be careful not to thwart the artistic aspirations of those interested in visiting these communities, even if they don't wish to become permanent citizens.