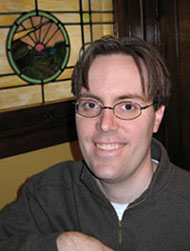 Andrew Druckenbrod
Those outside the classical music business tend to view it as a specialty. That's certainly been the case for me as a classical music critic. How many times has someone come up to you, whether you're a composer, performer, administrator and the like, and just assumed you can name whatever piece is playing in a restaurant? How many times are people surprised you can't sit down at the piano and play some favorite of theirs on the spot? It's flattering, but annoying, too, because we know we could spend the next five years studying Verdi or Carter exclusively and still not feel we've wrapped our ears around them.
Truth is, the average American doesn't know just how large a field classical music is today. Though it's an umbrella term for many vibrant subsets—orchestras, operas, chamber music, early music, contemporary music, etc.—most people think of classical music itself as subset of music, and a very small one at that. You don't need Norman Lebrecht to point that out. That's what makes the inaugural National Performing Arts Convention in Pittsburgh this June so crucial.
The way the American classical biz has largely dealt with changing public perception is to ignore it and retrench. We've focused instead on the view from our side of the fence, where concert music is seen as vital to society. To this end, we've created powerful support organizations whose sole purpose is to facilitate communication between members and promote the artistic product of their constituency to the public at large.
That's all been well and good. Brilliant, actually. These support groups may be overly bureaucratic or high on themselves occasionally, but they've helped the art music scene of the United States grow artistically despite some serious bumps in the economic road. But the realities of the new economy and pop culture in America have put the survival of disparate performing arts organizations more in the same boat than they are used to being and made them more dependant on a general public that also tends to lump them together. Tapping into that public means that it's less important that people go to the symphony verses the opera verses an early music group, and more important that they go to any arts event, period. The Pittsburgh Symphony Orchestra, for instance, is burning the candle at both ends to get patrons into Heinz Hall for any reason whatsoever. The philosophy is, if a person comes to the hall and samples the atmosphere—whether it be for an edu-tainment concert or a pops affair—they will want to come again, eventually to a subscription night. The first step is the hardest.
So though you may hate Wagner operas, dislike that cello without the endpin, or distain anything composed in the last 40 years, a little solidarity with people who do might help in the long run. We don't have to all think alike, mind you, but just start to consider what everyone has in common. The classical sub-genres may have acted like Greek city-states over the years, but it would seem that the idea of gathering lobbying power for a national showing has finally caught on with this assembly in Pittsburgh. If the NRA can do it, so can the smart folks who run these support organizations.
And what a grouping it is. The National Performing Arts Convention brings the American Symphony Orchestra League, Opera America, Chorus America, Dance/USA, Association of Performing Arts Presenters, Chamber Music America, Theatre Communications Group, American Composers Forum, American Music Center, Meet the Composer, National Alliance for Musical Theater, Music Critics Association of North America and more to the town by the three rivers June 8-13, 2004.
Whether or not anything concrete will come out of the convention or if Pittsburgh can withstand the sheer amount of activity remains to be seen. It's a step in the right direction, however, just to realize the power in numbers. The media will cover this meeting differently—perhaps cover it at all in some cases—than when each of these organizations meet alone. Since the CEO of a major orchestra or opera house has probably just a tenth the cachet of a conductor (let alone that of a pop star), you need as many of them as possible in one place to push the event onto the daily pages and monthly magazines.
Pittsburgh must seem to some an odd place for the birth of the next stage in arts management. You might expect the National Performing Arts Convention to touch down in New York or Chicago instead. But it's not as if Pittsburgh's population will double like some college town on football Saturday! Mid-size cities such as Pittsburgh are actually proving grounds for the survival of the arts.
In fact, hotel space aside, there could hardly be a better fit for this grouping of groups than amid the rolling hills and metal bridges of Pittsburgh: if classical music and the arts fail here, then kiss them goodbye just about everywhere. With old money (we're talking Carnegie) to foundations galore, from a healthy concert-going population per capita to a scene that covers nearly every musical niche, Pittsburgh is a cultural barometer for the nation. Sure, art music will always exist in the biggest metros and trickle along in pro-am fashion in small towns, but if it doesn't exist at a high level in the mid-size cities, classical music of all stripes won't truly thrive in America.
I've covered the classical music scene in Pittsburgh for nearly five years now, coming from the Twin Cities of Minnesota, and I am still amazed at the sheer quantity and quality of groups here. We are home to the Pittsburgh Symphony Orchestra, which now plays at perhaps its highest level ever; the Pittsburgh Opera, which has prospered under new leadership; the period group Chatham Baroque and the Pittsburgh New Music Ensemble, which impact their respective genres nationally; the Mendelssohn and Bach choirs of Pittsburgh, which cover the major repertory; and presenting organizations, Pittsburgh Chamber Music Society, Y Music Society, Renaissance & Baroque Society, and Tuesday Musical Club, which rarely overlap in bringing their own type of concerts, chamber groups, recitals, early music and emerging artists, respectively. Sure, some inhabit higher artistic realms than others and all have their small-town moments, but I'd bet them against just about any city's offerings, especially if you give me the per capita points.
Equally impressive are the spectacular halls here: Heinz Hall (concert), Benedum Center (large opera), Byham Theater (midsize opera) and Carnegie Music Hall (recital) are the jewels in a city of many theaters and halls. That includes the new Rafael Viñoly-designed David L. Lawrence Convention Center, where the joint activities of the conference will take place.
The major problem in Pittsburgh has been dwindling audiences, but that's due more to an aging population than to a lack of interest in art music. Those who move here tend to be rising stars in their fields, and they are insistent on high-quality arts.
With that in mind, Pittsburgh groups are queuing up to showcase the city's musical offerings in a series of concerts that will accompany the conference. Pittsburgh Opera moved its final production of the season, Dead Man Walking, to June, the PSO will welcome flutist James Galway, Opera Theater of Pittsburgh is premiering a jazz opera, Just Above My Head and the Mendelssohn Choir has a concert planned. As the conference nears, more groups will announce their participation. It will be more than I'll be able to cover, although, luckily, 50 other critics will be here to help out (A scary situation to some, no doubt).
Since the attendees will gravitate to specific hotels for discipline specific meetings, where there's plenty to accomplish, I don't expect an immense meshing of people and thoughts this June. But it is the right move. Though Margaret Mead said that social change primarily comes through small groups, these days in our massive democracy it seems a shear show of numbers is sometimes the only way to get attention. At its best, the National Performing Arts Convention will do that and also spawn some serious strategizing about how the arts groups can learn from each other to keep these living arts, well, alive and well.
***
Andrew Druckenbrod, classical music critic for the Pittsburgh Post-Gazette, has written for SYMPHONY, Opera, Strings, andante.com, the Star Tribune and one of the first hyperhistories on NewMusicBox, but mostly wishes he could just have more time to listen to music.