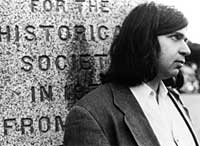 Frank J. Oteri
Photo by Melissa Richard
It has frequently been said that while it took visual art and literature until the 20th century to embrace the notion of abstraction, music has always been abstract. Yet at the same time, music is often described as the universal language.
But when words are added to music, it is no longer abstract and, on some levels, it is no longer universal.
In his 1936 book Chinese Musical Art, musicologist John Hazelton Levis makes a strong case for Chinese music evolving directly from the tonally-oriented Chinese language, and to this day there is a very strong relationship between the sound of Chinese vocal music and the sound of the Chinese language. Similarly the bel canto technique of 19th-century Italian opera is a natural outgrowth of the ebb and flow of the spoken Italian language. But what is the pedigree of American vocal music?
As a hybrid culture whose traditions are based on the molding and re-inventing of traditions from all over the world, American music, vocal or otherwise, has no single source. Yet singing American English according to the dictates of bel canto would sound about as right as singing American English according to the prosody of Peking opera!
Unlike the anything-goes approach that makes for an endlessly exciting variety of instrumental music in this country, vocal music has some do's and don'ts. And many of these are just as important to be aware of during performance as during composition. Dawn Upshaw talked to us about how she makes American English sing well in a range of styles by working closely with composers. Johanna Keller distills the process of collaboration between composers and poets in an overview of today's art song boom. We asked Corey Dargel, Gwyneth Walker, Sasha Matson, and Ronald Perera to describe their very different approaches for setting words to music and we even got a comment from the Language Removal Services, an organization committed to removing linguistic properties from spoken word recordings in order to uncover the music hidden underneath the speech. We ask you for your thoughts on how music and words affect each other.
Our new In Print feature offers an excerpt from the latest book by Ned Rorem, a master of words and music as well as a master of setting words to music. Mr. Rorem also offers some additional thoughts in a brief Q&A with Molly Sheridan. Amanda MacBlane points out the text-setting highlights among this month's new recordings of American Music. And, in this month's Views columns, Dean Suzuki offers his thought about text-sound composition. The symbiosis of words and music are not the only concern this month: Monique Buzzarte reacts to the ongoing gender debate in the Lincoln Center Jazz Orchestra. But, of course, they are using words to describe music, so in a sense the question of word-music symbiosis is still with us.