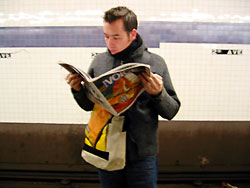 Randy Nordschow
Photo by Colin Conroy
I have to admit that I'm a little phone shy. I never liked ordering the pizza when I was a kid but did it anyway out of necessity. I really liked pizza. But pizza is just child's play—ever apply for a mortgage over the phone? Naturally the more transactions you do the better you become at navigating those pesky interactive voice response systems. And after jumping through all the hoops, pressing the correct number sequence, or uttering the magical open-sesame phrase, what's your reward? Usually around ten minutes of crappy MuzakTM or, if you're lucky, maybe a recording of Eine Kleine Nachtmusik to hum along to while you're waiting to be connected to a real live human being. C'mon, we all have better things to do with our lives. Isn't it about time something a little more interesting is offered while we patiently wait?
The Muzak Corporation is now peddling what it calls on-hold magazines, with twelve options tailored towards your particular customer base. The closest fit I could find for the American Music Center was something called Backstage, which "connects callers with inside information about the stories and people in the music industry…with a balanced look into music's past, present, and future." Somehow I get the feeling that Philip Glass isn't part of the picture here. The whole thing just smacks corporate, right down to the research stats that promise higher sales figures boosted by proper on-hold programming. Yuck. Out of curiosity I decided to call Muzak in order to listen to their on-hold music. Okay, it was bouncy, up-tempo, inoffensive—a sort of spunky jazz fusion thingy. It did nothing for me. Was it supposed to?
Taking into account Muzak's own philosophies, then yes, on-hold music is supposed to say something, and it's all about branding. Figuring that I've spent a significant portion of my life listening to the various ways in which banks and airline carriers brand themselves—conformity, conformity, conformity, yawn—I wanted to hear how the artistic community was branding itself. Back to the phone, I rang every local bastion of creativity I could think of. To the delight and bemusement of those who answered, I asked to be placed on hold.
Surely I was in store for something more unique, or at any rate some bona fide well-chosen music with at least an ounce of panache or personality. I dialed the Museum of Modern Art, then the Whitney, P.S. 1, and Guggenheim museums. Dead silence. None of them even have hold music. At least the Metropolitan Museum of Art had the decency to play Hummel or whatever that stuff was. How classy. Of course all of these entities are associated with the visual arts—certainly the music-based organizations wouldn't let me down.
A call to WNYC, New York's public radio station, yielded some cool jazz, but I couldn't quite identify the sax man for certain. I guess they were going for the ol' hip, yet sophisticated profile. Figuring I knew what the legendary "music is not background" American Symphony Orchestra League had up its sleeve, I tried Meet the Composer as my last resort. When Nina Simone serenaded me with her "My Baby Just Cares for Me," it was clear that my quest for a more engaging on-hold experience wasn't going to unearth anything out of the ordinary. My frustration reminds me why I pay my bills online. I would sooner suffer the tyranny of a dialup connection than listen to a castrated version of Cher's retro-anthem "If I Could Turn Back Time."
Of course none of these tunes were specifically composed for transmission through that tiny little speaker hidden inside your telephone's earpiece. The delivery method itself curtails the songs' original impact. Besides, with such feeble frequency response, not even a crooning Patsy Kline could pacify that angry caller waiting to complain to a manager. On-hold music is a strange Janus-faced beast. It's not background music per se, and it's not exactly foreground music either, even if we are stuck phone-to-ear with nothing left to do but listen. If we don't listen, how will we know when someone picks up on the other end? This is listening out of absolute necessity, listening to kill time, and this catch-22 netherworld sounds like a perfect spot for art to intervene.
Remember that old Maxwell House TV ad with the catchy melody perfectly synched with the coffee percolator blups? If you can, bring to mind that bubbly, yet otherworldly electronic sounding motif. As you may or may not know—now that you can't get that damn tune out of your head—this was one of Eric Siday's most well known "Identitones," or as we might call them today, sound logos. You'd probably recognize Siday's other handy work for various ABC and CBS station identifications, as well as jingles and electroacoustic signatures for Westinghouse and Ford. So why bring up Eric Siday? Well, as it turns out he might just be our on-hold savior.
Thanks to the Eric and Edith Siday Charitable Foundation, established eight years ago in memory of the composer by his wife Edith, six composers have been given a chance to compose for the American Music Center's phone system. The first-ever AMC-Siday Music On Hold commissions are now available when you're holding for an AMC staff member or, if you want to save on the long distance charges, try listening to the streaming media files hosted here.
When the final mixes of these commissions arrived at the Center, the office was abuzz. The first one to waft from a coworker's cubicle featured the affable voice of Larry Polansky's daughter reciting the AMC's mission statement which begins to loop upon itself with various digital signal processing—think The Exorcist—before ending with mantra "thanks for waiting, thanks for waiting, thanks for waiting." The pleasantly reassuring coda alone would have satisfied my music-while-you-wait penchant all by itself. Roddy Schrock's Drop the Dime circulated next, a piece which takes a more introverted approach. Assembled from garbled cell phone messages (admittedly, even messages that I've left for him are buried in the mix), Schrock's piece leaves the listener straining for comprehensibility as we press the receiver more and more tightly to our ear.
Raz Mesinai decided to send callers on an evocative journey over shifting sonic vistas with his piece Shaman. The disembodied chanting of Halim El-Dabh's Signals/Connections brings to mind that Twilight Zone episode where a little boy communicates with his dead grandmother over a toy phone. A more stoic impact is created by Randall Woolf's piece, which wouldn't seem out of place if you were waiting for a shop owner to check their stock of metaphysical healing crystals or turquoise bolo ties. Back to earth, Ira J. Mowitz's Answering Machine Music goes for the cute factor using circuit bending tactics to create unadulterated what-you-hear-is-what-you-get entertainment.
With no strict guidelines or restrictions other than instrumentation and length—electroacoustic, no more than two minutes—and no edict to adhere to any sort of corporate identity, the composers were free to create anything. However, the Center's humble phone system, which isn't able to interface with MAX/MSP, limited more than one of the composers originally interested in creating real-time interactive pieces. Perhaps the name of the commissioning program itself, Music On Hold, might have been some sort of subliminal inhibitor too. All of the commissioned composers actually delivered music. Granted, that is what composers usually do, but one of the pieces even has a notated score—an electronic music rarity to say the least.
Regardless, history has been made, six new compositions are born, and a medium which has existed for decades is finally tapped into, creatively speaking. Let this be the tip of the iceberg. Plastic pressed against ear, the transferring of calls, wrong numbers, menus of prerecorded information, wire taps, eavesdropping, call screening, etc.—all this begs for more exploration. Calling all sonic provocateurs, let's make some hold music that breaks down proverbial walls or surreptitiously thwarts whatever branding is being sought.
Before the Siday commissions debuted, the best suited on-hold piece test driven here at the Center—although probably the most controversial, judging from all the "are the phones broken?" feedback—was James Tenney's For Ann (rising). No matter where you enter the piece, the experience is the same: audio vertigo. Other complementary phone-mates included Tom Hamilton's London Fix and Chris Brown's Talking Drum CD, both of which possess that elusive sounds-good-on-the-phone gene.
Let's hope the proprietors of high volume call centers get wind of the Music On Hold concept. Maybe they could fuel a mini-revolution. Imagine a new paradigm where callers actually enjoy holding, and even hint at disappointment when whomever they are trying to reach actually picks up. By kicking open access to a medium ordinarily the domain of elevator-music programmers, the Music On Hold model offers opportunities for unimpeded exploration, a chance to deliver new sonic byproducts to a broader and forcibly captive public.
Aside from the initial flood of curious callers, I can't think of any reason why MoMA shouldn't consider commissioning Janet Cardiff to create a piece for their telephone system. Imagine what artists like Kristen Oppenheim, Ceal Floyer, or Christian Marclay might concoct. Maybe Microsoft should hire Brian Eno for something more than just a sound logo, and AT&T could commandeer the talents of Bill Fontana, a sound artist they've supported in the past. Why squeeze into one of Muzak's cookie cutters? It seems like corporate America is stuck in high school where conformity equals survival. Those seeking a unique identity should be hunting down composers to do some telecommunications custom tailoring. Perhaps on-hold music, the type that intrigues callers rather than lulling them to zombiehood, could become next season's hot marketing trend. Whether or not destined to be the in-thing hyped in the pages of Fast Company, you have to admit, it's a pretty cool idea.