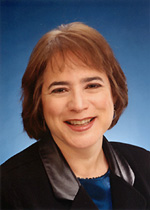 Gail Wein
Photo by Chad Evans Wyatt
Roberto Sierra has written a winner. This month's world premiere of his Missa Latina by the National Symphony Orchestra, Choral Arts Society of Washington, soprano Heidi Grant Murphy, and baritone Nathaniel Webster at the Kennedy Center in Washington, D.C., showcased a work that will fit solidly in the middle of core classical repertoire.
Sierra has developed a pleasingly accessible, yet original style; creating a sound that does not imply a rip-off of some earlier fashion. Interestingly, and sometimes quirkily, he sporadically infused Latin rhythms into the piece, alternating flavors north and south of the border. The Missa Latina begs comparison to works by Leonard Bernstein, both to his monumental Mass and to the Puerto Rican rhythms he famously incorporated into West Side Story.
Sierra used the orchestra as one whole instrument. Not much solo work stood out, save for a deliciously snaky clarinet and, of course, mighty brass. The percussion section typically initiated the Latin mood, with occasionally stereotypical cha-cha and merengue rhythms.
At the post-concert discussion, nearly everyone admitted to fear: Sierra, in the daunting task of writing this evening-length work for a world-class orchestra, high-profile conductor, and professionally accomplished chorus; the chorus members, in being able to learn and execute the piece well; Choral Arts conductor Norman Scribner, who described the process as difficult but worth every note; and even the audience, some of whom admitted to being afraid that they would be subjected to an evening of "crappy twelve-tone" music, in the words of one gentleman who bravely spoke up.
The only person who didn't seem scared was Slatkin. After all, he has done this—commissioned and given the first performance of new music—literally hundreds of times. And, for this particular work, it's one that will ripple through the repertoire well into the future.
***
Gail Wein is associate producer for National Public Radio's Performance Today. As a print journalist, Gail reviews concerts for The Washington Post and contributed classical music news and reviews to the now-defunct andante.com. Gail's diverse career path includes stints as a computer programmer, actuary, and general manager of the contemporary chamber ensemble Voices of Change.