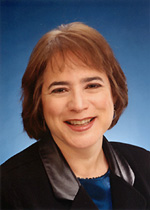 Gail Wein
Photo by Chad Evans Wyatt
Everything old is new again. Murry Sidlin, dean of the School of Music at The Catholic University of America, thinks so. Inspired by Aaron Copland's Old American Songs, mid-20th-century settings of folk melodies, Sidlin commissioned ten composers to write new settings of traditional tunes. New Old American Songs premiered on April 5, 2006, as part of CUA's Copland Festival.
Sidlin met Copland several times over the years, and once asked him if he planned to add to his two sets of Old American Songs. Copland replied that he was pointing the way for future composers to follow his example. Within these settings, Copland demonstrated the richness of American music and spurred Sidlin to launch the project, New Old American Songs, in celebration of Copland's legacy.
Sidlin tapped CUA professor of composition Andrew Simpson to head up the project, coordinate the details, and choose the composers, all of who have some connection to CUA. Simpson laid out the precise parameters of the compositions: The original songs had to have been written before 1900. This not only satisfied the "old" part of the project, it also was a practical consideration to use tunes that are in the public domain. The source material had to be American, or at least well known in America, and the works should be brief, about two to three minutes long.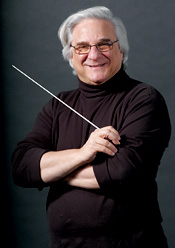 Murry Sidlin
By design, the composers represented a mixed bag in terms of background and experience, from student Stamos James Martin, 20, to composition professor Steven Strunk, 63, to award-winning Broadway composer Andrew Gerle, 33, to project leader Simpson, 39. Naturally, the composition styles varied, though considering the independent nature of development, the ten together made a remarkably cohesive set.
Only one, Joseph Santo's setting of the 1651 hymn tune "Our Father which in Heaven art", had an ultra-contemporary style. Most of the others were melodious settings of spirituals: Martin's "Sometimes I Feel Like a Motherless Child" and Philip Carluzzo's "My Lord, What a Mornin"; and popular songs, like Strunk's take on "Grandfather's Clock." Roberto A. Martinez obviously had fun with the Mexican-American folk tune "La Cucaracha," which added spice to the set, and the resoundingly silly "Risseldy, Rosseldy" arranged by Maurice Saylor concluded the cycle with whimsical amusement.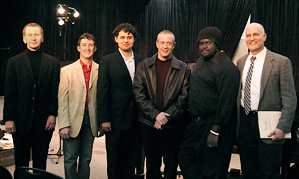 You might also enjoy