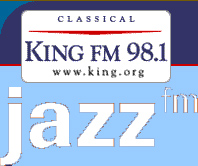 Courtesy Jazz FM and KING-FM
A jazz and a classical radio station rank among the top five streaming networks on the Internet, according to a report on Internet radio listening released in November by MeasureCast, Inc. London-based Jazz FM took the number one slot for the second month in a row and Seattle's classical radio station KING-FM slipped one place from the previous month to come in at number four.
Based on an analysis of the more than 1,200 streaming stations measured by the company during October, the report also showed that the majority of web-based radio listening occurs during the business day (82 percent). Sixty-nine percent of listeners are male and the largest single age group of listeners comprised people 25-34 years old (29 percent). Their research also indicates that Internet radio listening has tripled since January.
During the month of October, Jazz FM streamed a total of 934,979 hours of music to 226,675 listeners. That was a reported increase of 261,984 hours of music and 35,667 additional listeners over September's figures. For KING-FM, those figures are 538,999 hours of music streamed to 59,308 listeners, an increase of 150,823 hours and 12,596 listeners when compared to September.
Jazz FM has been broadcasting in the Greater London area since 1991 and in the Northwest of England since 1994. The station's Web site went live in 1996 and since 1997 has been streaming their London signal around the clock.
Jazz FM's main areas of business remain the radio station and its record labels—Jazz FM records and Hed Kandi. Sandra Strunz, the station's Internet manager, explains that the Web site "started off as a marketing tool for the radio station, but has now evolved into a revenue generating business. The main purpose of the site is to reflect the radio station's output and to give background information about the station." However, she says, the online store and advertising/sponsorship opportunities also make the site profitable.
Strunz adds that Jazz FM's Internet activities play an increasingly important role within the company, not at least of which is to spread the Jazz FM brand around the globe. "Our music format of smooth jazz and contemporary soul has proved incredibly successful in the UK but also in the US." She suggests that the format "gives [the listener] something different than your average pop music station" and that "maybe the English accent of our presenters makes our station different from the numerous American smooth jazz stations."
Furthermore, Strunz expresses the opinion that "the importance of Internet radio will further increase in the future. Its main strength is the global distribution. People are no longer restricted to listen to their local stations. They now have access to stations from all over the world."
KING-FM's Program Director Peter Newman, who oversees the station's Internet activities, says that at present KING-FM is still a local radio station owned by local non-profit arts groups. However, as a commercial station, almost all its revenue is derived from local advertising. "The future will likely see KING-FM compete with a whole host of classical music choices." Newman suggests that insuring the continued success of the station "will necessitate a two-pronged approach. Super-serve the local audience and remain competitive with national and international sources of broadcast classical music. We believe Internet broadcasting is here to stay. As such, we want to position ourselves as the leading Internet classical broadcaster."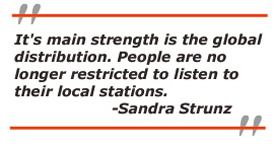 It's a goal they took the first step towards when the station's first Web site went live in 1993. Newman says they were also one of the first to stream in 1995. Since then, however, the environment has continued to evolve rapidly. "The primary change has been the creation of a global reach for a local radio station," Newman says. "We are still trying to manage that change and understand how it might come to affect programming, promotions, and sales."
The station's Web presence has also allowed for more intensive communication with its audience in ways traditional radio never allowed. "We receive instant feedback for our efforts, good and bad. There is considerable use of our website to search our playlist and learn what music and events are upcoming. There is a growing dialogue between the user of our station and those of us who are responsible for the product."
As for the latest MeasureCast ranking, Newman says KING-FM is "thrilled but not surprised." He offers the opinion that "classical radio is threatened not because the format is untenable but because the current economics of radio doesn't favor classical. Consolidation in the industry hasn't helped either. Also, audience measurement tools for radio are not conducive to recording the classical audience. The numbers enjoyed by our station and others on the Internet suggest that when you actually measure listening, classical turns out to be a pretty viable format.
Also ranking in the top fifty in the MeasureCast report were Cablemusic Smooth Jazz at #9 and Cablemusic Classical at #20. Classical station WCPE-FM out of North Carolina came in at #32 and Alaska's jazz station KNIK-FM took the #37 slot.