I began this inquiry with two CDs in hand that had greatly impacted my thinking. The first was Phil Kline's Zippo Songs: Airs of War and Lunacy, a song cycle that illustrates the horrors of war via phrases soldiers inscribed onto their lighters. The work connects to present events with a prelude that draws its text from the speeches of Donald Rumsfeld. Juxtaposed in this way, it's hard not to muse on all we still have not learned from the history of war.
Also compelling was In What Language, a collaboration between jazz pianist/composer Vijay Iyer and spoken-word artist/poet Mike Ladd that confronts the "non-neutrality of transit" for travelers of color. Iyer, the son of Indian immigrants, found himself attracted to the power of improvisation as a means of expression.
Iyer says he hears in jazz a "history of resistance and struggleÉof people daring to create in spite of obstacles around them and that's what's inspired me all along. The idea of daring to use your imagination to that degree when you come from an oppressed community is actually in itself a political act."
The week the Republican National Convention was in full swing in Manhattan, Iyer and I met up to speak about being a civically engaged artist.
Molly Sheridan: Though In What Language? may be the most concretely so, political statements are not something new to your work. You have said, in fact, that your music is meant primarily as a form of address. In your experience, what are the unique strengths of music, and specifically jazz, to accomplish this?
Vijay Iyer: To me, jazz is a history and a kind of zone of discourse; it's not really a kind of music. The elements of that history that are most articulate have to do with improvisation as a form of dialogue, interactivity that is embedded in this music. It's really just the sound of people listening to each other in real time, in a very engaged and active way. There's something just so symbolically powerful about that act of coming together, listening to each other, and responding to each other—having a sustained conversation. That's what you're hearing.
Molly Sheridan: It's a very different thing from using words per se, but would you say it can have a similar effect?
Vijay Iyer: Well, in some ways it speaks louder than words because you're listening to people taking action. The music that I create as a composer is music that takes advantage of that possibility. I try to create occasions for people to be themselves and listen to each other. You're setting these events in motion that are exploding with meaning, meaning that's more than you could possibly have come up with yourself. Placing those perspectives in dialogue is what's really exciting about making music to me; you have to meet people half way and you have to stretch to understand them and you learn from each other.
Molly Sheridan: In some ways it seems that artists are collectively responding to current world political conflict in ways they haven't since the Vietnam war or the AIDS crisis. Do you feel that?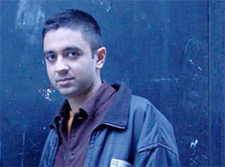 Vijay Iyer
Vijay Iyer: It's clear that at some level it's somewhat fashionable to wear your dissent on your sleeve. There's all this money being poured into documentaries and nonfiction books about the administration and all of a sudden those are best sellers. But I think it's important to realize that there are certain kinds of people who never have a choice but to dissent, certain communities are always framed as oppositional.
I have a friend whose cousin is a dentist and he's Pakistani-American. He wasn't arrested; he was detained, for several months after 9/11 for no reason [other than] because he's a businessman and an educated man from Pakistan. Somehow the sense is that it's the educated people from these countries who are actually the threat. I feel that these kinds of stories are not really being heard today. You kind of have to dig beneath the surface of the Michael Moores. A lot of information comes my way just because I'm South Asian and am connected to these communities. I hear about stuff that I don't think will ever make it to the mainstream and these are the sorts of things that should be given more voice.
Molly Sheridan: How do you balance that with being a composer and a musician. It seems almost like you've also taken on the responsibilities of being a journalist.
Vijay Iyer: [laughs] You don't really need to actively engage in this stuff; you could just make music that makes you happy and that sounds pretty, get a nice article written about you. But to me that is kind of missing the point of what it means to be American, or just to be human and be connected to people and the world around you. One thing I can do, particularly as someone who's privileged enough to be a public figure is really speak to people and place this experience inside their bodies and inside their minds. That's this really important opportunity. I just don't think it should be wasted. That's my take on what it means to be a composer. You're making stuff for the people around you and you're trying to reach people who may not see things your way.
Molly Sheridan: But aren't you more frequently speaking to people who already hold similar views?
Vijay Iyer: Really you're reaching people in ways you don't realize and your stuff is heard around the world in ways that even get beyond what you intend. I don't know that it's necessarily so many more people, but it's not just people in my neighborhood or people who go to Tower Records. They read about me in India Today in India. That's 1 billion people I could reach. That's when I really feel this sense that if so many people have the chance to hear what I have to say, this is not the time to hide.
Molly Sheridan: I want to talk a bit about the Republic in Ruins performance you'll be involved in during the Republican National Convention here in NYC. Why is it important to you as an artist to be involved in that?
Vijay Iyer: It's giving me the chance to intersect with a certain scene that's a little bit new to me. These are mostly performers in the classical or new music world. I have some overlap with that but not a whole lot and it's interesting for me to see how that community organizes themselves around issues because in general a lot of these people aren't playing their own music so it's really about selecting repertoire that articulates what they want or else it's about, as in this case, constructing this larger event to bring people together to foster dialogue, which to me is totally valid as a strategy.
I also think about placing music directly in a certain context. I don't know if you know Horace Tapscott. He was this great pianist and bandleader in Los Angeles. He was leading this large group called the [Pan-Afrikan Peoples] Arkestra and when the Watts riots were happening they went out on a flatbed truck with the whole big band and a piano on it and sort of scored the Watts riot. So actually placing your music in the space where something is happening in your community, that's really powerful. That says something more than a title can or some sort of subtle dynamic or the internal logic of a composition can. It's really about that notion of taking action with your music that I admire and continue to explore.