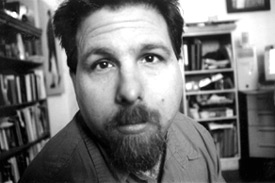 Steve Horowitz
Overall, I think you should have a talent for writing to picture, decent people skills, and a warm relationship with technology. Just go out there and meet people. The path is different for everyone. There are a lot of interesting organizations to join for every musical community. There are a lot of opportunities but also a lot of competition.
I have friends that can't deal with the commercial music world at all…they are absolute control freaks and I have tremendous respect for them. They do not wish to merge art and commerce. I, on the other hand, have always been interested in making my living in the field. Also, I dig technology. And frankly, I suck at everything else.
First off…
Be true to yourself. Make sure that music for hire is something you really want to do, or at least enjoy doing enough while you pursue your "other goals" whatever they may be. Don't let yourself get caught playing a role that you are not comfortable with. Bottom line: You need to make music that means something to you!
Everyone and their brother will offer to tell you and sell you the exact formula for how to be someone in the music business, but I'd say its all bull. Truth is, just open your ears, educate yourself, work hard, and have fun.
And I am always busy with my own projects too, whether finishing off my first orchestra piece (Mix Re/Mix), or performing with my group The Code International—you gotta keep making new stuff.
Second…
You should enjoy working in teams. Sometimes, you need to listen to and synthesize many voices. This can all be very different from sitting alone and answering only to yourself.
Third…
Be flexible and by that I mean, Zen attitude. Stay open to any and all chance circumstances that present themselves along the way.
A few examples:
One day in San Francisco in 1991, a friend introduced me to a very nice fellow who asked me if I had ever considered writing music for CD-ROM and video games. I said sure and the next thing I knew I was making my living writing music and making crazy noises for interactive media.
I got my Grammy award/certificate in 1996 by taking a pick up recording session from an overworked producer at the Emeryville Recording Company.
I ended up scoring both the TV show I Bet You Will and the hit film Super Size Me for Morgan Spurlock after meeting him through my cousin Dave.
See, just random events that I was able to capitalize on (makes up for all those other times I did not). In all instances I knew I had the chops to do what I said I would. Worst thing you can ever do in this racket is promise something you can't deliver. Always make sure to ask a lot of questions and be clear on what is expected of you.
I suppose, if I had to sum it all up, my concept has always been to put myself in the path of the ball…I might catch it or miss and get hit in the head but at least I am in the way.
***
Composer Steve Horowitz has worked extensively in Interactive Media. As current Music Director for Nickelodeon Online he has composed for hundreds of interactive projects for some of Nick's best known characters: Sponge Bob; Dora The Explorer; Jimmy Neutron and Joe from "Blues Clues". His groundbreaking work on these projects earned him a Webby in 2003. He recently scored the hit film Super Size Me, and has served as the music supervisor and lead composer for the television show I Bet You Will. He won a Grammy award for his production work on the compact disc "True Life Blues, the Songs of Bill Monroe" (Winner Best Bluegrass Album 1996).
At the California Institute of the Arts, Horowitz studied composition with Morton Subotnik, Mel Powell, Steven Mosko, and Mike Fink. As comfortable composing a string quartet as he is playing bass with his trip lounge band The Code International, he has spent much of the last 15 years crisscrossing between the worlds of composed classical music and the avant-garde music scenes of Amsterdam, San Francisco, and New York.
He is currently composing an evening long piece of work titled Re-Taking Of Pelham 1 2 3 to premiere at The Kitchen in January 2005.