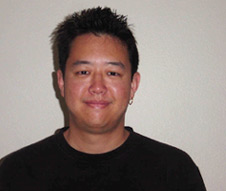 Takashi Hodama
Most of my experience in the video games industry is in creating sports games. In our sports titles, we use both licensed music and original compositions.
We look for composers that have good communication skills and are very open to direction. The composer must understand the vision of the game, and the situations the music is to be composed for. We look for people with good chops to create interesting and innovative content and have passion for their art. The composer must also be able to modify/edit his work constantly during a development cycle to fit the vision of the game. It is a huge plus for us to hire a composer that is computer savvy, able to adapt to software and tools. Most companies have proprietary tools that contractors must learn and use during game development.
The gaming industry is very tight. It is very hard to find work without connections within the industry. Starting out as an in-house sound designer or composer is a great way to learn the process of game development as well as building up your connections. Most of the contracted composers and sound designers we use have worked with somebody on our team in the past. Creating content for video games is a great way to make a living. Audio content creators make between $50,000-$80,000 per year (depending on their experience).
As far as career progression, there are many opportunities for composers. Many composers not only compose music but also create audio content (foley, sound effects). You can choose to stay with a company or do contract work. If you choose to stay in a company, there are opportunities for management positions. We have music supervisors who manage the music content for our game titles. Creating music libraries is also a great way to generate revenue.
***
Takashi Hodama graduated from University of California, San Diego with Bachelors in Computer Science and Minor in Music Technology. He joined RedZone Interactive a division of Sony Computer Entertainment of America in 1999 and is currently the head of the audio department, responsible for audio design and management of technical implementation.