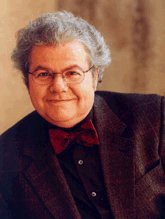 Emanuel Ax
Photo by Lois Greenfield
There are so many styles and possibilities in the music of today that I cannot intelligently compile a "wish list" of characteristics. I try to listen to new music in general, and look for pieces of composers that appeal to me.
I have had the privilege of premiering a few works that I love very much; they were the first works that the respective composers had written for the piano. In general, I believe that a composer with a voice will find a way to make that voice work with almost any instrument, and it is up to the pianist to find a way to translate the message.
Ideally, I am able to work with the composer and discuss practical issues—I have found a remarkable interest and flexibility on the part of most composers when faced with performing difficulties, and sometimes the new solution is a further testament to their skill.