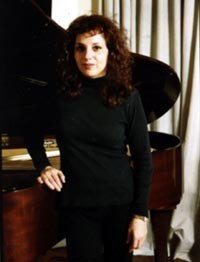 Haydée Schvartz
Photo by Vivi Zabaleta
Isn't there anything else to be invented in piano music composition? Is there any resource that can get us away from the heavy trace contained by the tradition of piano writing? Some way of denaturalizing the 'self sufficient' instrument? How is it possible to get rid of the cultural historical weight?
I have heard many composers commenting, more or less, with the same sort of questions regarding the process of composing piano music.
I would like to answer thus: what is wrong about using this rich source of expressiveness, this huge lung of resonance, a source to infinite means of articulation and dynamics, great server of the noble polyphony with a nature all its own?
I speak from my deepest love to contemporary music, to that path of artistic activity that keeps music alive. But I am absolutely against musical speculation and arrogance. I don't want the piano to become an instrument of torture!
I am absolutely grateful to the composers that dared to develop a new range of possibilities for the piano, such as Cage, Kurtag, Crumb, Lachenmann. And to those who are the inheritors of the piano's tradition, such as Berio, Carter, Scelsi, Boulez, Ligeti, and Feldman, just to name a few. They have broadened the tradition's richness towards furthering the sake of music.