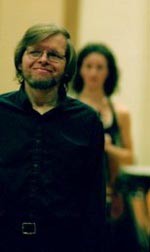 Joseph Kubera
Photo courtesy Ostrava Center for New Music
I have had the blessing/curse of living through the 1960s and 70s, so I have a lot of the experimentalism of that era still in my ears: Cage, Lucier, Young, Ashley, Kagel, et al. The strength of a single idea could be as important as compositional skill. Then, boundaries really were being broken; now "breaking boundaries" is mostly a marketing term for young ensembles. Much of today's music seems tame to me by comparison with that older stuff (and not all the old stuff was great), but it could just be that I'm not listening to enough new things.
So, with that background, I tend to look for music that challenges me—and by this I don't so much mean intricate notes or rhythms, but, in some sense, pieces that turn my head around as to the way music works. I had been looking forward to Ligeti's Etudes, as he is a truly experimental composer whose work I really respect. Then, when I first heard them played, I was surprised at how conventional, backward-glancing they seemed. The experimental edge I expected wasn't there. I lost interest in looking at them.
Of course, I'm still open to everything. If I'm going to join a composer down a well-trodden path, at least let's try to experience that path in a new way—blindfolded or barefooted, on hands and knees, with magnifying glass, etc.
Music is an intellectual enterprise for me. I look to it for musical growth. I'm here to learn from it. I want to be drawn into complex, even deep issues. I tend not to play to entertain myself or an audience. But I love to bring an audience with me into exciting territory.
All that said, my favorite kind of music is music that works, but I can't figure out how.